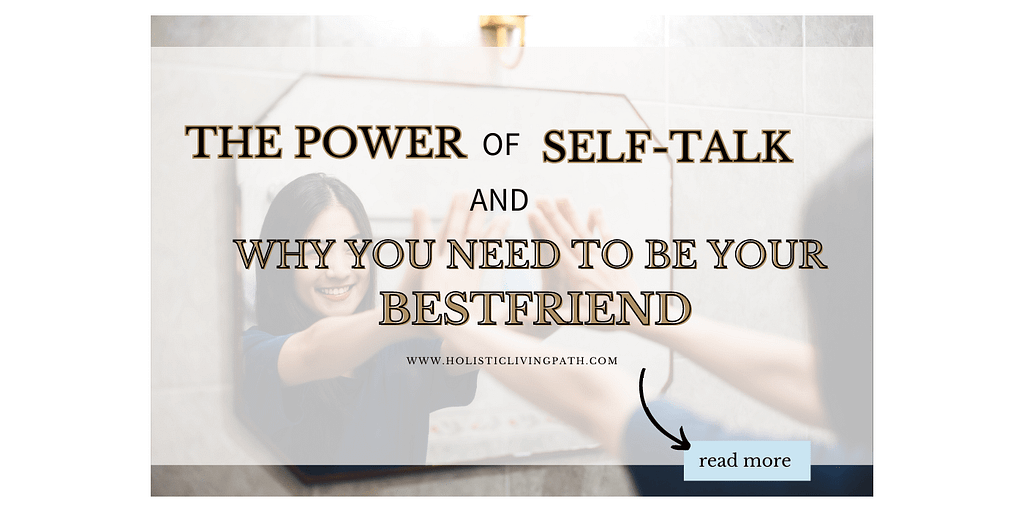 We all have an inner dialogue that plays in our heads throughout the day. This inner dialogue is what we call self-talk. It can be empowering or disempowering. In both cases, this voice can have an enormous influence on our lives. That's why it's so important to be aware of your self-talk and to ensure that it is positive and empowering.
Disclaimer: I only recommend products I would use myself, and all opinions expressed here are our own. This post may contain affiliate links that, at no additional cost to you, I may earn a small commission. Additionally, as an Amazon Associate, I earn from qualifying purchases. Read full the privacy policy here.
For many years, I struggled with self-talk. Only I didn't realize that my thoughts were an issue. As a writer and creative, I loved living in my head. I thought that was what I was supposed to do.
Related: 4 Practices to be More Self-Aware with Mindfulness
I would spend countless hours playing out scenarios in my mind. Some would be pure fiction—a way of me telling myself a short story or planning my latest idea before I wrote it. Then there were the conversations I would have with myself about what other people thought of me. Or I would relive past events and conversations that had taken place.
As many other people can relate to, the shower was my favorite place. It allowed me an opportunity to replay scenes and think about what I should've said or did. Admittedly, some of this "acting" was enjoyable. Living in my mind allowed me to tap into a different level of creativity.
Then somewhere along the line, the voice was only negative. I consider myself to be a smart and educated woman. After all, I have a degree, so I have to be smart in some capacity, right? But then I would tell myself that I'm stupid, dumb, or ignorant. My inner voice would tell me I wasn't good enough or smart enough to take on certain projects.
When people judged me or gave me constructive criticism, I was almost proud to say, "That didn't bother me because what I tell myself is worse." I used to preach "we are our worst enemy," as if this attribute was our best characteristic.
Related: The Importance of Self-Care and How to Get Started
In a way, saying that helped me cope. In truth, I wasn't fazed by what others had to say. I knew in my mind that I was already a royal failure and all they were helping me do was see it for myself.
And then I became angry. I was sad, depressed, and confused.
My whole life I was told to "think things through" and "prepare for the worst," but that made me feel terrible. Thinking negatively all the time was taking a toll on my health. My inner voice became a source of anxiety and stress.
At the time, though, I didn't realize that the source of my anguish came from the self-talk that was playing in my mind. So I did everything but change my inner dialogue.
Related: 4 Proactive Self-Care Tips to a Holistic Life
I developed a healthy diet and took up yoga. I developed a morning routine that focused on self-care, but I was still not happy. Don't get me wrong, I improved many areas of my life, but there was a more underlying issue that I was missing.
So one day, I was looking for a prompt journal to add to my morning routine and I stumbled upon the Self-Love Guided Journal.
I realized that the way I thought and spoke to myself—even though I thought it was helpful—was destroying me. As someone who grew up in a strict household, I thought being tough on myself was bringing the "hard working and dedicated" character out of me. While that worked for a while, that certainly wasn't the case anymore.
As a child, we were taught to think, speak, and act in a certain way. In our adulthood, we carry many of those actions over to our inner dialogue. And it certainly wasn't okay in our childhood, but as we become adults with families and responsibilities, it's even less okay.
Related: A Holistic Perspective: The Mind, Body, and Spirit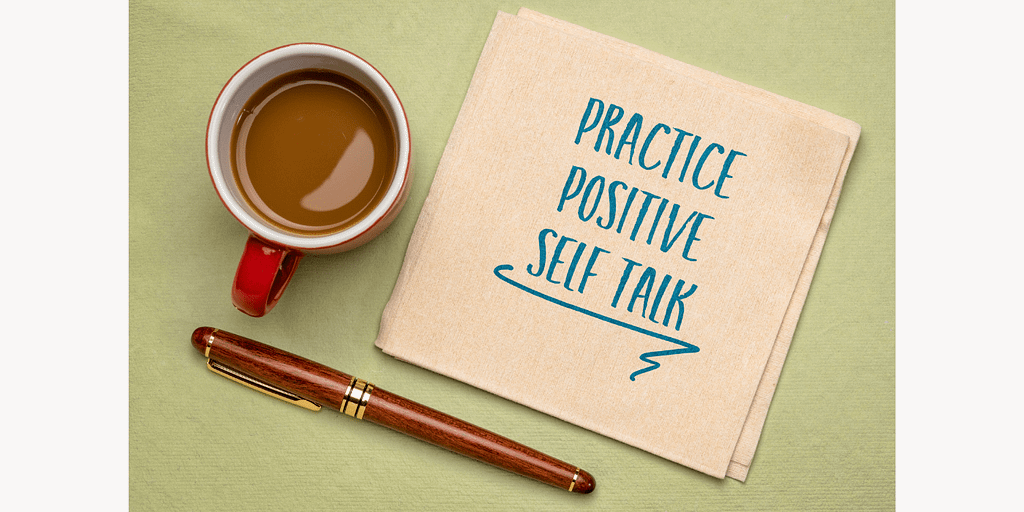 So I consciously changed up my self-talk to become more kind and loving to myself—but it wasn't easy.
One day, I sat down at my computer to start my workload. As I'm sifting through my first project of the day, I realized I was getting distracted. For example, I researched something and once I found the answer; I forgot what it was for. As I scrambled through the 12 open tabs, I called myself dumb and stupid.
Something in that moment pulled me away, and I thought to myself: Am I really dumb because I forgot what tab I needed to use? For the next ten minutes, I had what I can best explain as an out-of-body experience. I watched myself accomplishing my daily tasks and could hear myself thinking. In those ten minutes, I called myself "so stupid" 52 times—and it was all over super silly things like forgetting the tab or the next word in a sentence.
What's even more interesting is that I would never continue to interact with anyone who said I was dumb. Yet, here I was saying it to myself 52 times in 10 minutes. It was then that I realized the power of self-talk and why you need to be your best friend.
Related: 4 Tips to Take Care of Your Mental Health
Having this experience really helped me figure out how to observe my thoughts in a different way. I saw my thoughts as just observations and not necessarily facts.
I forced myself to change my words and replace them with more empowering ones. When I forgot the tab, instead of calling myself sordid names, I tried saying, "That's okay, we all forget things sometimes."
I developed an understanding of the power of positive self-talk and why it was important for me to be kinder to myself. I realized that if I want to be successful, happy, and healthy, then negative self-talk will not get me there.
This was hard at first, but the more I practiced positive self-talk, it became easier and easier. Soon enough, people around me noticed how much my mood had improved.
Related: Harness Positive Thinking With Powerful Affirmations
Since then, I've really taken the time to observe myself and become more aware of my thoughts and words. Today, I'm a lot better at acknowledging my negative thoughts and redirecting them in a more positive direction. Through the process of self-discovery, I've learned that it's okay to be gentle with yourself and that being your own best friend is the key to living a fulfilled life. My mission now is to spread the good news about how important it is for us all to be kinder to ourselves—because we are worth it.
The Power of Self-Talk and a Holistic Lifestyle
Living a holistic lifestyle means keeping in balance all aspects of health: physical health, mental health, emotional health, spiritual health, and social wellbeing. Self-talk is the inner dialogue you have with yourself—it can be positive or negative.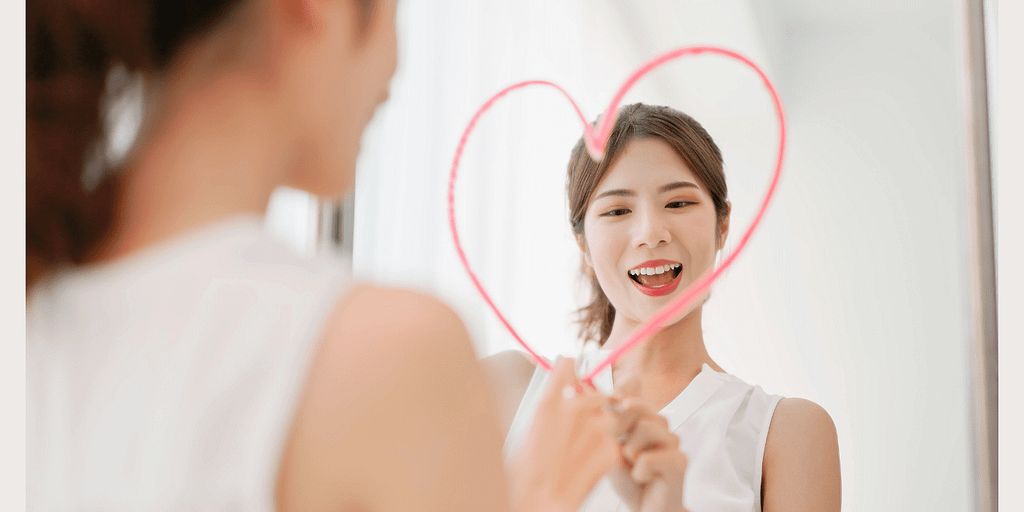 The way you speak to yourself is a crucial part of living a healthy and balanced lifestyle, which helps create a more holistic lifestyle. Being mindful of our self-talk and learning how to replace negative thoughts with positive ones can help us stay mentally healthy.
You can use positive self-talk to help you stay on track when it comes to your health goals. Positive self-talk helps boost your confidence, increase motivation, and build inner strength.
Related: 8 Powerful and Amazing Mindfulness Energy Techniques
The Powerful Effects of Negative Self-Talk
If you read my story above, you know how destructive negative self-talk can be. But what exactly are the effects of negative self-talk?
Negative self-talk has been linked to lowered self-esteem, depression, anxiety and even physical ailments such as headaches, stomachaches, and insomnia. It often causes you to become less confident in your abilities, which can lead to decreased productivity or overall feeling of lack of worth.
Negative self-talk can also lead you to give up on your goals before you even begin. More often than not, this happens because of a fear that you won't be able to achieve them or because the negative thoughts have convinced you that it's not worth trying. You may become less likely to take risks and put yourself out there, which can limit your potential and growth.
These negative effects of self-talk are why it's so important to be aware of how you speak to yourself. Not only will this help you become more successful in the long run, but will also improve your emotional wellbeing.
Related: Top 6 Supreme Yoga Mats and Their Importance
The Empowering Benefits of Positive Self-Talk
Positive self-talk is a powerful tool for creating a holistic lifestyle. This practice is the art of consciously speaking positively to yourself, and it can be a great way to boost your self-confidence, improve your mental health, and empower you to change your life.
When you practice positive self-talk, you will notice a shift in your mindset. You will become more aware of the way you talk to yourself, and you will replace negative thoughts with positive ones. This can lead to improved mental health, as well as improved physical and emotional wellbeing.
Also, positive self-talk can help you develop healthier habits and relationships, as well as increase your motivation and productivity.
Related: Do You Make These Common Mistakes When Living More Naturally?
How to Replace Negative Self-Talk With Empowering Self-Talk
It's easy to get caught up in negative self-talk and forget that you have the power to change the way you think about yourself. Whenever you find yourself speaking negatively to yourself, take a moment to practice self-reflection and ask yourself why you are feeling this way. Once you identify the root cause of your negative thoughts, you can start replacing them with more empowering ones.
Here are a few tips on how to replace negative self-talk with empowering self-talk:
Journaling and reflection: Writing down your thoughts and reflecting on your actions can help you gain perspective and allow you to identify patterns of negative self-talk. Some of my favorite inner child healing and guided journals are: Self-Love Guided Journal, Shadow Work: A Guided Journal for Meeting The Stranger Within, The Untethered Soul Guided Journal: Practices to Journey Beyond Yourself, and Out of the Shadows: The Shadow Work Workbook EXTENDED EDITION.
Positive affirmations: Make a list of positive affirmations that remind you how capable, worthy, and valuable you are. Each time a negative thought comes up, read the list out loud or in your head. Check out my chakra printable or my affirmation reflection sheets to help you get started!
Distraction: Whenever you ruminate on negative thoughts, try to distract yourself by engaging in a creative activity, such as painting or writing.
Talk to a friend, family member, therapist, or coach: Talking to someone who you trust can help you gain a different perspective on your thoughts and feelings. A professional can also provide helpful advice and techniques for shifting your mindset in a positive direction.
Develop gratitude: Reflect on the positive attributes that make you grateful in life. This will help shift your focus away from negative self-talk and towards more positive thoughts. This gratitude journal is an easy and quick way to spend a few minutes practicing gratitude every day.
Practice mindfulness: Taking a few minutes each day to practice mindfulness can help you become more aware of your thoughts and feelings. This will make it easier for you to recognize when negative self-talk is starting up, so that you can take steps to redirect your thoughts.
Related: Tips for Self-Care Practices: Improve Meditation Skills
Overall, empowering self-talk is a great way to be your own best friend and taking control of your life. This type of self-talk is about replacing negative thoughts with positive ones. It's about recognizing your strengths and using them to build a healthier and more holistic lifestyle.
When you recognize negative self-talk, then you can challenge it. You can replace it with positive self-talk that encourages you to be kind to yourself. This could include positive affirmations, such as "I am strong and capable" or "I am worthy of love and respect."
These affirmations help to build your self-esteem and create a healthier mindset. Additionally, engaging in activities that bring you joy and fulfillment can help to create a more balanced and holistic lifestyle.
Strategies for Integrating Powerful Self-Talk into Your Holistic Lifestyle
Now that you understand how to replace negative self-talk with empowering self-talk, it's important to integrate this type of talk into your everyday life. Here are a few strategies that can help:
Set aside time daily for reflection: Take 10 minutes each day to sit in silence and reflect on your thoughts. This will help you become more aware of your inner dialogue and recognize any patterns or themes in your self-talk.
Write down positive affirmations: Make a list of positive affirmations that you can refer to whenever negative thoughts arise. This will help you reframe those thoughts in a more empowering light.
Practice mindful speaking: Whenever you engage in conversations with others, be mindful of how you speak to them. Aim to use language that is kind, respectful, and encouraging. This will help to create an environment of positivity that can benefit both you and the people around you.
Surround yourself with positive people: Spend time with people who have a positive attitude and outlook on life. This will help boost your mood and make it easier for you to practice positive self-talk.
Related: Want to Live More Sustainably? Read This
Tips for Creating a Positive Relationship with Yourself
The relationship you have with yourself is one of the most important relationships in your life. Your self-talk plays an important role because it can either empower you or bring you down. However, being your own b est friend can mean more than simply engaging in positive self-talk. Here are a few tips for creating a more positive relationship with yourself:
Set healthy boundaries: Knowing how to set and enforce healthy boundaries for yourself is an important part of developing a positive self-relationship. This means being honest about what you need and expect from yourself, and then taking steps to protect those needs and expectations.
Make time for self-care: Take some time each week to engage in activities that bring you joy and nourish your spirit. This could include anything from reading a book to going on a nature walk. My Morning Routine and Reflections Guide is a great place to get started. Check out the guide in our shop today.
Be kind to yourself: Treat yourself the same way that you would treat someone you care about. Speak to yourself in a kind and encouraging way, and don't be too hard on yourself.
Focus on your strengths: Instead of dwelling on your weaknesses, focus on your strengths and the things that make you unique. This will help to build self-confidence and a more positive relationship with yourself.
And that's it! Overall, it is essential to recognize the power of self-talk, and the importance of being your own best friend. Negative self-talk can have a detrimental impact on our mental and physical health, and it is important to be aware of the effects it can have.
How is your self-talk? What do you do when you speak negatively to yourself? What tactic do you use to improve your mental health? We'd love to hear from you in the comments!
Next: Tips for Self-Care Practices: Improve Journaling Skills