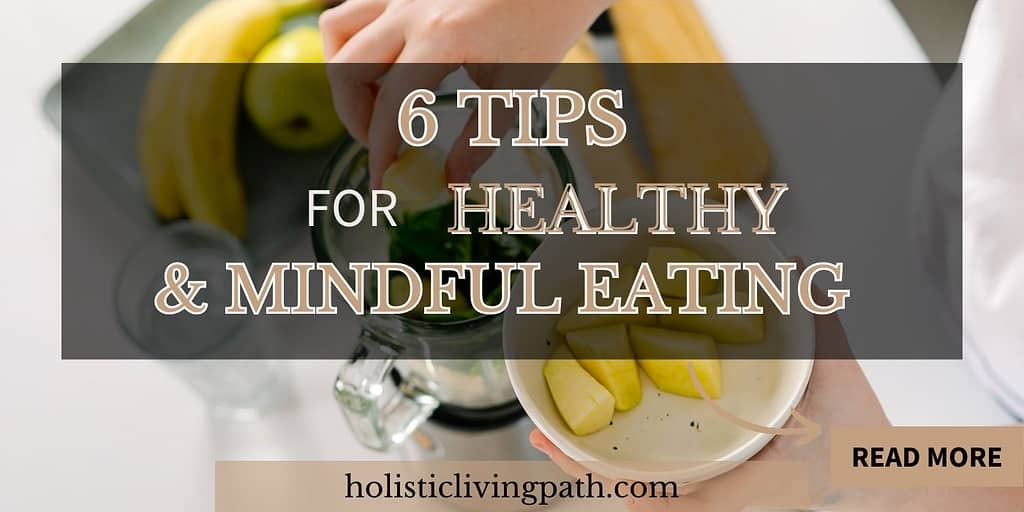 Eating mindfully might seem like a practice that is out of reach for many. Between the daily distractions of life, family, and work, practicing mindful eating techniques can be a challenging practice to take on. And one that our friends and family might not have the patience for.
Disclaimer: I only recommend products I would use myself, and all opinions expressed here are our own. This post may contain affiliate links that, at no additional cost to you, I may earn a small commission. Additionally, as an Amazon Associate, I earn from qualifying purchases. Read full the privacy policy here.
However, the food we take in and how we eat it can drastically change the way we feel about ourselves and our bodies. When I started practicing mindful eating, I felt more connected with my food and my body. I noticed sooner when I was full or when a particular food made me feel more sluggish.
Related: Holistic Wellness: 7 Major Parts & Best Ways to Improve
I also made smarter decisions about the foods I would eat and when I would eat them. As a foodie, I loved trying new foods and sweets, but I would also overeat or overindulge. Mindful eating might seem like a silly process, with no real purpose, but the connection cannot be overestimated.
Sometimes I still forget to be mindful when I am eating. Life flies by and I don't always have enough time to eat slowly. For that reason, I created a simple Minimalist Mindful Food & Eating Journal W/ FREE Habit Tracker, which is available in our shop. The journal has helped me express gratitude for my food and I savor as many bites as I can. Such a simple practice has helped me to be more mindful and appreciative of what I receive.
What is Mindful Eating?
Mindful eating is a simple practice where you tune into your food and body as you eat. You can chew slowly and consider the taste, smell, and textures you're experiencing. You could also focus on how your body feels as you eat. For example, is the food spicy and does your body burn? Or maybe the food is cold?
Mindful eating is a personal practice. It's up to you about how you wish to tackle it, but it is a mindful or meditative practice. It's important to connect with your experience and tune into how you're feeling, which the Minimalist Mindful Food & Eating Journal W/ FREE Habit Tracker will help you do!
Related: Explore the 7 Chakras + Easy and Proven Ways to Balance Them
6 Ways to Practice Mindful Eating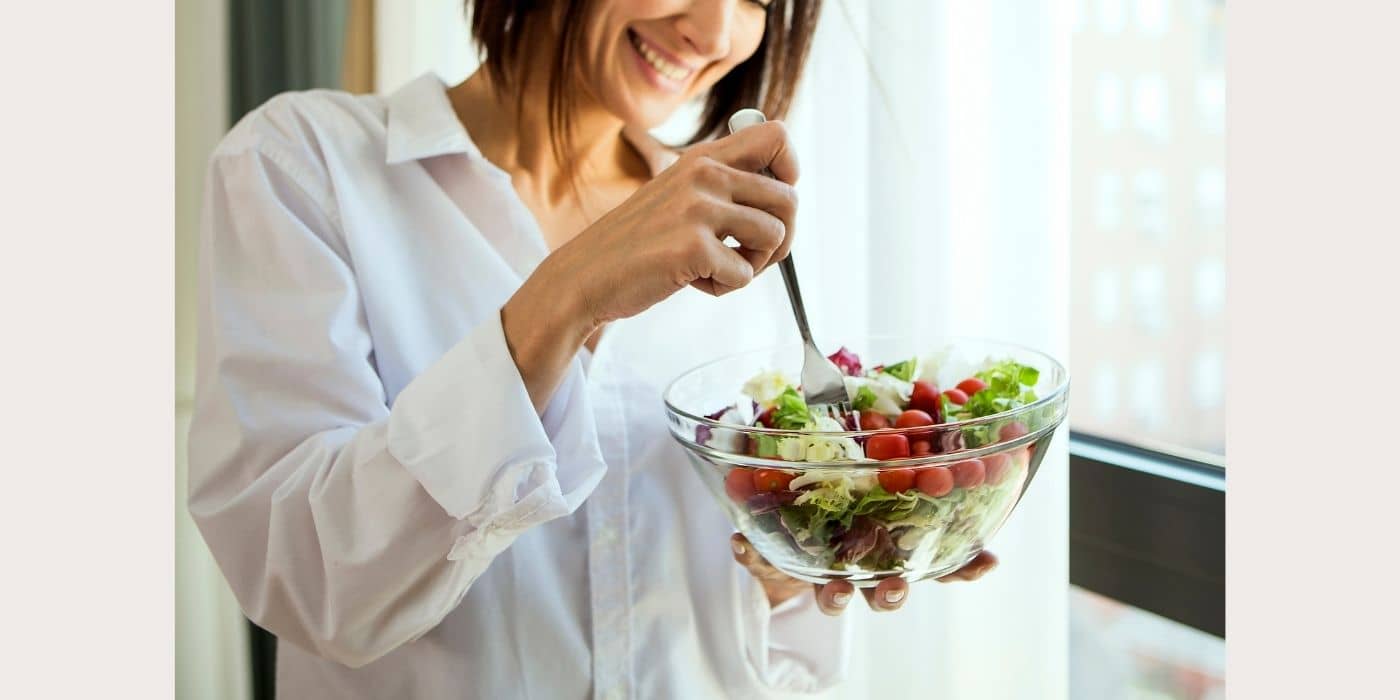 Mindful eating is a personal process. There are many ways you can tap into this exercise, but it's important that you find what works for you so that you're more likely to continue in the future. Here are a few tips that have helped me along the way.
Use All Your Senses
To be mindful, you must tune into the present moment. Instead of letting your thought run wild and ruminate about your to-do list, it's important to focus on the here and now. The same is for mindful eating and a great way to accomplish that is by using all your senses.
As you eat, consider how the food looks and how it feels in your mouth. Take a deep breath and try to determine all the scents that you can smell. As you chew, consider the flavors you taste and what you might hear. Is the food crunchy or soft? Is there a hint of citrus or spice? If you need more ideas, check out our simple Minimalist Mindful Food & Eating Journal W/ FREE Habit Tracker.
Modest Portions
Overeating is a major concern nowadays. There are two main reasons we might over eat. The first reason is being too hungry, and the second is large portions. If you eat slowly, you'll notice that your body gets fuller even if you haven't eaten all the food on your plate. So instead of filling up your plate, start with smaller portions and eat slowly. If you're still hungry, you can always add more food, but this will limit overeating.
Related: The Power of Self-Talk and Why You Need to Be Your Best Friend
Honor or Show Gratitude for Food
Food is sacred. Plants and animals once lived before they ended up on our plate. Before you start eating, take a moment to honor your food. Consider the animals and plants that form your meal and show gratitude for their sacrificed. Without those items, you wouldn't be able to eat and showing gratitude can make you feel more satisfied about what you're eating and how.
Savor Small Bites and Chew Thoroughly
Don't rush eating your meal. That's the most important part of mindful eating. Taking small bites allows you to eat slower. To take it a step further, make sure you are truly savoring each bite and are chewing thoroughly. When you chew thoroughly, you can experience all the flavors and textures of the food.
Be Hungry But Not Starving
As I mentioned above, eating when you're really hungry can lead to overeating because you rush to finish your meal. This also makes it more difficult to practice more mindful eating techniques. Instead, eat when you notice you're hungry. Don't push away your hunger, especially because mindful eating is also about connecting with your body. If you're ignoring the needs of your body, then you're not being mindful.
Smile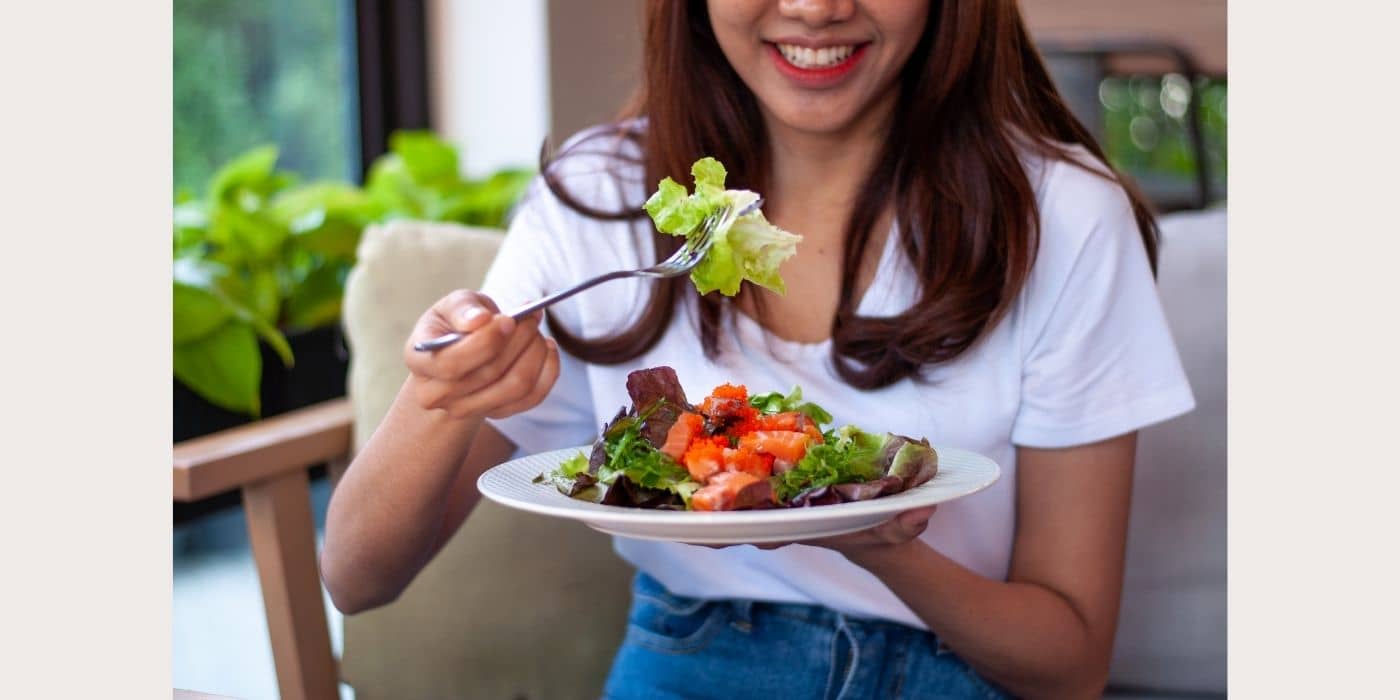 This is one of my favorite tips. Food and eating should make you happy. You should feel thrilled to have food you can eat and a full belly. As you eat and once you're finished, be sure to smile. Express the joy and gratitude you have because you're full. Show the universe how happy and grateful you are for receiving your meal.
Related: 5 Powerful Breathwork Strategies to Improve Stress
And that's it! Mindful eating doesn't have to be difficult or intricate. You can take the practice step by step and add more tips as you get more comfortable. The overall goal, though, is to connect with the food and your body and determine how the two influence each other. Be present in the moment and, ultimately, enjoy your experience.
Do you practice mindful eating? Are you interested in developing a more mindful relationship with food or your eating habits? We'd love to hear from you in the comments!