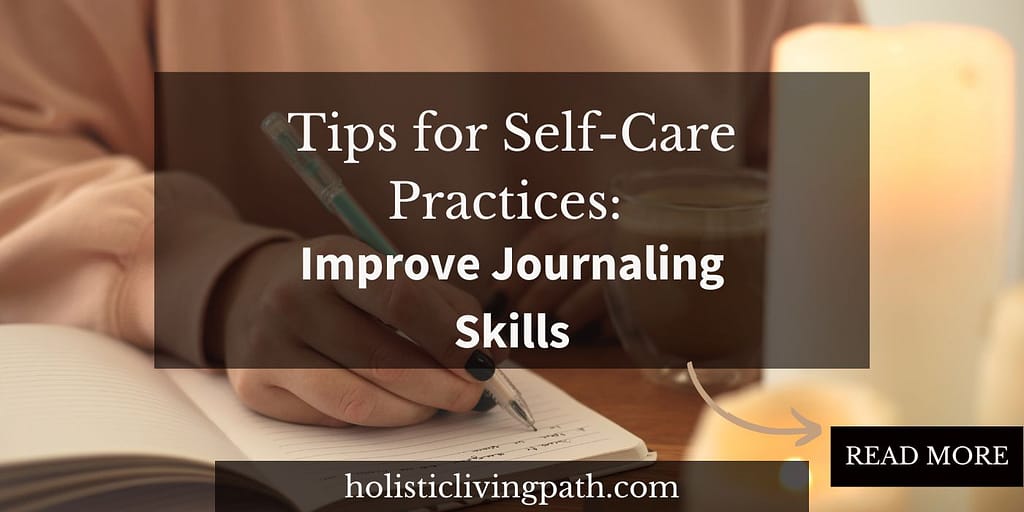 Are you looking for a holistic approach to taking care of your emotions? Journaling is the perfect self-care practice to help nurture the varieties of feelings we have and stay in tune with our mental health. Not only that, but it's also an excellent way to express, process, and reflect on challenging moments. In this blog post, we'll be discussing multiple journaling tips so you can create a self-care routine that cultivates a healthier mindset and improved wellness long term. So grab your pen or laptop—let's begin!
Disclaimer: I only recommend products I would use myself, and all opinions expressed here are our own. This post may contain affiliate links that, at no additional cost to you, I may earn a small commission. Additionally, as an Amazon Associate, I earn from qualifying purchases. Read full the privacy policy here.
Even as a young child, I loved reading, writing, and making up stories. My mother told me I was reading fluently before I entered kindergarten. My father said from the moment I first could hold a pencil, he knew it would be an important part of my life. Each and every year, my writing improved and I couldn't wait to connect to my inspiration on a new level.
Related: How to Boost Your Energy Naturally
Initially, writing was a creative pastime for me. I enjoyed coming up with stories and writing essays in school. It was much easier for me to have a prompt, directions, or at least a specific subject and just let the words flow. I spent many nights rhyming words and coming up with poetry for school and writing short stories for contests.
But when it came more to journaling and evaluating my emotions through writing, that's where I struggled. As a young girl who loved writing, many would think that a diary is the perfect option. And I definitely had many diaries over the years—that ended up as scribble pads.
Looking back, I can see how that was a red flag, and I continued to struggle with my emotions well into my adult years. However, as I began to live a more consciously aware life, I realized I needed to handle my emotions sooner rather than later.
And so, I reconnected with writing on a much deeper and intimate level. I learned how to navigate my own inner workings on paper so that I can manage them in life much healthier. The journey took me through a lot of spirals, through a lot of inner child healing, but it also made me fall in love again with the meaning behind words and the power they can have.
Related: Simple Ways to Reduce Stress Holistically
I realize that not everyone has the same passion for writing as I do, but that doesn't mean that you can't reap some of the same benefits. When you take a pen to the paper and let your emotions run free, you can see them for what they are, which is usually optical illusions hindering us from our overall goals.
So I'm here today to help you navigate this journey and give you some tips on how you can make journaling a powerful tool in your spiritual or holistic journey.
The power of journaling.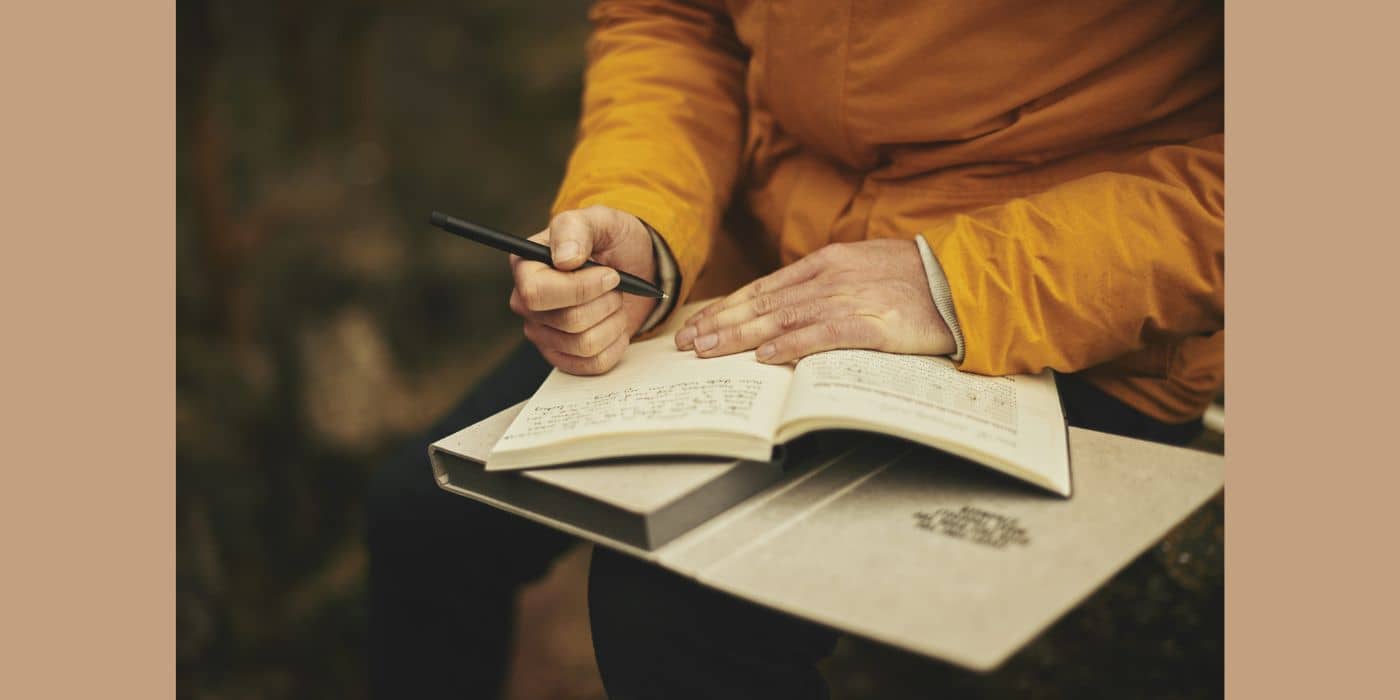 Journaling is not only a fun activity, but also a therapeutic one. It is a tool that can aid self-care by allowing us to process our thoughts and feelings in a healthy way. By writing about our experiences, we can gain a better understanding of ourselves and our emotions, which leads to emotional and mental wellbeing. This also leads to less stress, as we can better organize our thoughts and identify underlying issues. Reviewing what we wrote allows us to reflect on our decisions, emotions, and experiences so we can learn from what we endured.
Whether it's in the morning, before bed or whenever you find the time, taking some time to journal can be a powerful practice that will benefit your overall wellbeing. Instead of letting the thoughts or emotions simmer inside of you, journaling gives you a non judgemental (a silent space) to share. Your friends and family can only help you to the point at which they've helped themselves and if they have a different mindset than you, it can be more difficult to understand each other's perspectives.
Related: How to Begin Living a Holistic Life
However, journaling allows you to share freely and then you can reevaluate from a clearer perspective to determine what's right for you. There are no interruptions or no influenced decision-making. You get to evaluate yourself and on your own terms. That's why we've compiled this lengthy list of journaling tips to help you get started.
Finding the right writing format.
In truth, the format doesn't matter. If you're comfortable with an empty notebook, then you can choose that route. However, as a beginner, it can be tough to get into the rhythm or know where to begin. Choosing a format can help you get started.
Luckily, with so many different types of journals, the possibilities are endless. The key is figuring out what works best for you. Are you someone who enjoys being creative and free-flowing with your writing? Maybe a bullet journal or a diary-style journal would be perfect for you.
Or maybe you prefer structure and organization—in that case, a planner or a guided journal might be more up your alley. I love using this hourly/weekly planner that also gives me space to plan and track more personal goals or habits. Once you've found the right format, the next challenge is figuring out what topics to write about. Whether it's your daily activities, your thoughts and emotions, or even your goals and aspirations, there's no wrong answer.
Related: 4 Tips to Take Care of Your Mental Health
Setting up your writing space.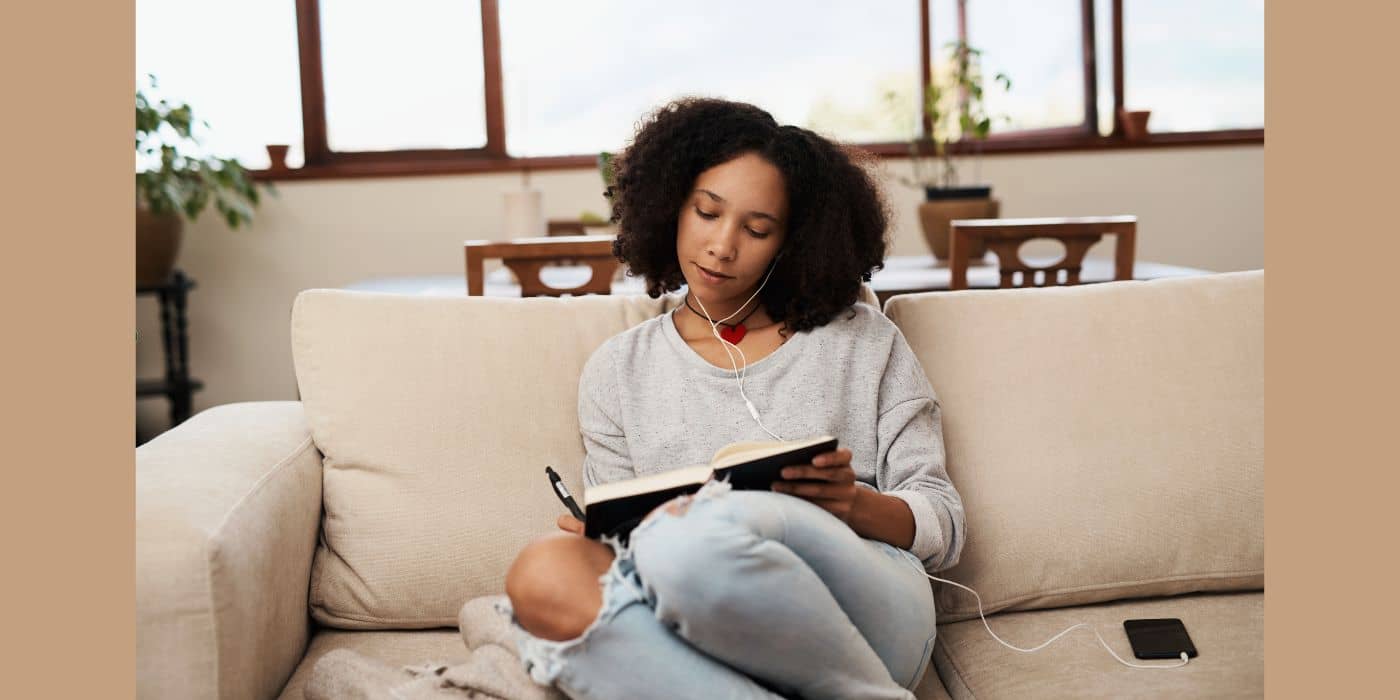 Welcome to the world of writing! Whether you're working on your first novel, polishing up a blog post, or evaluating your emotions, having a comfortable writing space can make all the difference. This is one of my favorite journaling tips to use when I'm struggling to write in the moment. Think about what makes you feel relaxed and at ease. Maybe it's soft lighting or a cozy chair. Perhaps it's a fragrant candle or calming music softly playing in the background. A desk and a dedicated space to only write might be nice too, but isn't necessary.
Take some time to create a space that makes you happy and inspires you to write. Remember, your writing space is personal and should be tailored to your needs, but you want to have space ready for yourself. Doing so allows you to be more diligent and intentional with the practice. This also helps for those random bursts of inspiration.
Get started with these journaling tips.
Journaling can be a powerful tool to help you gain insight, clarity and give your life purpose. Here are some tips to get you started.
Use journaling prompts
For me, prompts were the best journaling tips I could use. Inner child healing prompts and other similar journaling prompts were the easiest way for me to get started. Since I already knew that I was someone who could lack direction, having prompts stopped me from wasting time on the "what to write about."
Related: How to Eat a Clean Diet
First, I did a search for some prompts, but as my journey continued, I started buying books like 5000 Writing Prompts, Out of the Shadows, and Self-Love Guided Journal. These inner child workbooks really helped me understand where some of my conditioning was coming from and why I felt the way I felt.
The Untethered Soul was another great workbook that helpful me really evaluate and assess some of my inner workings. In a year, I completed about seven different prompt books guided toward inner healing. Here are some of my favorites, in order of most to least favorite. They all had their benefits, but some I enjoyed just a little more.
As I began to work through them, though, I realized there were several more concerns that I wanted to address. So along the way, I made some inner child healing prompts that have really helped me view my challenges from a different standpoint. Some examples of my favorite inner healing journaling prompts are:
Related: Grounding Means Living Naturally
How do I show up in the world?
What can I do to honor my inner child today?
How am I blocking myself from self-love and acceptance?
How can I better communicate my emotions and needs?
What boundaries do I need to set around energy vampires, toxic family members, or bad relationships?
How does my body feel, and what message is my inner child trying to tell me?
Can I think of a time that I felt this way before (especially as a child)
What would I tell my inner child if they were feeling scared?
What would I tell my own child if they were feeling scared?
How can I be more mindful of how my inner child views the world?
What are some ways that I can better nurture my inner child?
How can I give my inner self the love and support it deserves?
What would make my inner child feel safe and secure?
In what ways does my inner child try to communicate with me?
These prompts have been so helpful in allowing me to uncover what was buried deep within and allow myself to be seen and heard. Inner child healing has been a long journey, but it's one that I am so glad I chose to take. There have been days when all I wanted was for the pain to go away, and thankfully, inner healing has given me the strength to move forward and let go of what no longer serves me. I am so grateful for the rich transformation it brought into my life.
Free write with a timer
Another helpful approach is to free-write, where you simply jot down any ideas that come to mind without worrying about grammar or structure. Freeform and stream of consciousness are great ways to find out what's hiding underneath. Set a time for 10 to 20 minutes and just start writing. At first, it might seem forced and you might have to start with something that seems silly like "the weather today is…" to get started.
However, somewhere along the line, the subconscious mind takes over and when the timer stops, you're writing about the actual problem or the solution you're contemplating. So it might be tough to begin, but the results are worth it.
Related: Essential Things to Know Before Growing Your Own Food
Don't force it
Another effective method is to step away from your work for a little while and engage in a different activity that inspires you. Maybe it's taking a walk, reading a book, or watching a movie that sparks your creativity. You don't have to force it, especially if writing isn't your favorite thing to do.
Listen to music
Music for me can be iffy. Sometimes music can get me in the right mood and other times music can be more of a distraction. The art lies in choosing the right type of music. White noise, classical music, Solfeggio scales, and even binaural beats can all be helpful in getting you into more of a creative zone. Throwing on some headphones can be just the perfect journaling tip you need to get your thoughts out on paper.
How to strengthen your writing habits.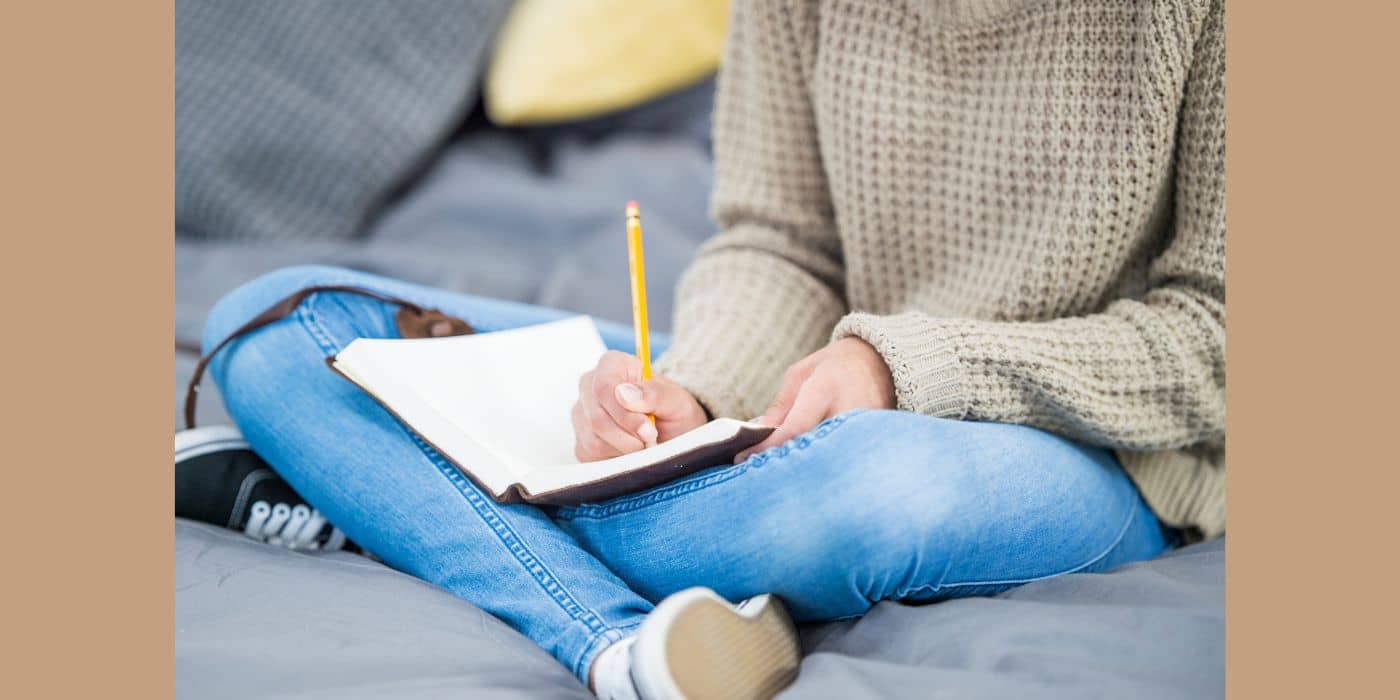 Writing is a truly liberating art form that allows you to express your thoughts, feelings, and ideas in a way that is uniquely your own. However, finding the time and the motivation to write can be a real challenge. That's why it's so important to develop strong writing habits. By making time for writing, you're prioritizing your creative endeavors and setting yourself up for success.
Consistency is key when it comes to journaling, and building a routine around your writing can be a great way to stay on track. But it's not just about writing regularly; it's also about measuring your progress and celebrating your achievements along the way. By tracking your writing habits, you can gain valuable insights into your process and see just how far you've come. So, if you're ready to strengthen your writing habits, the best journaling tip for you is to practice.
Related: 4 Proactive Self-Care Tips to a Holistic Life
Make time for journaling sessions.
This is a great journaling tip if you want to write more, as you have to be more intentional with your practice. Schedule a time in your day where you can sit down and write without interruption or distraction. This could be right after breakfast or before bed, whatever works best for you. Pick a time that works best for you, maybe right before bed or first thing in the morning. It doesn't have to be long, even just ten minutes can make a difference.
Try to do this often and regularly. It's okay to journal once or twice a week, but the more consistency you can bring to your practice, the better. Remember, your journal is your personal space to express yourself, so don't stress about what to write. Just let your thoughts flow, and you'll start to see the rewards of this valuable practice.
Creative ways to use a journal for self-reflection and growth.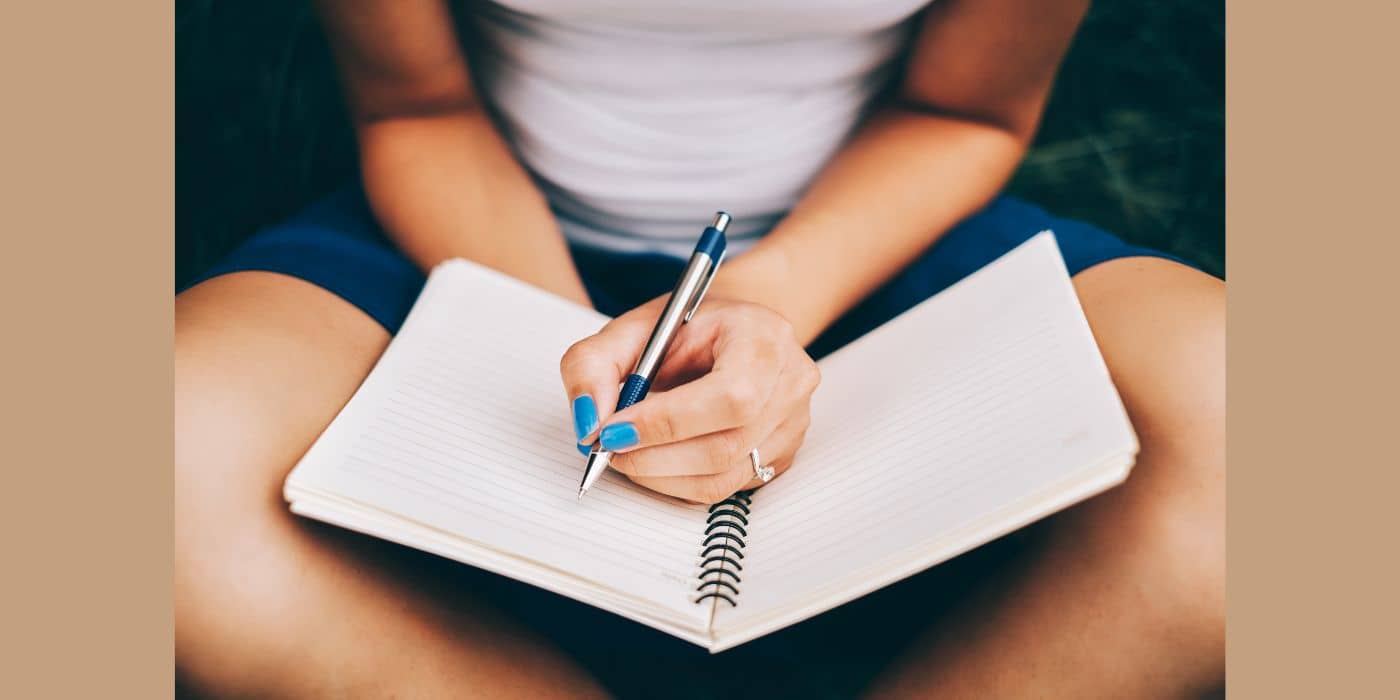 Keeping a journal allows you to not only record memories and thoughts, but also gain insight into your own patterns of behavior and thought. You can use your journal to track progress towards personal goals, reflect on life events, and brainstorm solutions to problems. It's a perfect tool for self-discovery and growth. And the best part is, there are no rules! You can make your journal entirely personal and unique to you, allowing for endless possibilities in how you use it. So grab a pen and a notebook, and start exploring the incredible benefits of journaling for yourself!
Reflect on decisions made
If you're looking for a journaling tip that will get you writing, reflecting on the decisions you've made is a great place to start. Your decisions play a major role in how you manifest the life you want. It's important to be mindful of each decision that you make and take responsibility for them. Recognizing your actions is the first step in understanding what kind of life path you are choosing. Every day, your decisions influence where you go and who you become. When making a choice, consider if it is taking you closer to or further from your desired destination. Make decisions that bring you one step closer to a life filled with joy and fulfillment. Ultimately, know that the power of your choices is in your hands.
Related: A Holistic Perspective: The Mind, Body, and Spirit

You have the opportunity to shape your future with every decision that you make. Don't be afraid to take risks and try something new and use your journal to help you decipher what works best for you. As you go through life, your decisions become a reflection of who you are and the values that you hold. Embrace this power and take full ownership of your choices. Your future is in your hands. Make decisions that bring out the best version of yourself and embark on the journey to living a holistic life with purpose!
Reflect on decisions you need to make
Another great journaling tip is evaluating the past as this allows you to determine what you did wrong (or right) and how you can be more efficient in the future. However, if you're currently stuck with a decision to make, journaling can be an effective way to organize your thoughts and analyze the positives and negatives of each option. You can use your journaling skills to create pros and cons lists or evaluate the potential outcomes of each decision. By journaling, you can also identify any limiting beliefs or cognitive biases that could be influencing your decision-making.
Incorporate inner child healing
Some people might think that inner child healing is for kids only, but that couldn't be further from the truth. Inner child healing or shadow work is actually an incredibly powerful tool for adults to use in order to heal their past wounds, especially those related to childhood trauma and neglect. The truth is, we could all use a little more help in the reparenting portion of our lives.
Through this practice, you can gain a deeper understanding of yourself and how your experiences have shaped who you are today—allowing not just for acceptance, but also for healing and growth. Ultimately, inner child healing can help you create a much healthier relationship with yourself and your life.
Related: Guides to Incorporate Essential Oils into Your Daily Life

By understanding the concept of inner child healing and its importance, you can start to explore ways in which it could benefit you. For example, many people have experienced pain or trauma during their childhood that has left deep emotional scars, which can be healed through inner child healing. It can also help you to become more aware of your innermost thoughts and feelings, building a greater sense of self-confidence and enabling you to feel more in control of your life.
Strengthens and weakness
Reflecting on your strengths and weakness is a great way to understand where you are in life and to plan for the future. It's important to take a step back and assess what has been working and what needs improvement. Doing this will help provide clarity on where resources should be allocated. Identifying any areas that need growth can also give insight into new opportunities or likely obstacles ahead. Using your journal to reflect on your strengths and weaknesses can help to further the understanding of your personal goals.
Start by writing down all that you are proud of, followed by areas which need improvement. Consider how each relates to any current or future plans you may have. When making decisions about the paths you want to take in life, consider what will be required to move forward and prioritize accordingly.
Mindmaps
I love mindmaps. There's a fun, creative, and effective way to brainstorm and problem solve. This technique is also perfect for people who aren't too into the whole writing thing but still want their journaling experience to be meaningful. Mindmaps have helped me explore new ideas, make connections between concepts I may not have thought of otherwise, and generally kept my thoughts organized. Plus, they just look pretty cool! I highly recommend giving this technique a try if you're looking for an alternative to journaling.
Related: 12 Fun Yoga Poses for Improved Digestion
As you can see, journaling is a powerful self-care tool. It can help you reflect and process complex emotions and complicated thoughts while reinforcing positive thinking patterns. Regular journaling can be an effective tool in managing difficult and overwhelming emotions. When done consistently, this exercise affords us the opportunity to break down our chaotic experiences into manageable components, providing insight and perspective that we could not otherwise find.
With just a few minutes of intentional focus each day (or week or month), journaling is a great way to provide yourself with powerful psychological benefits and encourage self-care practices. Do you journal? Do you think it helps you? If so, are you a free-write or a prompt type of person? We'd love to hear more about how you manage your emotions through writing!