Do you ever feel like there's something missing from your life? Are you looking for some extra spiritual guidance or a way to deepen your connection with the world around you? A great place to start is by incorporating herbs into practices that promote holistic and natural living.
Disclaimer: I only recommend products I would use myself, and all opinions expressed here are our own. This post may contain affiliate links that, at no additional cost to you, I may earn a small commission. Additionally, as an Amazon Associate, I earn from qualifying purchases. Read full the privacy policy here.
Herbs are not only healing on the physical level, but they can also offer powerful spiritual uses as well! We've hand-picked some of our favorite common herbs, outlining their specific properties and how you can use them in everyday rituals—let's get started discovering all these amazing gifts nature offers us!
Related: 4 Proactive Self-Care Tips to a Holistic Life
Beginning with spiritual herbs
For me, a large part of my holistic practice is incorporating scents. Ever since I was a child, essential oils and incense sticks have been a major source of comfort. Aromatherapy is an effective way to create a calming atmosphere and to relax the mind. Only, as I became an adult, I realized that aromatherapy didn't have to be limited to traditional essential oils or candles.
Having my own mini family meant that I could experiment more in the kitchen, which quickly turned cooking and baking into other hobbies that I enjoy. Looking back now, I can see how subconsciously using herbs like lavender, rosemary, and thyme had a calming effect on my mind. This was the beginning of my journey, exploring more herbs that can be used for spiritual guidance.
One day, I looked at my seasoning cabinet and thought to myself, why not start infusing my kitchen creations with spiritual guidance? This is how I discovered that many common herbs have traditional spiritual uses. I knew of some less common herbs, like calendula, yarrow, and mugwort—I had experimented with them for lotions and creams in the past. But I realized that there are many more commonly found herbs that also have spiritual uses.
So I decided to try my hand at making herbal scents. Over the years, I have created some of my favorite blends that help me spiritually connect with the world around me and I'm excited to share them with you!
Related: Growing Your Herbs Easily With These 5 Tips
What are spiritual herbs?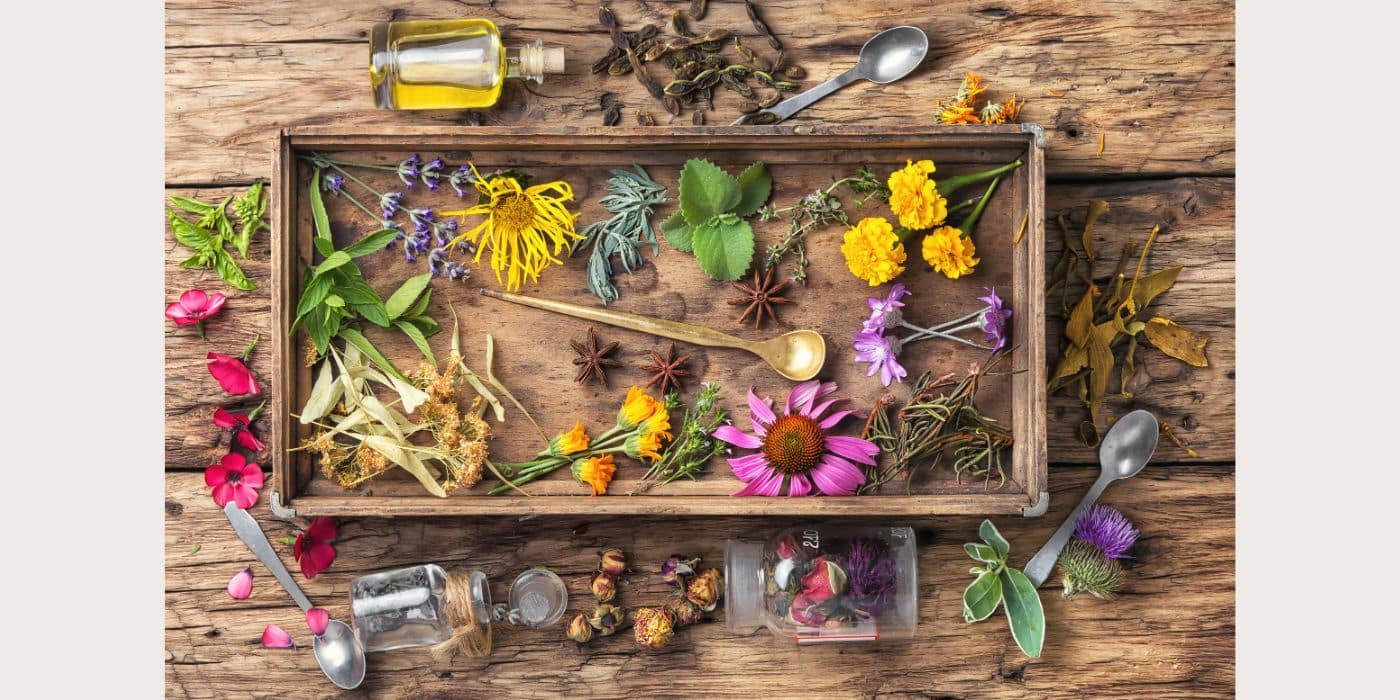 Spiritual herbs have been used for centuries by cultures around the world to enhance spiritual experiences, provide physical healing, and promote overall wellness. Spiritual herbs work by tapping into our body's natural energy and helping to balance and restore it.
Whether it's sage for cleansing negative energy or lavender for promoting relaxation, each herb has its unique properties and benefits. Incorporating spiritual herbs into your daily routine can help to create a calming and centered environment, allowing you to connect more deeply with your inner self and the world around you.
Why are spiritual herbs important?
Spiritual herbs hold immense significance in various cultures around the world. Many people believe these herbs possess magical and healing powers that help individuals connect with their inner selves and with a higher power. Each herb has unique properties that may have physical and emotional benefits. They can help in clearing negative energy and provide a sense of peace and tranquility.
You can also use spiritual herbs for manifestation and intention setting. It's no wonder that people have been using these herbs for centuries to enhance their spiritual practices and promote overall well being. While there is little to no scientific evidence to back up the claims, the belief and practice of using spiritual herbs continue to thrive in today's world.
How to use spiritual herbs.
Spiritual herbs have been used for centuries to help people connect with the divine and aid in spiritual practices. If you're new to using these herbs, it can be a little overwhelming. But fear not! Using spiritual herbs can be a wonderful addition to your spiritual practice. One of the simplest and most effective ways to use these herbs is through smudging.
Related: Natural Remedies for Chronic Pain
To do this, light a bundle of dried herbs, such as white sage, sweetgrass, or lavender, and let the smoke fill your space while reciting your intentions or prayers. You can also brew them into tea, carry them with you in a sachet or bundle, or even use them in cooking. Mixing them with carrier oils and using them for external and physical benefits is also an option. The possibilities are endless! Just remember to always research the herb before use and use it respectfully and with intention.
If you're looking for more ideas, after we review our favorite herbs, we will reveal some of our favorite recipes.
12 spiritual herbs and their benefits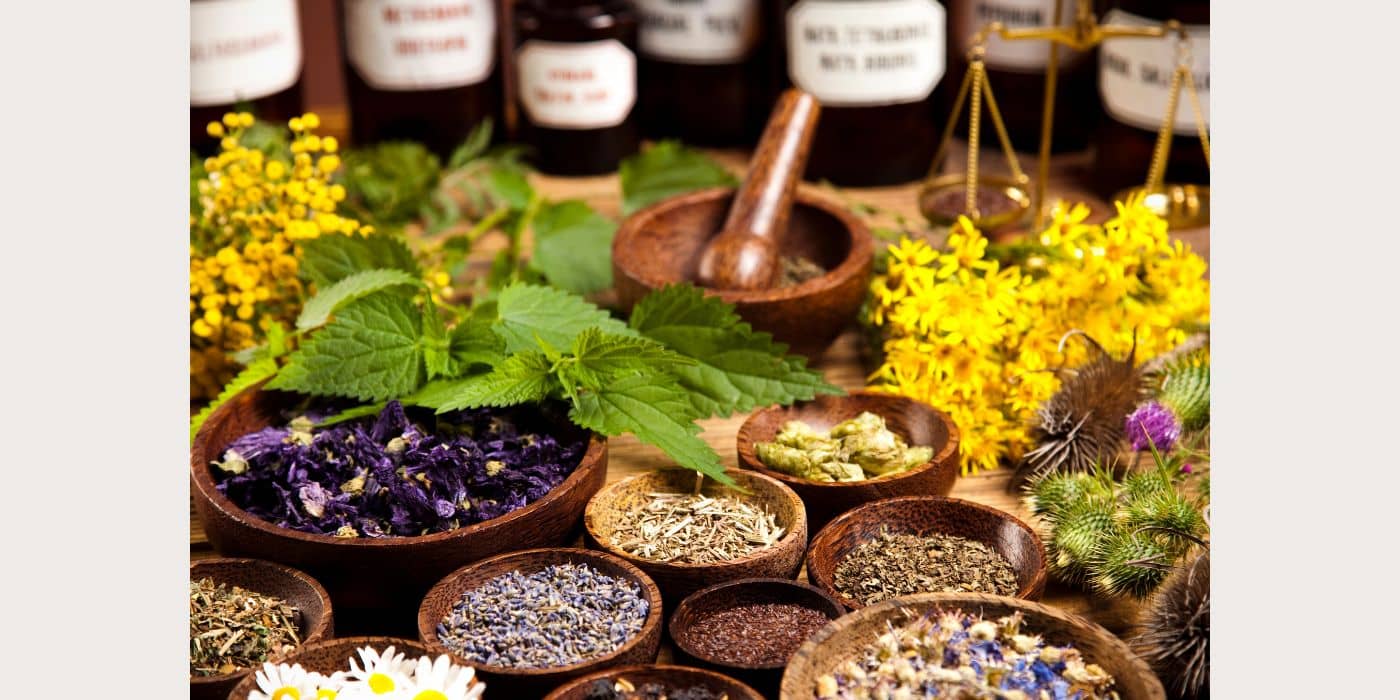 If you're someone who believes in the power of herbs, then you might be interested in exploring some of their spiritual uses. There are countless herbs special for their healing properties, both physical and emotional. Here are 12 herbs with spiritual uses and their benefits:
Sage
Sage is an amazing herb that cleanses negative energy and promotes spiritual harmony. It is also known for its immune-boosting and antiviral properties. Sage also has cleansing and purifying properties and is one of my favorites because of its versatility and ability to promote spiritual and physical health.
Related:
Lavender
Lavender is known for its calming and soothing effects, making it a great choice when you need to relax or meditate. It can also help with insomnia and anxiety. Lavender can promote spiritual connection, as many spiritual gurus believe it can open the crown chakra, allowing for greater insight and intuition. I love the smell of lavender, and it always helps me feel more connected to my spiritual practice.
Rosemary
Rosemary is a wonderful herb because of its ability to open the heart chakra and promote inner peace. It can also help with mental clarity while providing emotional balance. Rosemary is a great choice if you're looking to deepen your connection with yourself and the divine. I enjoy using this for spiritual meditation and to encourage connection with my inner self.
Palo Santo
Palo Santo is known for its cleansing properties, both physically and spiritually. It is often used in spiritual practices and can help with clearing negative energy and promoting peace of mind. It can also aid in the manifestation of your intentions. I use Palo Santo in my spiritual practice as it helps me to focus and become more mindful.
Mugwort
Mugwort is a powerful herb that has been used to promote dream recall for centuries, divination, intuition, psychic visions, and protection during rituals or travels. It is said to be particularly helpful for travelers, helping them to feel grounded and connected with their destination. It can also bring clarity of intention when used in sacred rituals or spell work. I use this most often when I need to focus, connect with my intuition, and manifest what I desire.
Related: 12 Fun Yoga Poses for Improved Digestion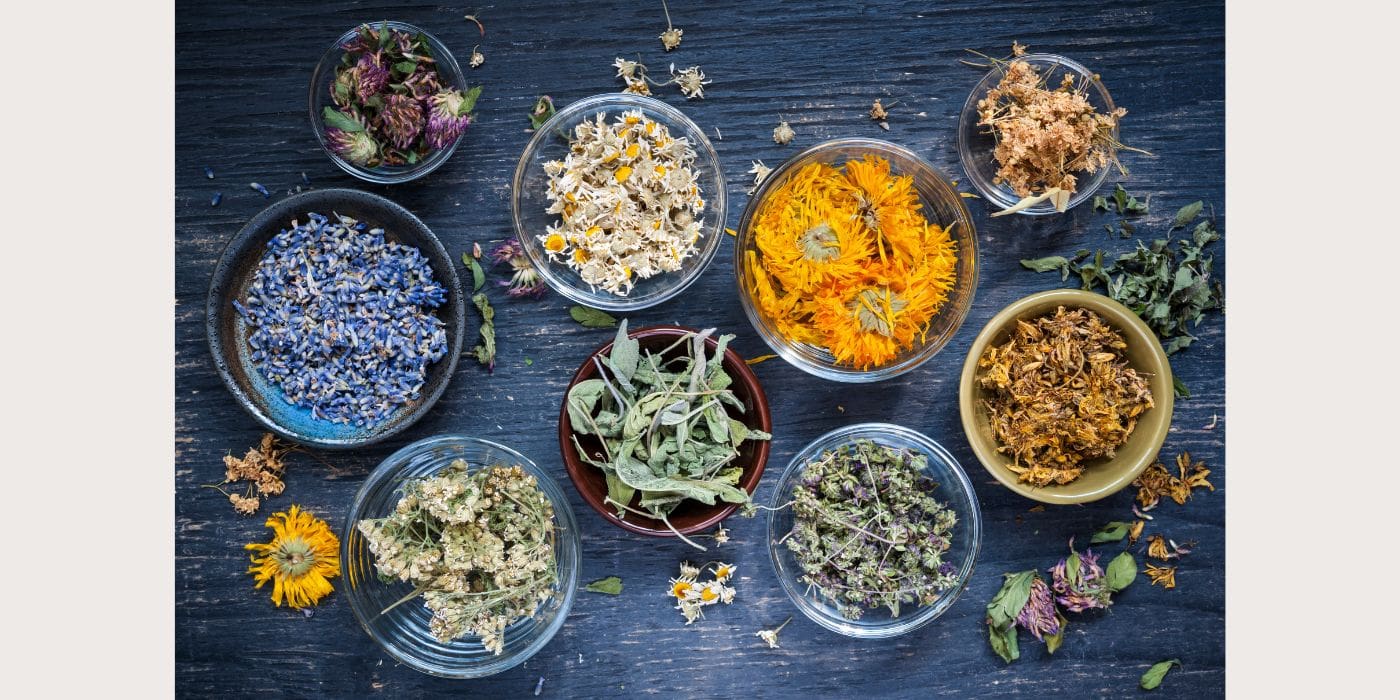 Chamomile
Chamomile is popular for its soothing effects, making it a superb choice for meditating or winding down in the evening. It can also help with promoting spiritual connection as it connects to the crown chakra. Chamomile tea is a fantastic way to end your day with relaxation and peace. I love using this herb to help me relax after a long day of work or when I'm feeling overwhelmed with too many tasks.
Frankincense
Frankincense is a powerful herb with many spiritual benefits. It is used in rituals to bring peace of mind and open the heart and crown chakras for insight and clarity. Burning frankincense has also been known to aid in meditation by encouraging deeper connection with yourself and the divine. I love how frankincense helps me to connect with my higher self and feel more grounded in my spiritual practice.
Rose Petals
Rose petals are incredibly beautiful, but they also have many spiritual benefits. They can promote love and peace, as well as emotional balance. Adding rose petals to a ritual or meditation can help you connect with your inner self and promote feelings of joy and contentment in your life. I enjoy adding rose petals to my morning meditation routine as a reminder of the beauty and peace that life has to offer.
Jasmine
Jasmine is an incredible flower with many spiritual benefits. It can promote creativity, inner peace, and emotional clarity. Burning jasmine incense or adding it to a bath can be incredibly soothing and can help you open your heart and soul. I love the sweet scent of jasmine and how it helps me to feel connected with my higher self and the divine.
Related: How to Live a Life With Less Toxic Chemicals
Thyme
Thyme is an herb that can help heal physical, emotional, and spirit. It can promote feelings of courage and strength, while also helping to clear negative energy. I love incorporating thyme into my practice because it helps me stay focused on my intentions and reach higher levels of consciousness.
Basil
Basil is a fragrant herb that has many spiritual benefits. It can help promote prosperity and luck, as well as protection from negative energy. It promotes strength, courage, and prosperity. Its aroma helps to inspire creativity and motivation, which can be helpful for manifesting your intentions in life. I use basil most often when I'm feeling overwhelmed or stuck with an idea, as it helps to clear my mind and gives me the clarity I need.
Spiritual herb recipes
Whether you're looking to boost your immune system with echinacea or find peace with lavender, there's an herb recipe out there for you. And the best part? You can integrate these recipes easily into your daily routine, allowing you to experience the full benefits of these miraculous plants. So why not give it a try? Your mind, body, and soul will thank you.
Below are some of our favorite spiritual herb recipes:
Lavender Tea – steep 1 teaspoon of dried lavender in hot water for 5 minutes and enjoy.
Sage Smudge Stick – burn a bundle of dried sage to fill your space with its cleansing aroma.
Echinacea Tincture – combine 1 part echinacea root tincture in 2 parts water and drink daily for immune system support.
Rosemary Syrup – simmer rosemary leaves in water and honey to make a sweet syrup with cleansing properties.
Chamomile Ointment – mix chamomile flowers into a neutral carrier oil to create an ointment andd apply topically for relaxation.
Mugwort Dream Pillow – stuff dried mugwort into a small pillow and place it under your pillow to aid in dream recall.
Rose Petal Elixir – make a rose petal elixir by simmering fresh or dried rose petals in water and honey. Enjoy this as an herbal tea or add it to smoothies for emotional balance.
Thyme Spell Jar – combine dried thyme and other magical herbs (your choice) with a small crystal in a glass jar to create a spell jar for protection.
Basil Protection Oil – make an oil using fresh basil leaves and olive oil to use externally as a protective charm.
Related: Best Affordable DIY Scrubs for Thicker, Healthier Hair
We hope these recipes inspire you to explore the spiritual benefits of herbs
Spiritual herb spells and activities
Depending on where you are on your spiritual or holistic journey, you may want to be more intentional in how you use and consume herbs. Incorporating spells and activities into your spiritual practice can be a powerful way to connect with nature, call on the divine, and manifest your intentions.
Below I have included a few "spells" and activities that you may want to consider incorporating into your practice. Keep in mind, this is not a "witchy" or "magical" activity—it's simply a way to connect with the natural energies around you and cultivate an open dialogue between yourself and the spiritual world. By being intentional and focused, you are allowing yourself to tap into a different level of consciousness.
Protection Spell with Sage and Rosemary
Mix equal parts dried sage and rosemary in a bowl. Focus on your desired outcome and light the herbs in a safe place. Allow the smoke to fill your space, creating a protective barrier of positive energy.
Related: 4 Practices to be More Self-Aware with Mindfulness
Chamomile Dream Tea
Brew chamomile tea and add some honey or lemon for flavor. Drink this tea before bedtime to help promote dream recall and clarity of intention.
Frankincense Cleansing Ritual
Burn frankincense in a safe place and allow the smoke to fill your space. As you do this, focus on releasing any negative energy and embracing the love of the divine. Focus on your desired outcome and imagine yourself surrounded by positive energy. Afterward, let the incense burn out.
Jasmine Intention Setting
Brew a pot of jasmine tea and set your intention for the day. Feel free to write your intentions down on paper or keep them in your head. As you drink the tea, focus on manifesting these desires and feel the joy of fulfilling them. Allow yourself to be filled with motivation and clarity.
Thyme Focus Ritual
Brew a cup of thyme tea, focusing on your desired outcome. As you drink it, allow the herbs to cleanse away any distractions or blockages that may be holding you back from achieving your goals. Visualize yourself filled with strength and courage as you continue on your journey.
Related: How to Boost Your Energy Naturally
Basil Manifestation Spell
Mix a handful of basil, either dried or fresh, in a bowl and light it. Focus on your desired outcome and visualize it happening. Allow the smoke from the herbs to carry your intentions away until they manifest into reality.
These are just a few spiritual herb recipes that you can use to uncover the power of plants. Incorporating herbs into your spiritual practice can help you experience greater joy, peace, and clarity in your life. Here's to a more meaningful journey!
From lavender to frankincense, you can use an array of spiritual herbs to improve holistic wellbeing. Whether it be aromatic smoke lingering around an altar or on a grander display, the benefits of using these sacred herbs are powerful and important. With thoughtful application, they can provide support in physical, mental and spiritual forms—leaving one feeling calm and genuinely connected with the world around them.
For those looking to tap into their spirituality and explore ways to manifest positive change in their life, experimenting responsibly with spiritual herbs may be just what you need. Blessings!