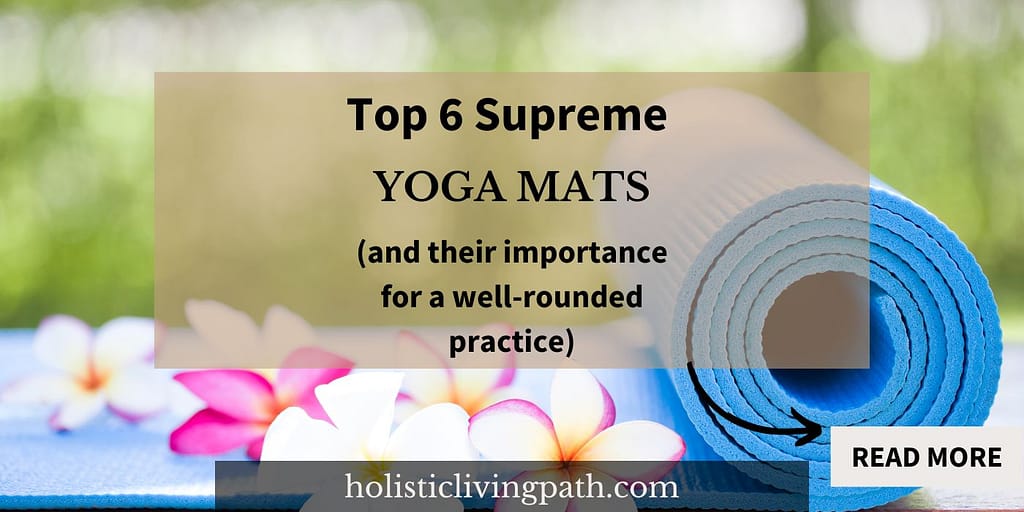 Yoga is a great way to nourish your body, mind, and spirit while calming the hustle and bustle of daily life. But did you know that having the right yoga mat can help enhance your practice? Different mats offer unique benefits designed for specific types of practitioners. Whether you're a beginner looking to get started with their first class or a seasoned yogi seeking support for advanced poses, there's something for you.!
Disclaimer: I only recommend products I would use myself, and all opinions expressed here are our own. This post may contain affiliate links that, at no additional cost to you, I may earn a small commission. Additionally, as an Amazon Associate, I earn from qualifying purchases. Read full the privacy policy here.
You may be wondering if a yoga mat is really worth all the fuss. And I'm here to tell you that the answer is yes! With stores like Five Below and Target offering a variety of cheap mats, you may be tempted to choose one of those instead. Now, don't get me wrong, for a long time I was one of them.
Related: 4 Tips to Take Care of Your Mental Health
Why does the quality of yoga mats matter?
Pool quality mats usually lack cushioning and don't provide the desired support for your body. They can cause discomfort during longer sessions and make it difficult to achieve proper alignment in different poses. Furthermore, they tend to be thinner and less durable, meaning they won't last as long as higher-quality mats.
Within a few uses of my first grey yoga mat from Five Below, I noticed how uncomfortable it was. The fabric was scratchy, and the thickness wasn't enough to protect my joints from the cold floor under me. Plus, pieces of the fabric started to come off after just a few classes! I quickly realized that if I was going to commit to my practice, I needed quality and comfort. That also meant that I needed to invest in a better quality mat.
So, that brings us here. Now I'm much more invested in my yoga practice and I've gone through my fair share of mats. From the cheap thin rollouts to the $100 expensive foldable liners—I've tried my fair share yoga mats. Some are good, others are better, and some are not the greatest. But in all fairness, they got me exactly where I needed to be in that moment—on the mat.
However, I want your experience to be much easier. Armed with yoga mats that you love that look and feel comfortable, means you're more likely to show up for your practice and much more often. That's why we have included the following top six supreme yoga mats on our list. Each one offers something different and will help you get the most out of your practice. These mats help provide extra cushioning and support for your body, special alignments, or even more space to help you to stay balanced and focused during each pose.
Related: 4 Practices to be More Self-Aware with Mindfulness
These mats also help provide grip on hardwood floors or carpeted surfaces so that you don't slip, slide or lose your balance in the middle of a posture. Plus, many yoga mats are made from environmentally friendly materials, helping to reduce your carbon footprint. Read on for more details about why these six mats are our top picks!
why a yoga mat is important
If you are looking to start or enhance your yoga practice, having the right yoga mat is an essential first step! A yoga mat helps give you much needed cushion, hygienic support, and extra grip as you work through your poses. Whether it's a light morning sweat or an intense full flow, the right yoga mat can provide the perfect foundation to keep you feeling balanced and safe. Also, having a mat that is made with eco-friendly materials can help you practice in alignment with Mother nature and reduce your carbon footprint. With those benefits in mind, it's no wonder why picking the right yoga mat can be a daunting task. Luckily, we are here to guide you.
What factors to consider when buying yoga mats?
When shopping around for a yoga mat, it is important to consider factors like width, length, weight, and material. The width of the yoga mat should depend on how much room you need during practice. Generally, a wider mat is recommended, as it provides you with more support and stability. Longer mats may be beneficial if you're looking to do poses that require extra space, such as stretching out your legs or arms.
An ideal weight for a yoga mat is something light enough for easy portability, but still dense enough to provide the necessary cushioning. If the mat is too heavy, it could make your body and joints uncomfortable after a long session. Different materials come with their own advantages and disadvantages. It's best to determine what works best for you in terms of comfort and grip. Some mats provide stronger traction than others, and this can be helpful if your practice tends to be more vigorous.
Related: How to Eat a Clean Diet
Different popular yoga mat materials you may want to consider are:
Cotton: Provides a durable and comfortable experience, but can be slightly slippery.
Natural rubber: Non-slip, anti-microbial, and incredibly strong, but heavier than other materials.
PVC: The most common type of yoga mat material provides excellent grip and cushioning.
TPE (Thermoplastic Elastomer): Eco-friendly, anti-microbial, non-slip and lightweight—a great all rounder!
Also, depending on the type of yogi you are, certain yoga mats will better suit your practice. If you prefer a super grippy surface that stays firm even when wet, then a cork mat might be the perfect fit for any vinyasa flow enthusiast. On the other hand, if you need a supportive space to ease yourself into various poses through slower flows and more guided instruction, a basic foam version may best serve your needs.
Hot yoga practitioners may benefit from textured rubber mats that aid in grip while keeping up with your sweatier routine. Lastly, eco-conscious yogis should consider recycled jute and sustainable materials, as many manufacturers use biodegradable options to keep their carbon footprint in check. No matter what type of yogi you identify as, there's sure to be a mat out there that is perfect for your practice!
Once you have considered these factors and have determined the best mat for you, it's time to go shopping! With so many choices on the market, it can be hard to find the perfect one. Luckily, whether you're looking for a mat with excellent cushioning or an environmentally friendly option, we've got something perfect for you on this list.
Related: Best Affordable DIY Scrubs for Thicker, Healthier Hair
Our overview of the best 6 yoga mats and why they stand out.
Yoga has so many physical and mental benefits, but it's hard to reach those if you don't have the right mat. That's why we've done the research and compiled a list of our favorite six best yoga mats out there! Picking out one may seem overwhelming at first, but each of these high-quality mats stands out for its specific features that can easily fit into any yoga enthusiast's lifestyle.
Aurorae Synergy 2-in-1 Hot Yoga Mat
Looking for a yoga mat that will keep you stable during even the most strenuous poses? Look no further than the Aurorae Synergy 2-in-1 Hot Yoga Mat. This US Patent Protected mat is made with a unique design that bonds a 5mm yoga mat with a lush, non-slip microfiber towel. This combination ensures that you'll never have to worry about slipping or bunching your mat again. The wetter this mat gets, the better the grip. And thanks to its durable, lightweight, and easy-to-care-for construction, this mat is perfect for even the most demanding yogis.
Liforme Original Yoga Mat
Looking for a yoga mat that will help you take your practice to the next level? Look no further than the Liforme Original Yoga Mat. This top-of-the-line mat is designed to be not only the most comfortable and innovative mat on the market but also to help you achieve optimal alignment in your poses. The unique AlignForMe system on this mat helps guide and prevent injuries, making it perfect for yogis of all experience levels.
But that's not all! The Liforme Original Yoga Mat also features ground-breaking GripForMe material, which gives you unparalleled grip during your workouts. Plus, the eco-friendly materials used in this mat make it PVC free, biodegradable, and non-toxic. So you can feel good about your purchase both during and after your workout.
Related: Grounding Means Living Naturally
Aurorae Synergy 2-in-1 Foldable On-the-Go Yoga Mat
Looking for a yoga mat that is easy to pack, mobile, and lightweight? Then the Aurorae Synergy 2-in-1 Foldable On-the-Go Yoga Mat might be for you. This innovative yoga mat can easily be folded flat to fit in your luggage, backpacks and most carry-on cases, making it perfect for yogis on the go. Weighing only 1.3 lbs., it is easy to carry and keep your luggage under the expensive overcharge fees on airlines. It is also great for using over hotel carpets or over your existing mat.
This unique super deluxe non-slip yoga mat-towel uses their patented Synergy Technology that bonds their lightweight, yoga mesh backing with their lush, ultra-absorbent non-slip microfiber towel. The integrated microfiber towel absorbs sweat and prevents slipping, making it the perfect choice for yogis who sweat and slip.
Manduka PRO Yoga Mat
Looking for a top-quality yoga mat that will help you achieve the most from your practice? The Manduka PRO Yoga Mat is perfect for serious yogis, Pilates enthusiasts, and anyone who wants a bit of extra cushioning and joint protection during their workouts. Durable and long-lasting, this mat is made in certified PVC from Germany. It's also responsibly crafted in an emissions-free facility, so you can feel good about purchasing it.
This professional-quality mat is made of ultra-supportive 6mm thick PVC and is beloved by yoga teachers worldwide for its cushioning and durability. The closed-cell material prevents moisture and sweat from entering the mat, making it easy to maintain. Plus, the emissions-free manufacturing facility ensures that this mat is environmentally friendly.
Related: 4 Tips to Reduce Waste in Your Home
Large Yoga Mat
If you're looking for a yoga mat that will support you, others, and your practice, both physically and mentally, then we have the perfect solution for you! This Large Yoga Mat is 6'x4'x8mm thick, providing ample space for both beginners and experienced practitioners alike. The mat is made of non-toxic, durable materials that are designed to last, making it a splendid choice for eco-conscious yogis. It also works great on all floor surfaces, ensuring that you can practice wherever you like! Plus, with its high-density 8mm padding and non-slip surface, the mat provides optimal comfort and support during your yoga session. So why wait? Get yourself a Large Yoga Mat today!
Liforme Printed Yoga Mat Collection
If you're looking for a yoga mat that will help you achieve your best practice yet, look no further than the Liforme Printed Yoga Mat Collection. This new collection features a beautifully designed hand-painted "Mother Earth" surrounded by leaves, giving you an inspiring connection to nature during your practice.
But it's not just looks that make this mat stand out from the crowd. The groundbreaking Liforme "GripForMe" material provides unparalleled grip that will help you even during the most challenging poses. And with the intelligently designed unique "AlignForMe" system, beginners and experienced yogis alike can prevent injuries and maximize their practice.
What's more, this mat is truly planet friendly. Printed using high quality non-toxic materials, it is PVC free, biodegradable in 1-5 years in normal landfill conditions. So you can feel good about yourself—and good about the environment—when you're practicing on your Liforme Printed Yoga Mat Collection.
Related: Natural Remedies for Chronic Pain
How to get the most out of your yoga practice with different mats.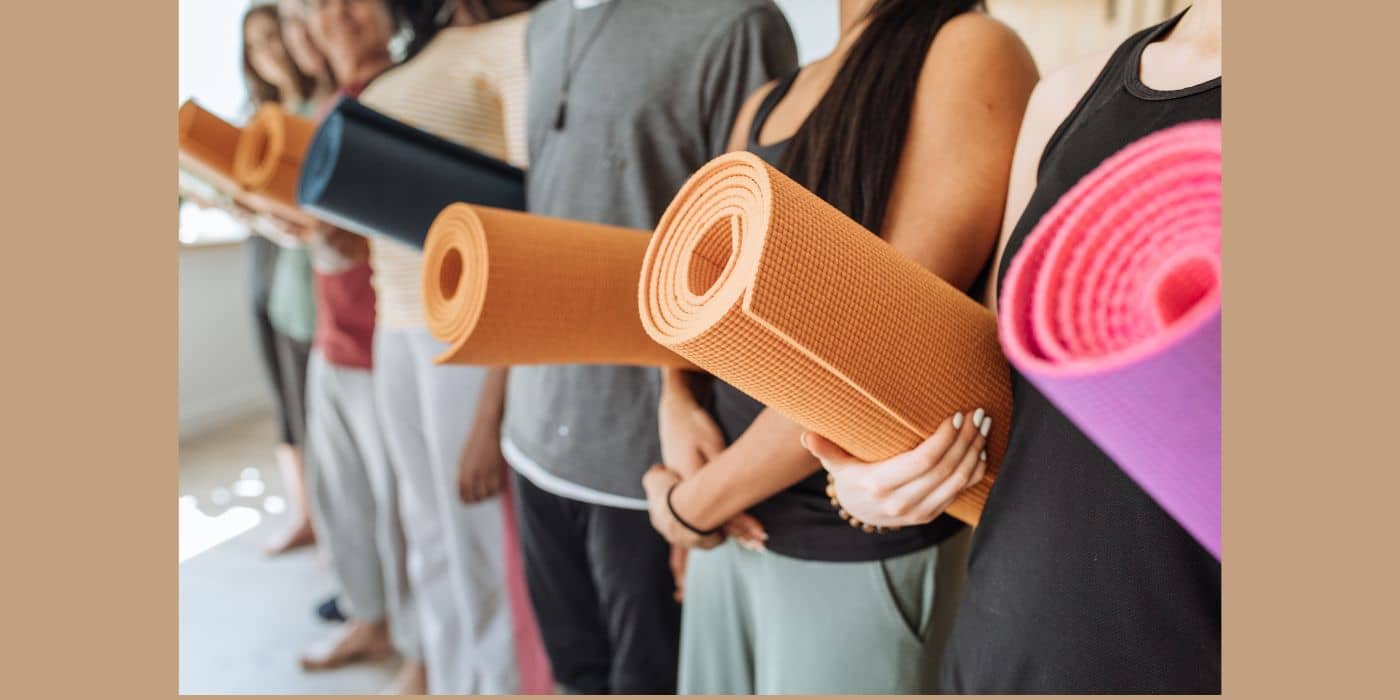 To get the most out of your yoga practice, it's essential to choose the right mat. Different mats offer various levels of thickness, cushioning, and grip, which can directly affect your posture, stability, and comfort while practicing yoga. To find the best mat for you, consider your specific needs. If flexibility is a priority, opt for a thinner and more pliable mat.
If extra cushioning is your desire, then look for a thick mat with more padding. Before you purchase a new yoga mat, try it out first to make sure it meets both your needs and preferences. Alternatively, mix things up by changing mats between practices so that each one offers something unique to enhance your experience.
How to maintain your yoga mat and keep it in good condition.
Taking care of your yoga mat is integral to maintaining its longevity. Proper care ensures that your mat will continue to provide you with optimal comfort and performance as you practice. Sweat can cause yoga mats to deteriorate over time, so remember to clean it using a regular yoga mat cleaner after every session. If your mat has a sticky surface, use water and baking soda to remove any buildup.
Another piece of advice is to store your yoga mat in an unrolled state. This will ensure that it maintains its shape and appearance over time. Lastly, try not to leave your mat rolled up for more than a week if possible. When you do need to store it this way, make sure to have a tie or bands around it so that it won't unravel in storage.
Related: Essential Things to Know Before Growing Your Own Food
Finding the right yoga mat can make all the difference in your practice. With a variety of materials and sizes, it's important to take into consideration what type of yogi you are and which features are most important to you. Whether it's cushioning, durability, slip-resistance, or eco-friendliness, choosing the right yoga mat can last you much longer and help progress your practice overall.
For greater peace of mind, be sure to select from the six best yoga mats discussed above. These provide just the perfect mix of comfort and function without compromising on quality. When taken care of properly, with regular cleansing and mindful practice, each one will surely stand up over time—bringing balance and harmony both on and off the mat!