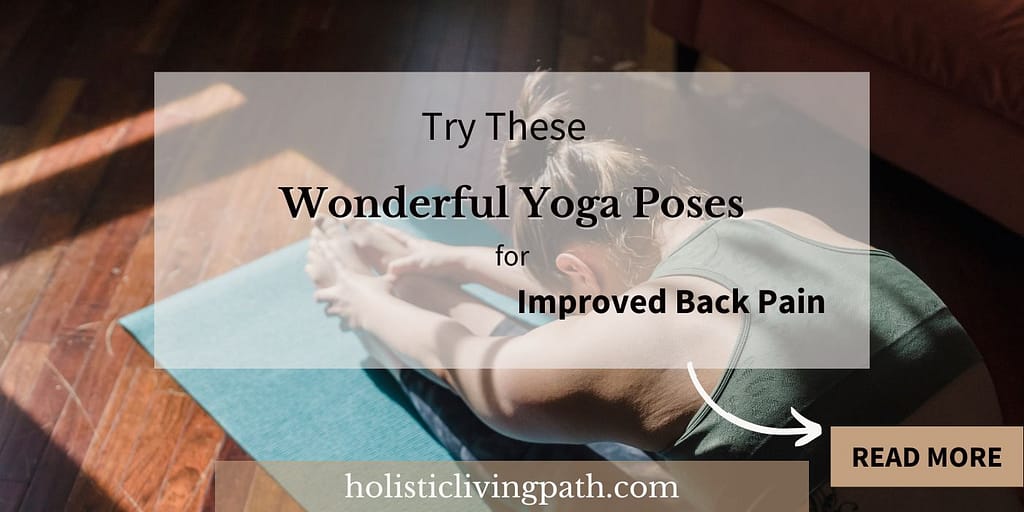 Do you have lower back pain? Are you looking for simple and holistic ways to alleviate your chronic pain? If so, there are a few yoga poses that can help you improve your back pain more than you might think. When I first started yoga, I was wary about it helping me. It took a few months of dedicated time and effort to improve my yoga practice and now I'm here to share what I've learned with you.
Disclaimer: I only recommend products I would use myself, and all opinions expressed here are our own. This post may contain affiliate links that, at no additional cost to you, I may earn a small commission. Additionally, as an Amazon Associate, I earn from qualifying purchases. Read full the privacy policy here.
After giving birth to my daughter, I had an excruciating pain in my lower back. I thought that the pain resulted from an epidural procedure gone wrong, but the doctors were convinced there were other underlying factors that contributed to my pain. I felt ignored and pushed to the side since my pain wasn't as evident as others.
Related: How to Boost Your Energy Naturally
For a few years, I was in and out of doctors' offices. They took x-rays and CAT scans that revealed arthritis, but they still couldn't pinpoint the exact cause of my pain. So the focus switched to management instead of a diagnosis. Since I had this pain that was inhibiting from living a "normal" life, they believed the best route was to simply mask it.
At first, the techniques worked. The shots numbed my spine and the radiofrequency ablation procedures gave me enough freedom for a few months at a time. Pain management felt like the right decision. Managing the symptoms allowed me to have some sort of wiggle room with physical activities.
But then the pain would hit me ten times worse after all the procedures wore off. I would scurry (because running had too much impact on my body) to the doctor's office and ask for another round of 16 shots. I did this despite knowing it would incapacitate me for about a week before I could enjoy the fruits of their labor.
However, when Covid-19 began, I didn't have that option anymore. The doctors already considered my condition to be less threatening and nothing had changed. Then, between my asthma and family also being at high risk for Covid, my paradigm shifted.
Related: 4 Proactive Self-Care Tips to a Holistic Life
My daughter was home more, but I couldn't keep up with her. Going up and down stairs was enough to make me break down. I cried myself to sleep in pain almost every night. Something needed to give and apparently it was supposed to be me.
So I took the hint and stopped just about every process I was engaging in that wasn't "natural." No more shots, no more painkillers, and certainly no more doctor visits. It hasn't been easy, and this isn't a route that I would recommend unless you're absolutely sure and dedicated to being the creator of your own healing process.
Over the years, I have developed a large toolbox full of ideas and experiments that have helped me. Yoga is one of my favorites. You don't need many props. It's cheap and with a high-quality mat, you can make the most out of your practice. Yoga has improved my back pain the most, which is ironic considering my initial lack of interest in physical therapy.
Originally, I thought physical therapy, stretching, moving, and especially yoga increased my pain. Looking back, I wasn't wrong—I definitely felt more pain in the beginning stages. However, now I understand why. Now I understand that the initial pain was just my body pushing through these barriers I created to care for myself.
Related: Simple Ways to Reduce Stress Holistically
Since my pain was aggravated through staying on my feet for long periods, lifting heavy weights, or moving too much, I often opted to spend the rest of my day recovering in bed. I thought allowing my body to decompress by laying down was the best option—but it wasn't.
As you stay still, you become more stiff. You lack the blood flow or buoyancy to move efficiently. This happened to me. I rested to ease my pain, but rested too much, causing even more infliction. As a result, when you are ready to move or make a change, you're disconnected from those feelings—so they feel "new" and likely more intense.
I started yoga during this stage—at the height of the pain and stiffness—which aggravated the pain initially. Since my legs weren't used to moving and my spine wasn't accustomed to lengthening, the beginning aches and pains were more unbearable. If this is you, I have two suggestions.
The first is to push past the pain as I did. Yes, initially the pain is uncomfortable, but there's a difference between pain and discomfort. Yoga is all about easing into a pose. You're not supposed to force yourself into it. For this reason, yoga is great for recovery because you learn to listen and feel your own body. You learn how to find that threshold of pain and then play with it so that, over time, you can increase your threshold.
Related: A Holistic Perspective: The Mind, Body, and Spirit
The other option is to choose a softer activity to get your blood flowing again. This can be as simple as a walk around the block. It doesn't really matter, it just needs to be a physical activity that gets the blood flowing. If you can regain some of your flow and buoyancy before you tackle yoga, then it will be easier on your joints. However, you must still acknowledge the potential for discomfort. Even the most legendary yogis can attest to this.
Either way, though, yoga has helped me immensely. Now that I work from home, I have a new set of aches and pains to attend to. My upper back, neck, and hips definitely have their own set of kinks that need attending, too. However, yoga has helped me with these concerns, too. And if you can't afford to go for regular massages, this practice is a great way to self-massage as well.
I admit, however, that I still experience discomfort in some poses. So it's really important to practice the poses properly, tighten your core, and do not, under any circumstances, force yourself deeper into a pose. All you need is a yoga mat to get started. However, to make some poses easier and more accessible for you, you can invest in other props like blocks or straps.
For beginners, I would recommend this cheap 7-piece yoga set that has everything you need to get started. Overall, by following these simple instructions and taking it easy on yourself, the benefits you will receive will outweigh it all. So if you're ready to learn about some of my favorite yoga poses for back pain, then keep reading.
Related: How to Begin Living a Holistic Life
Best yoga poses for upper back pain
Upper back pain can result from an underlying issue, such as arthritis, factures, or disc problems. If you think this may cause your back pain, then I strongly urge you to see a doctor before you start making any drastic changes.
On the other hand, upper back pain can be caused from torn muscles, inflammation, overuse, or poor posture. If you work from home, work at a desk, spend a lot of time in the car or simply sitting down, then your upper back may beg for attention. Initially, my pain was in my lower back, but when I started working from home, I noticed my whole back felt like it was bruised to the touch.
Luckily, the following yoga poses have helped me ease upper back pains and much more. Although, I have one more tip for you. When doing these poses, your shoulder posture is crucial. To help you brace your spine and prevent further injuries, it's important to keep your shoulders back.
As you perform some of these poses, consciously roll your shoulders up toward your ears and then backward down your back. Allow your shoulder blades to slide along your spine. If you do it slow enough, you can also pinpoint specific knots in your upper back and rotate your arms to massage the area deeper.
Related: 4 Practices to be More Self-Aware with Mindfulness
Here are some of the best yoga poses that helped with my chronic back pain.
Cat/Cow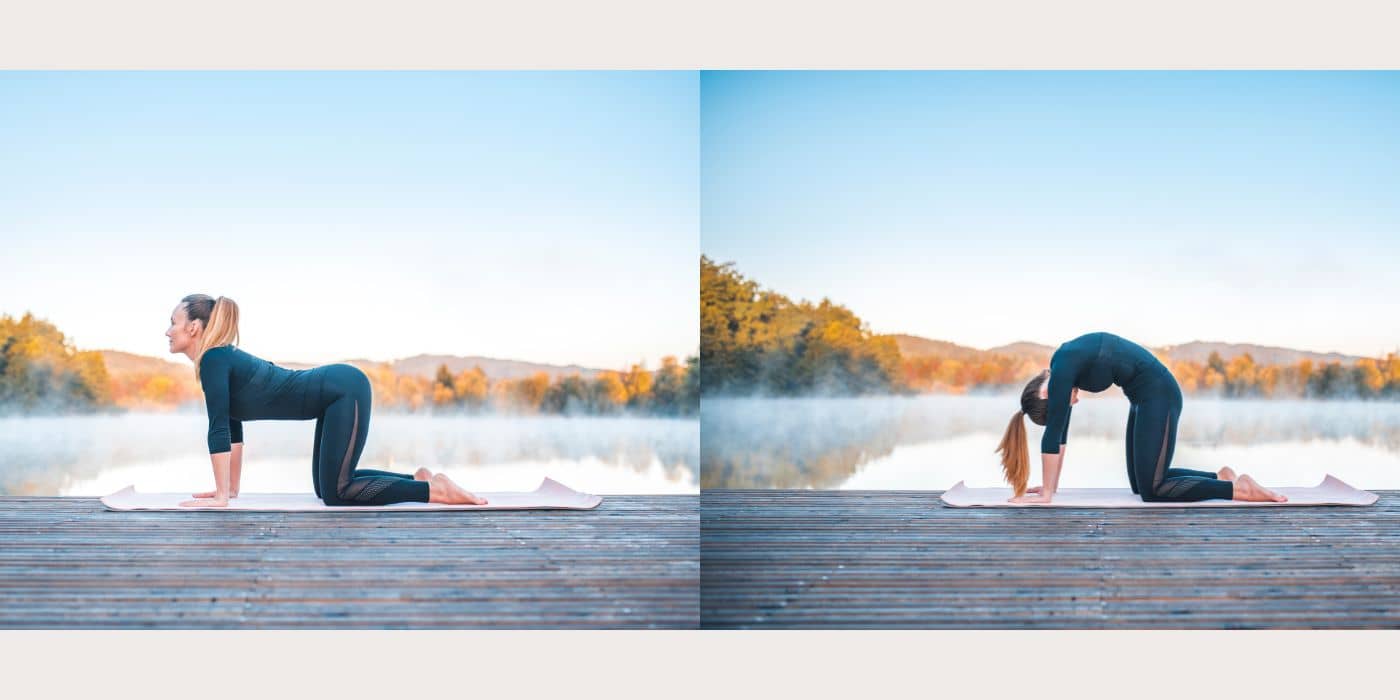 Cat/cow pose is great for your whole spine really, but I notice the stretch in my upper back more, especially with the cat pose. For these postures, you can follow your breath as you switch back and forth.
For cat/cow, get into a tabletop position and start with an inhale. Lift your chest up and arch your back into the cow pose. Hold for a moment. As you release your breath, curve your spine and tuck your chin as you enter the cat pose. Depending on how intense the pain is, I like to stay in the cat pose for a little longer. You can round out your upper back a bit more and rotate in circles.
Some poses are better for yin yoga, which is a fancy way of saying you hold the postures for several minutes at a time. However, moving around in some of these easier postures helps lubricate your joints. So for me, moving around in circles in cat pose really helps loosen up all the nooks and crannies in my upper spine.
Related: 12 Fun Yoga Poses for Improved Digestion
Camel Pose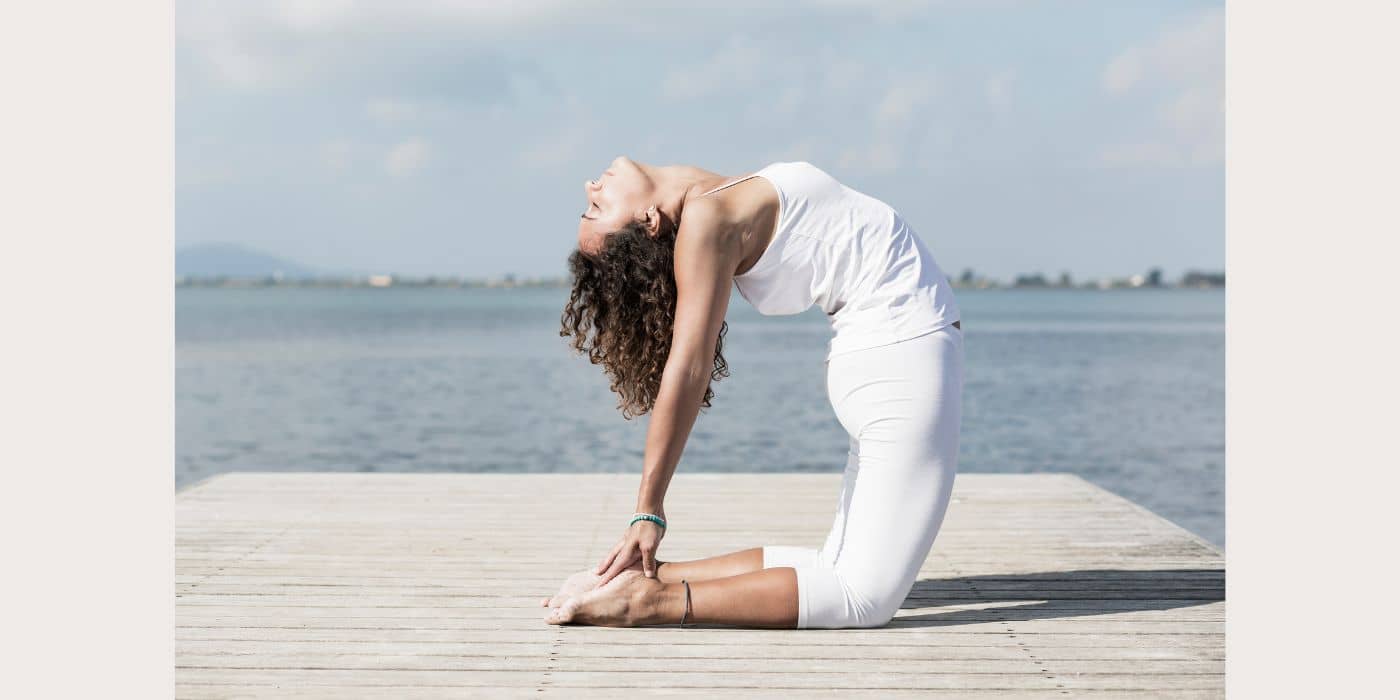 I tend to stay away from camel pose because I notice it can aggravate my lower back if not done appropriately. But it is an amazing chest opener, and I noticed this pose reaches my upper back/neck region. Sometimes I'll sneak this pose in quickly at the end of the day to reset.
For camel pose, you can sit on your knee and place your hands on your lower back for extra support. Then you can slowly bend backwards and arch over your feet. You can stay like this if you'd like. Or if you're open enough, you can place your hands on your heels and complete the bind.
However, it's crucial that you tighten your core for this and many other yoga poses. Tightening your core further supports your back and can help you balance in tricky poses.
Puppy Pose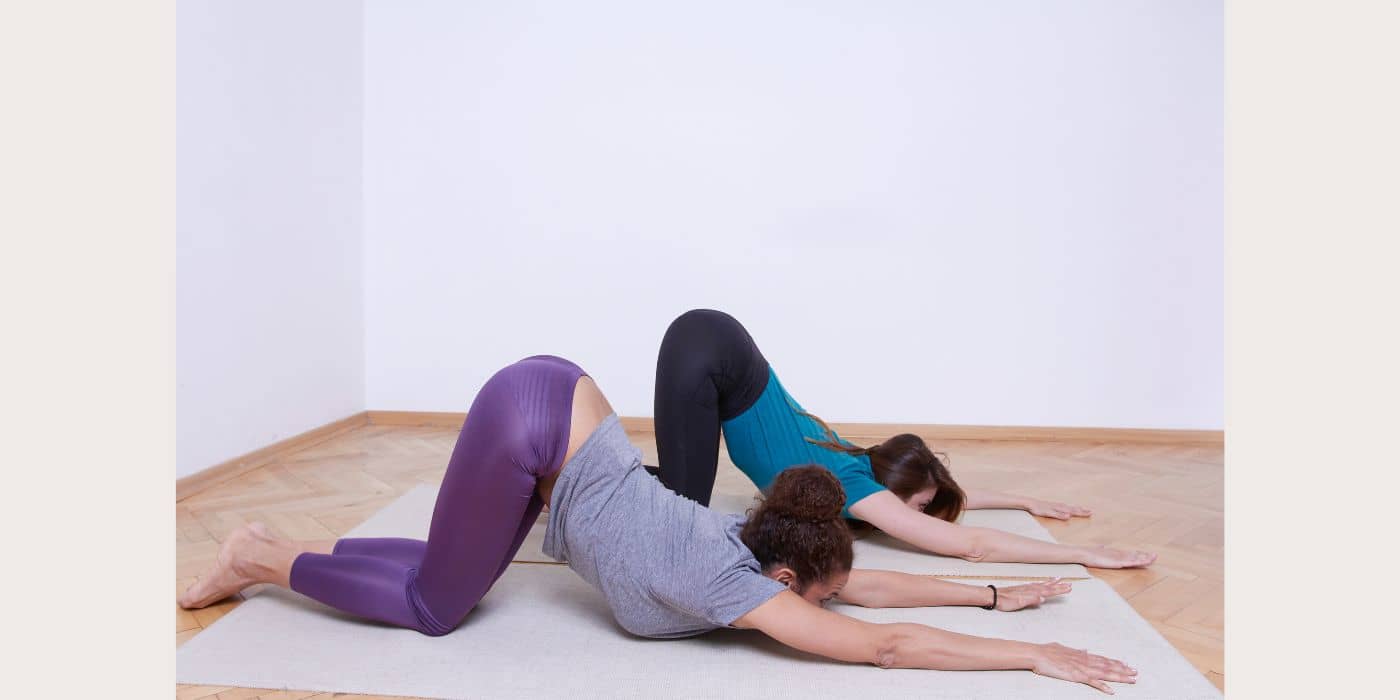 Puppy pose is one of my favorites and has improved my back pain a lot. I could do a whole class on puppy pose variations if one existed. What's great about this pose is that you have a variety of options to either deepen the sensation or target another muscle group.
Related: Best Affordable DIY Scrubs for Thicker, Healthier Hair
For this pose, you can get onto your hands and knees. Slowly crawl your arms out in front of you and bring your chest to the floor. From there, you can lay one cheek on the ground and switch halfway through. Or you can keep your chin on the floor as you look up, to deepen the stretch.
Just keep your core tight and focus on your breathing. If you cannot take steady breaths or are holding your breath, you are probably too deep and you might want to soften the stretch.
Ragdoll Fold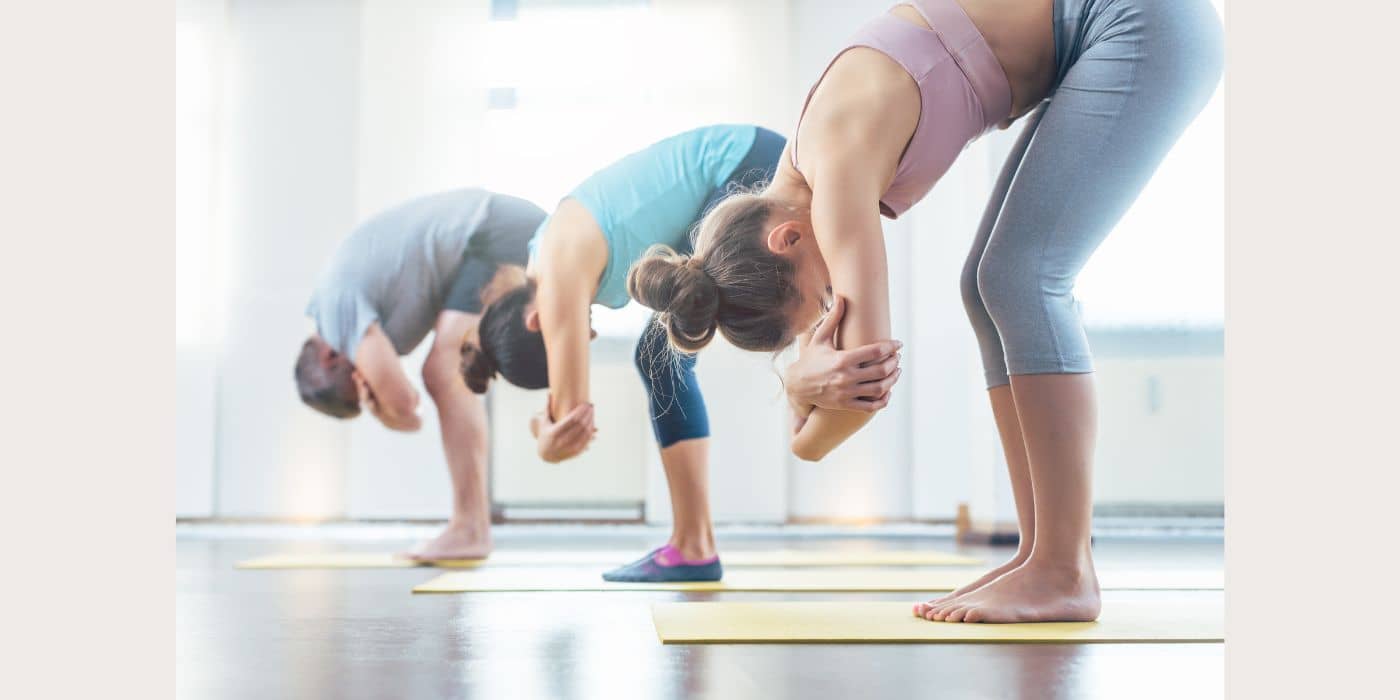 I enjoy many folds because gravity can do much of the work for you. You're really just there for the ride and this yoga pose is perfect for improving back pain. If you need an excellent upper spine decompression, then the ragdoll fold is perfect.
For this pose, you can stand with your feet about hip width apart. You can spread your feet a little wider if you'd like, but not too much more. Then hinge at the waist and let your body fold over your legs. Let your head be heavy and just hang. Grab the opposite elbows and allow gravity to pull on your skull, which in turn will pull your spine. I've gotten a few great cracks with this pose! You can sway gently if you'd like or just continue to fold over your legs and let gravity do the work for you.
Related: Want to Live More Sustainably? Read This
However, it's also worth mentioning that you should bend your knees in this pose—and a lot. Folds can be wonderful for the hamstrings, but since we're focusing on the upper back for this article, it's best to bend your knees generously. This will help your spine curve more and loosen it up. Sometimes I like to bend my knees so much that I can almost hug my arms around them. If you do this, you can use your legs to push against your arms and straighten your back for a different sensation in your upper back.
Best yoga poses for lower back pain
Much like your upper back, lower back pain can be caused by many issues. It can be a result of injuries, poor lifting, menstrual cramps, inflammation, and much more. Unfortunately, lower back pain is very common, but there are a few yoga poses that can definitely help.
Downward facing dog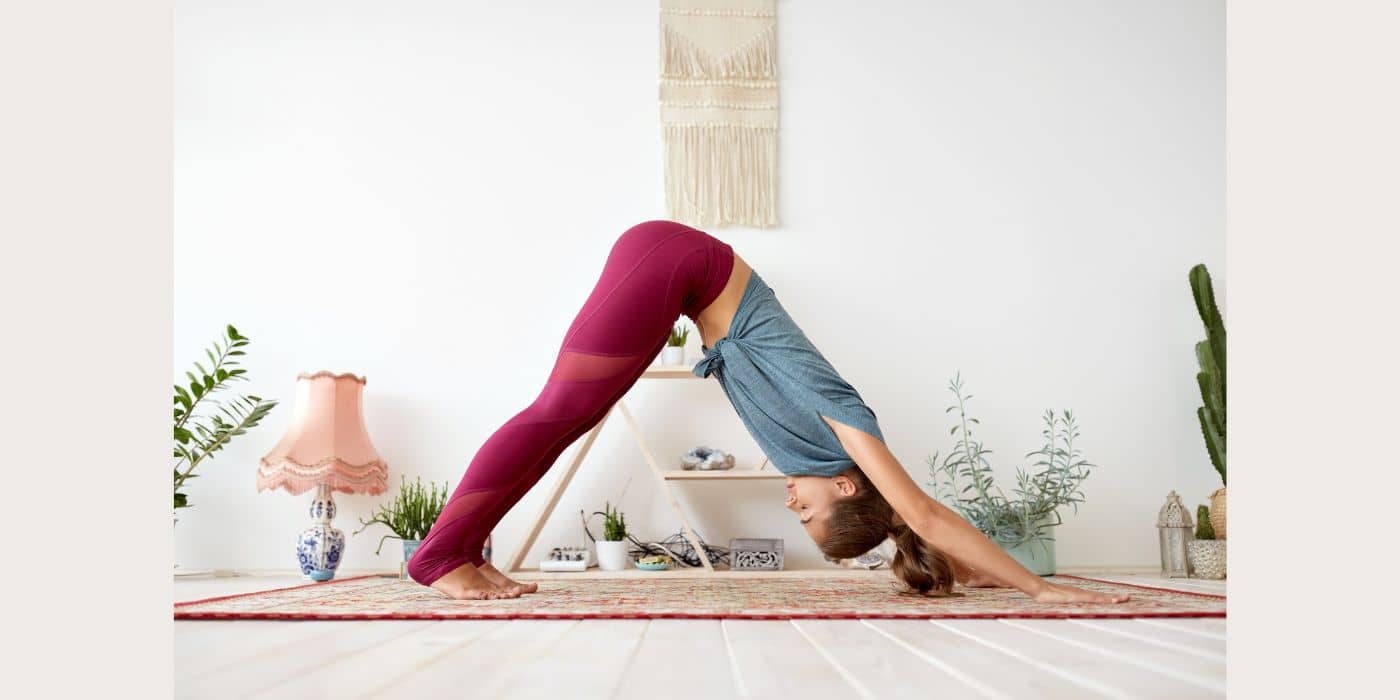 Yogis spend a lot of time in downward facing dog. This yoga pose wouldn't be on everyone's list for lower back pain, but it's certainly on mine. Your legs and abdominals are crucial for back support. Your core is your center. It helps ground and balance you, but it also connects and tightens to the muscles in your back. On the other hand, tight hamstrings can exacerbate lower back pain.
For this pose, you can get into a plank position—hands under shoulders and toes on the ground. Then send your hips up to make an upside down V shape with your body. I find it helpful to peddle out my feet when first settling into the pose. You can do this by taking turns stepping into one foot.
Related: 4 Tips to Take Care of Your Mental Health
If you want to target your hamstring more, you can push your heels further into the ground. If you want to focus more on lengthening your spine, you can push the floor away with your hands and bring your chest closer to your knees. Again, focus on your breath and remember that you can always ease up if a pose is too challenging.
Child's pose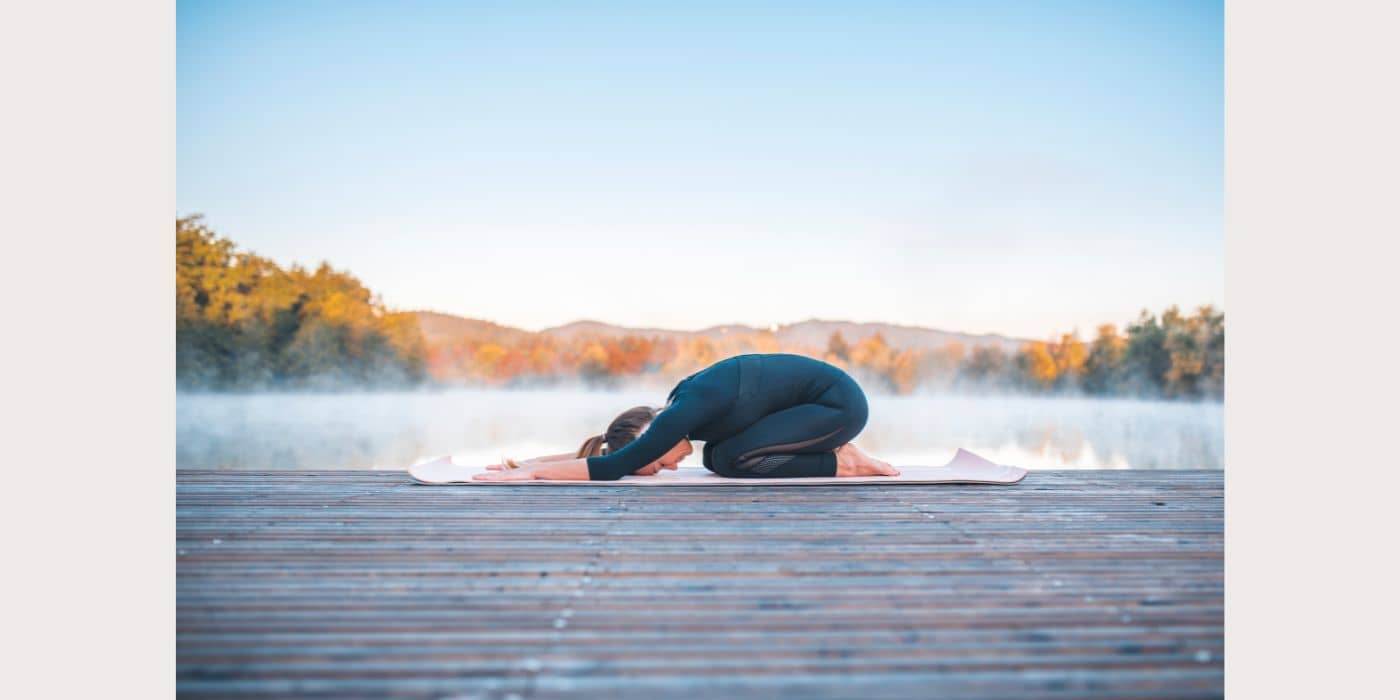 I love child's pose because it targets my spine and hips. It's also another gravity-friendly yoga pose and has done wonders for my back pain.
This pose is super simple. Get onto your hands and knees. Then send your hips back so your glutes are resting on your heels. The wider you spread your knees, the deeper into your hips you go. If you want a more passive stretch, you can bring your hands to your sides. To lengthen your spine more, you can bring your hands in front of you.
Pigeon pose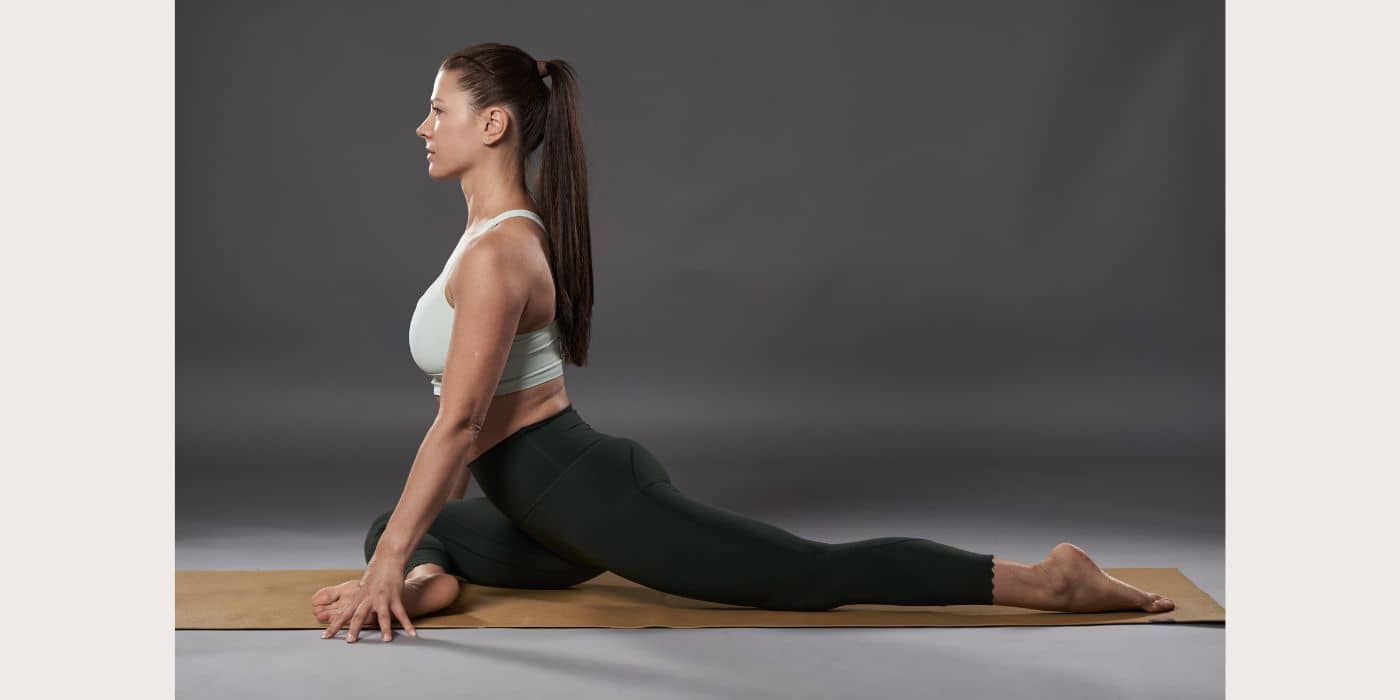 If your back pain comes from sitting often or tight hips, then pigeon pose might be just what you need. After trying Chloe Ting's workouts, this turned into my all-time favorite stretch. It targets the glutes in an amazing—but intense—way. But it also opens up the hips, which can alleviate lower back pain.
Related: 4 Tips to Reduce Waste in Your Home
For this pose, you can get into downward facing dog. Bring one leg up and bend it first, to open the hip. Then bring that knee to your elbow before you lay your leg down in front of you. For many, this is deep enough, but you can bring your chest down to the floor for a deeper stretch.
As a quick tip, I like to wiggle around in this pose at first loosen up the joints. I find it helps for the practice overall.
Forward fold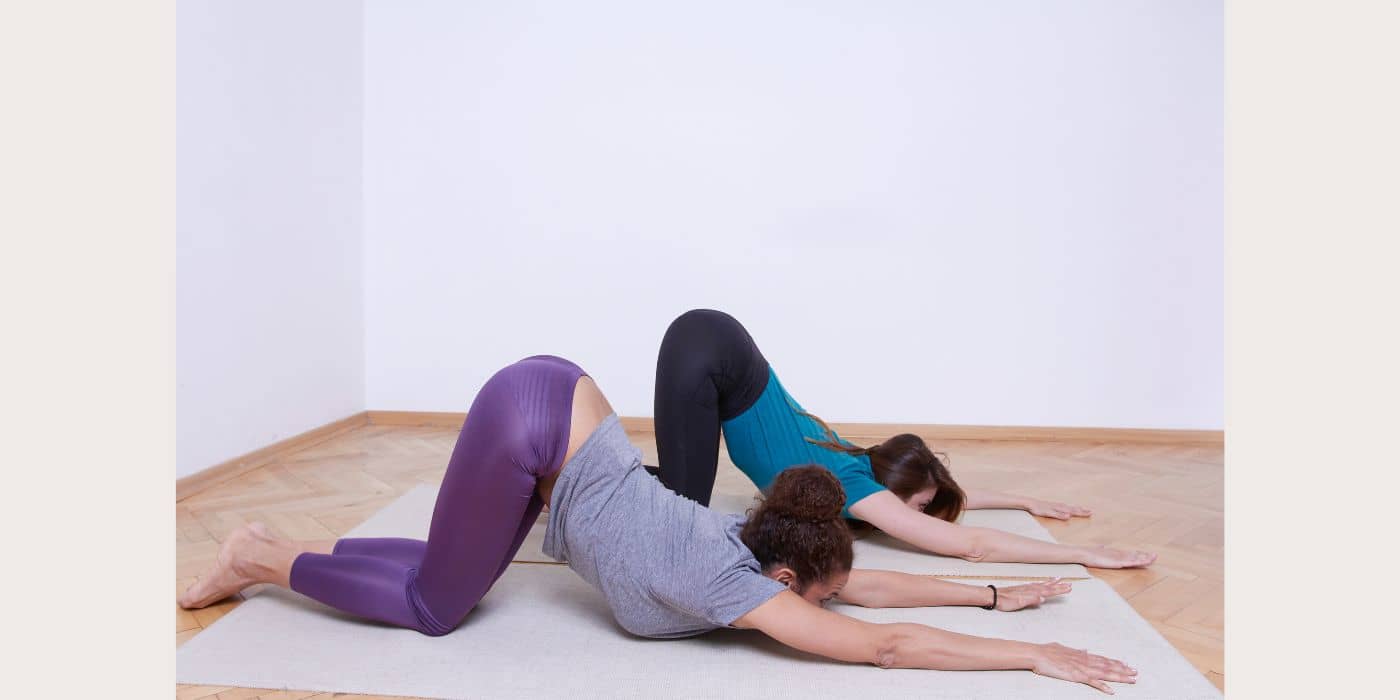 Forward folds are wonderful on the hamstrings, and gravity does it all for you if you'd prefer. For this pose, you can sit down with your legs in front of you. Lift your arms up over your head and wiggle out of your waist. Then slowly lower your arms down and round your back as you reach for your toes. You can also tighten your core and straighten your back to make this a more active pose.
Please note that it's totally okay if you can't reach your toes. However, this is what I refer to when I say to note force yourself into a pose. You can hold on to your legs wherever they're most accessible to you and then allow gravity to do the rest. Over the period of weeks, you will notice that you can reach further and further down your legs.
Related: Essential Things to Know Before Growing Your Own Food
Best yoga twists for back pain
I. Love. Twists. Ever since I was a kid, I could crack my back by twisting in a chair and it would give me so much relief. Nowadays, it doesn't take much to crack my back, but a juicy, solid twist can help me get every single last pop, which has been so helpful for my lower back pain. Here are a few of my favorite yoga poses for back pain that are twists.
Seated twist
Seated twists are easy and aren't too intense. You can do this sitting on the floor or even in a chair. For this pose, reach up with your arms and wiggle out of your waist. Then twist to the right, with your right arm as far back as it can go. Look as far back as you can and keep your spine straight as you use your left hand to hold your leg into position. Then repeat on the other side. If you use a chair, you can use the back and sides to help you stay in the position.
High lunge easy twists
Easy twists work the whole spine. I've been able to pop my whole back in this pose. I especially like it because you can angle yourself more backwards and reach into deeper crannies of your spine.
For this pose, get into a high lunge with one foot bent in front of you, with the other leg back. Bring one hand to the inner side of your bent knee and reach up. You can hold the position for a few moments or move around to lubricate your spine. Just be sure not to twist too far and keep your core tight for balance.
Related: Top 6 Supreme Yoga Mats and Their Importance
Thread the needle
Thread the needle is perfect for office workers as it stretches your upper spine, shoulders and neck. I like to experiment with my arm arrangement in this pose to reach different areas of my muscles. Having your arm against the floor also makes a self-massage more accessible.
For this pose, get onto your hands and knees in tabletop position. Bring one arm up, reaching out of the socket, before you lower it to the ground. Thread the arm underneath your chest and bring your ear to the ground. Turn your chest as far up as you can and don't strain your neck. Keep the other arm reached out in front of you for extra balance.
And there it is—some of my favorite yoga poses that have helped me over the years! I know that everybody's pain is different and can arise from distinct circumstances. However, yoga really does have a pose for every body part and once you understand your body better, you can work on tweaking the poses more to your benefit.
Do you have any yoga poses for back pain that you turn to? We'd love to hear from you! Leave a comment below.