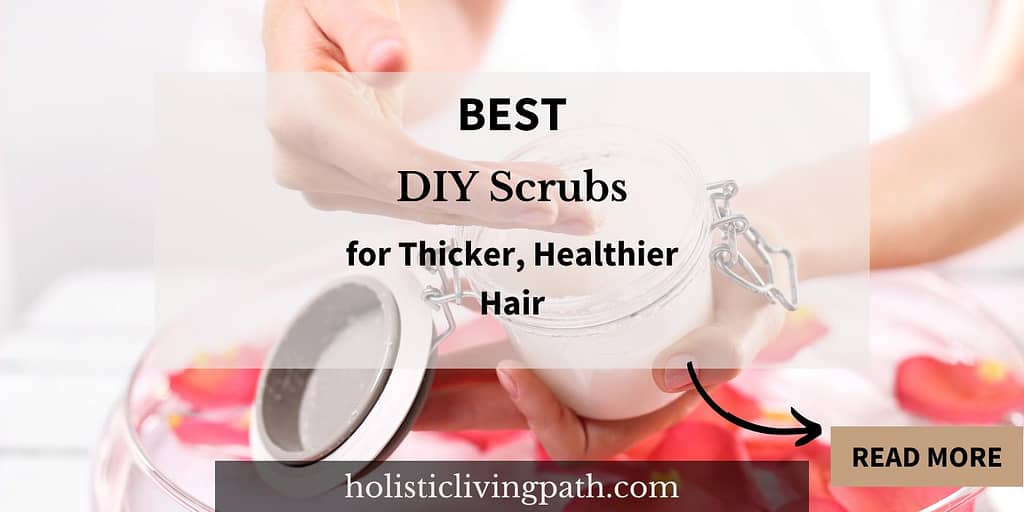 If you're looking for thicker, healthier hair, DIY scrubs are a great place to start. There are many recipes out there, so we've compiled some of the best ones for you to try. From coffee to coconut oil, these scrubs will give your hair the boost it needs to grow thicker and stronger.
Disclaimer: I only recommend products I would use myself, and all opinions expressed here are our own. This post may contain affiliate links that, at no additional cost to you, I may earn a small commission. Additionally, as an Amazon Associate, I earn from qualifying purchases. Read full the privacy policy here.
Even as a child, I had thin, straggly hair. I had tried just about every product on the market and was on a mission to find something that actually worked. The more I did, the worse my hair appeared. Embarrassed by my fragile hair, I decided to try a more holistic approach and looked into DIY scrubs. After experimenting with various ingredients, I finally found a combination of coffee grounds and coconut oil that not only smelled good but also made my hair look and feel thicker.
Related: How to Boost Your Energy Naturally
My cousin is also big into the DIY scrub craze and has even created her own. She combines baking soda and honey to create a gentle scrub that exfoliates the scalp while strengthening the hair follicles. She swears by this scrub, and it has definitely made her hair look thicker.
Coconut oil is another great ingredient to use in DIY scrubs. Not only does it strengthen the hair shaft, but it also helps keep your scalp moisturized. I like to mix coconut oil with apple cider vinegar for a nourishing scrub that promotes hair growth.
As you can see, I have a few recipes up my sleeve that I rotate between depending on my needs. After much research, trial and error, I found some great DIY scrubs that made a difference in my hair's thickness and health. With the right ingredients, you, too, can achieve gorgeous, thick hair.
Are DIY hair scrubs hard to make?
Do you ever feel like it's too expensive or intimidating to make your own scrubs at home? Well, the truth is that it doesn't have to be! With a few simple ingredients, you can easily whip up DIY scrubs in no time. Whether you target your skin, hair, or nails—making your own scrub can help you focus on exactly what works for you.
Related: 4 Proactive Self-Care Tips to a Holistic Life
You don't need special tools, or skills to get started. It's as easy as mixing a few ingredients together to bake a cake. Plus, creating your own homemade scrub will often save you money compared to buying an already packaged one from the store.
What are the basics of making a hair scrub and how do you use it?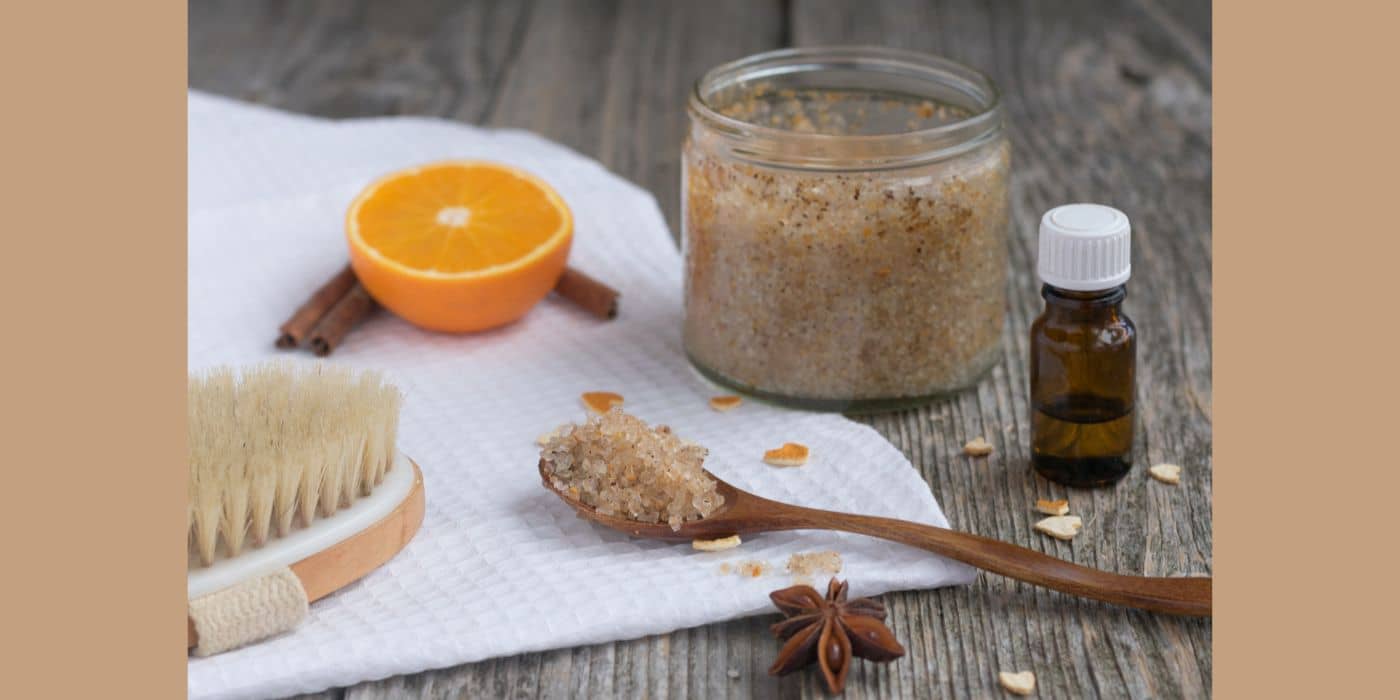 Making a hair scrub is a simple and fun way to keep your scalp healthy and your hair looking salon-fresh. The recipes can be as simple or as intricate as you want them to be.
The basics of making a hair scrub are simple: start with an oil-base, like coconut or almond oil, and mix in exfoliants like sugar, salt, coffee, or oats. You can also add additional nutrients for your scalp, such as essential oils, honey, or specific vitamins.
Once you have all the ingredients combined, give it a good stir and apply to your scalp. Gently massage into the scalp for several minutes before rinsing off with warm water.
Related: 4 Tips to Reduce Waste in Your Home
Once all ingredients have been combined, simply use your fingers to massage the scrub into your scalp in gentle circles for 5 minutes before shampooing. Allow the healing oils to penetrate your scalp and moisturize your hair. Leave the scrub on for 10-15 minutes then shampoo as usual with a mild cleanser. After regularly using this miraculous DIY scrub, you'll find that not only is your hair more manageable and hydrated, but also thicker and healthier than ever before!
How to choose brands when it comes to making DIY hair scrubs for healthier and thicker hair?
While it might be tempting to shop for the cheapest options when sourcing ingredients for DIY hair scrubs, it's important to make sure you're selecting brands that will give you the best results. By doing some research and paying extra attention to the fine print on labels, you can make sure that what you're buying is of a good quality and safe to use. Before investing in any ingredient, take some time to read reviews from other customers and find out which brands have the highest reputation for their safe, natural products—you'll often find that it pays off in the end.
When investing in your stock, make sure there are no added artificial ingredients or additives that may damage your scalp and hair in the long run. Search for products that contain natural ingredients that are rich in vitamins and minerals to nourish the hair follicles and encourage healthy growth.
You don't have to look for specific products that represent themselves as a hair product, though. For example, you don't have to search for a coconut oil base made specifically for hair. In most cases, you can buy generic ingredients and use them for multiple purposes. That way, you can save some money by investing in items that will last longer and serve multiple functions.
Related: 4 Practices to be More Self-Aware with Mindfulness
How to choose a base for a DIY hair scrub?
Trying out DIY scrubs to cultivate healthy, thick hair can be a fun way to take your haircare into your own hands. But with so many great bases available, it can be hard to know which one is right for you. Consider the texture and thickness of your hair when selecting a base ingredient. If you have thin or oily hair, you might opt for a milder option like honey or aloe vera gel.
For coarser or curlier hair, a more oily base like coconut oil or shea butter offers extra moisturizing benefits. Last but not least, no matter what type of hair you have, using natural and organic ingredients as much as possible is essential for getting the best results from any DIY scrub. With all these tips in mind, you can craft a perfect DIY scrub for thicker, healthier hair!
Different bases for DIY scrubs for thicker, healthier hair
There are so many amazing ways to make DIY scrubs that will help you achieve thicker, healthier hair. You can go all natural and choose from a variety of bases–olive or coconut oil for moisturizing, almond or macadamia oil for conditioning, and jojoba oil for shine. Or if you're looking for a more exfoliating scrub, try oatmeal, rice flour, or honey-sugar crumbles. All it takes is combining your chosen base with ingredients like essential oils, fragrances, and honey to create the perfect concoction! Different bases you can choose from:
Olive oil
Macadamia oil
Oatmeal
Rice flour
Honey-sugar crumbles
No matter which base you pick, you can be sure that your hair is in excellent hands with these amazing DIY scrubs.
Related: 4 Tips to Take Care of Your Mental Health
Best ingredients for thicker and healthier hair
Looking for thicker and healthier hair? You may not know it, but the key to getting there lies in the ingredients of your hair care products. Vitamins E and A, fatty acids such as omega-3 and omega-6, biotin, proteins such as argan or jojoba oil, and other natural oils—these are all essential ingredients that can help strengthen and restore the health of your hair. Choose a shampoo or conditioner that contains one (or many!) of these beneficial ingredients to give you thicker and more luxurious locks. Or you can add these to your scrub to enhance its benefits. After all, when it comes to making your hair look its best, trust in nature—it knows what it's doing!
Best DIY Scrubs For Thicker Hair
Searching for an easy and delicious way to get thicker hair? Check out these best DIY scrubs for thicker hair. Made with simple and natural ingredients, these scrubs will leave your hair looking and feeling amazing. Choose from a variety of recipes to find the perfect one for you.
Brown sugar and olive oil scrub
Whether you're looking for a DIY solution or just an easy way to boost the health of your hair, why not try adding a brown sugar and olive oil scrub to your beauty routine? Not only is this inexpensive, but it also comes with many benefits. It can help make your hair shinier, remove any product build-up and even add thickness over time. All you need is brown sugar, which acts as an exfoliant to remove unwanted particles from the scalp, and olive oil that helps hydrate and moisturize the scalp for healthier and stronger hair. So get creative by experimenting with different herbal oils and adding essential oils to your mixture.
Honey and cinnamon scrub
If you're looking for an easy way to have thicker and healthier hair, look no further than a honey and cinnamon scrub. With just two natural ingredients, this simple beauty treatment can be done right in the comfort of your own home. Aside from helping your hair become thicker and healthier, it can also leave your locks with a beautiful shine that lasts all day long. Not only is this scrub affordable compared to salon treatments, but it's also non-invasive and chemical-free. So why wait? Try using a honey and cinnamon scrub today and see what amazing results you can get for your hair.
Related: How to Eat a Clean Diet
Banana and yogurt scrub
If you're looking for a simple, yet effective way to give your hair that extra bit of nourishment, try a banana and yogurt scrub! Not only is it natural and affordable, it's easy to make at home. This powerhouse combination of ingredients helps to gently exfoliate your scalp while replenishing minerals such as potassium and calcium, both essential for keeping thick, healthy hair. Plus, the lactic acid in yogurt helps tame frizz and repair split ends. So take just 10 minutes out of your hectic schedule and show your locks some love with this unique DIY remedy!
Coconut oil and lemon juice scrub
If you're looking for a simple, inexpensive and effective way to achieve thicker, healthier hair, why not try a coconut oil and lemon juice scrub? This all-natural combination can help heal dry scalp and eliminate toxins from your hair. By using this natural exfoliating scrub on your scalp twice weekly, you'll immediately notice the difference in the thickness and shine of your locks. Plus, it's totally budget-friendly—all you need is some freshly squeezed lemon juice mixed with organic coconut oil and voila! You have a winning combination that will leave you with longer, stronger hair. So go ahead and enjoy lustrous locks that look like they just walked off the runway!
Egg yolk and apple cider vinegar scrub
If you're hunting for a natural way to get thicker and healthier hair, then an egg yolk and apple cider vinegar scrub could be just the thing for you. This simple yet effective DIY scalp treatment can provide that extra bit of nourishment your hair needs to look at and feel at its best. Not only does it help with making your hair stronger, but the vinegar can also work wonders in helping to combat an oily scalp. Simply combine egg yolk with some apple cider vinegar, apply it to your scalp, leave it on for 15 minutes, rinse off with warm water and see the results for yourself! Who knew that two pantry staples could make such an obvious difference? Give it a try today and start admiring your healthy, luscious locks!
Avocado and honey mask
Ready for luscious and glossy hair? Avocado and honey masks are a natural and effective way to thicken your strands and make them healthier! With just the two ingredients, you can give your hair the nourishment it craves. Full of essential nutrients, fatty acids, antioxidants, vitamins, and minerals that stimulate new hair growth, this mask will work wonders for you. Besides being ultra-nourishing, it is also incredibly easy to make—not to mention economical! Give yourself an at home spa session every week with this amazing mask. Your scalp will love you for it!
Related: Simple Ways to Reduce Stress Holistically
With all these options for scrubs and masks, you're equipped with the information you need to make an informed decision about which one is right for you. Not only will a homemade scrub do wonders for your hair and scalp, but it can also be cheaper than store-bought alternatives. When using any of these methods, always remember to use washcloths or towels that have been freshly washed, as they can be contaminated with bacteria if used again and again.
These are just some of the natural remedies you can use to get thicker and healthier hair. But the truth is, there are so many more that are great for nourishing your scalp and getting that thick, glossy mane of your dreams.
Whatever you choose, remember to give your hair some extra TLC and it will reward you with beautiful results! Make sure to be consistent with your treatments and you'll soon have the healthy, lustrous locks you've always wanted! So give these home remedies a try to watch your hair transform. You won't be disappointed! Good luck!
Next: Natural Remedies for Chronic Pain