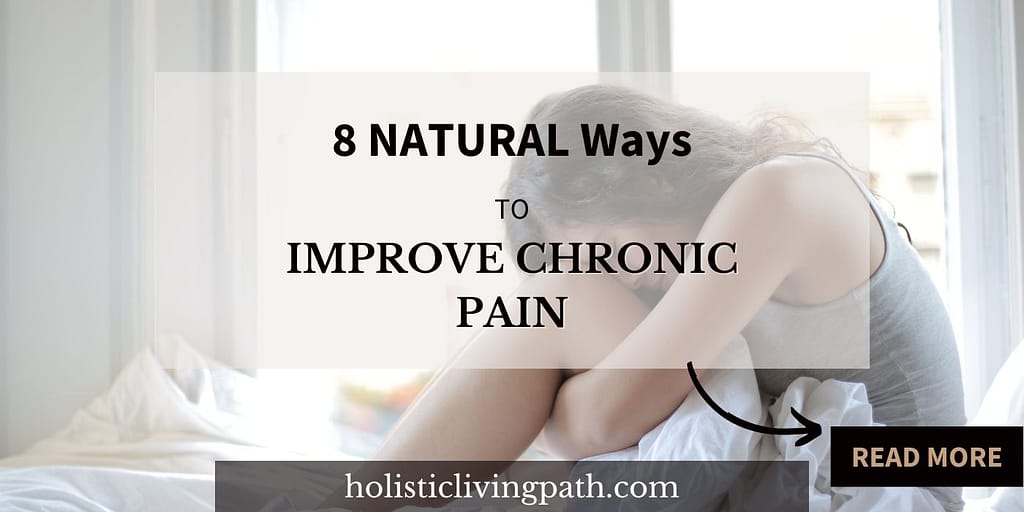 Do you live in constant pain? Are you looking for more holistic ways to improve your joints, ligaments, or chronic pain? The great thing about living holistically is that there are many options out there to suit your needs. While it might be easier to turn to over-the-counter drugs or visit the doctor every week, a holistic approach allows you to target the primary concern and continue managing your symptoms healthily.
Disclaimer: I only recommend products I would use myself, and all opinions expressed here are our own. This post may contain affiliate links that, at no additional cost to you, I may earn a small commission. Additionally, as an Amazon Associate, I earn from qualifying purchases. Read full the privacy policy here.
I haven't explained yet why I embraced the Holistic Living Path and I think it might be time to share why I'm here.
Related: 4 Proactive Self-Care Tips to a Holistic Life
My Experience With Chronic Pain
In 2016, I gave birth to the most beautiful little girl in the world. My pregnancy—or the delivery—wasn't easy. I was on anxiety medication before my pregnancy and going off of them was excruciating. I was a mess. That was the first sign that something needed to change, but it wasn't until after the delivery that I learned just how much my body was affected.
The contractions were unbearable, and as someone who is covered in tattoos, I can safely say I have a high threshold for pain. However, ten hours into my labor, I was begging for an epidural in between sobs. Finally, I was taken to a room where the practitioners needed to insert and remove the needle four times.
When my partner at the time came back into the room, he was flabbergasted by the amount of blood he had seen. He kept asking me if I was okay, but I couldn't answer since the contractions were still coming in full-force. The epidural didn't work.
After my delivery, I was in excruciating pain. I told the doctors something was wrong, but they said it was normal. I did have one doctor who took a look and said I had "some bruising" but would be fine. The picture my ex showed me of the half dollar size bruise with four puncture marks begged to differ.
Related: Simple Ways to Reduce Stress Holistically
Of course, I was in a puddle of tears the day I had to go home. I was petrified that I would drop this tiny little girl or that I wouldn't be an exemplary mother. I was told to go back on my anxiety medication ASAP—even if that meant forgoing breastfeeding. During that time, I felt an immense amount of pressure to conform and I was dealing with insane chronic pain that I had no idea how to manage.
Three years after…
Unfortunately, I didn't learn my lesson fully just yet, as I then started seeing doctors for my back pain. I was given steroids and anti-inflammatory injections on a regular basis. My scans and x-rays showed signs of arthritis, and they could see the swelling. What caused these symptoms, though, they didn't know. They could only safely say that it wasn't the mishap with my epidural.
I continued on this path for about another two years. The doctors could convince me to go back on anxiety medication, despite feeling much better in an overall sense. I continued to see various doctors that pumped me with drugs to help me manage my pain. I was given 16 shots in my back every couple of months, and had two radiofrequency ablation procedures a year that consisted of burning the painful nerves in my spine.
But it was too much. Too many medications, too many shots. I don't mind needles, but when you have 16 shots put into you in less than an hour—it changes you. I might sound a little dramatic right now, but it's truly how I felt at that moment. It was too much, but I was given a grace: Covid-19.
Related: Guides to Incorporate Essential Oils into Your Daily Life
During the height of the pandemic, as you probably remember, nobody could get to a doctor's office. They were limiting who they would see and the days they were open; it was packed. I wasn't going to risk a deadly disease to manage some pain.
So I stopped. Now, this isn't something I would recommend for others, as stopping your medications cold turkey can have terrible effects on you and your body. However, for me, I knew that if I continued, it would be worse.
And so, for the last four years, I've changed my outlook on life and how I handle any concerns within myself, even down to a headache. I use easy, natural, and holistic options to manage my chronic pain. I'm on a mission to reset my mind, body, and soul and work on recreating myself from the ground up, which is why I now have this blog.
Holistic Living Path was thrusted upon me before I was even really ready or knew how I wanted to tackle the project, but it's been waiting for me ever so patiently. With this blog, I hope to share with others who have had the same or similar experiences as me that you are not alone and that you do not have to conform.
Related: 4 Tips to Take Care of Your Mental Health
If you're tired of shots or popping pills to manage some pain, then keep reading. These tips and tricks have helped me. Although I will admit, initially—it hurts. Sometimes with the stretches or activities, it can hurt more in the moment, but the relief I have the following day is worth it.
So, if you're ready to learn about how I manage some of my chronic pain holistically, then keep reading.
How can chronic pain affect you?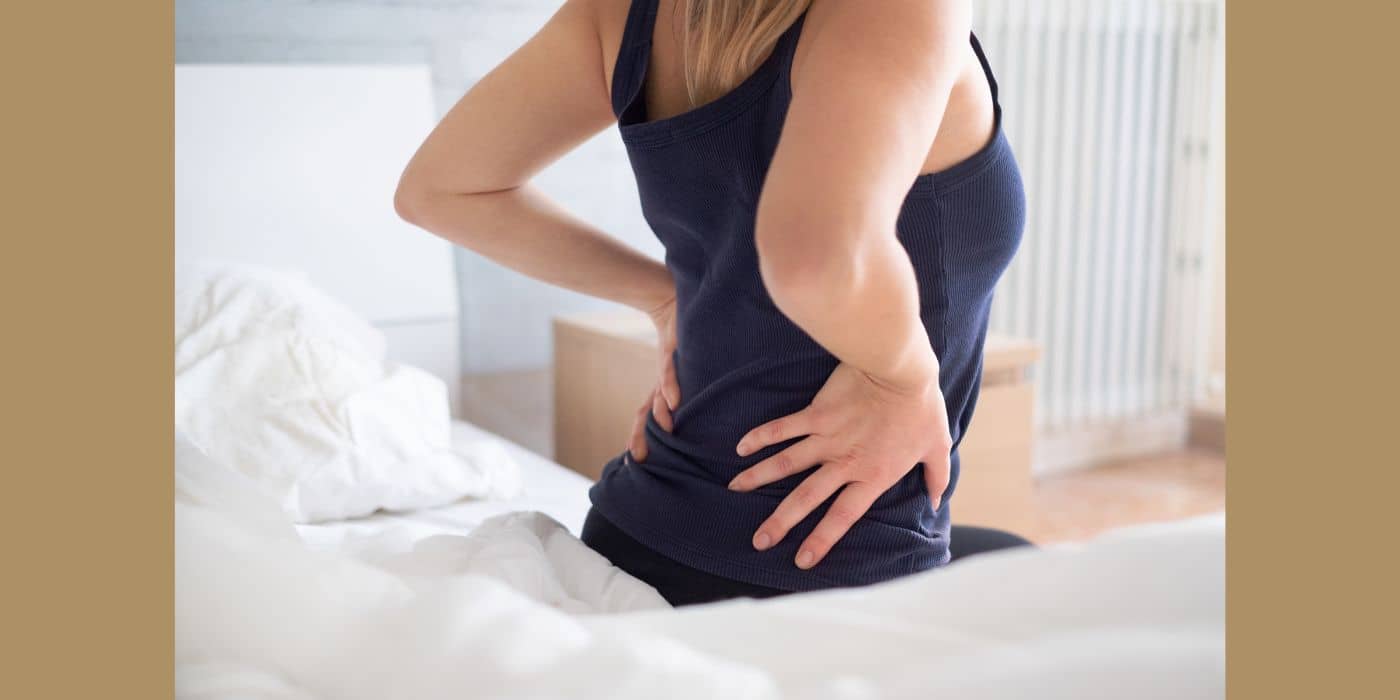 I think this part is important because there's the obvious: physically. Your chronic pain will obviously affect you physically, but what's more interesting is that it doesn't have to be in the injured area per se.
On the days that my chronic back pain was more manageable, my legs felt pinched, and I had headaches so intense that I couldn't leave my room. The pain would travel throughout my body and I know others who experienced this as well. A friend of mine attended acupuncture sessions and one week she complained about her ankle, to which her therapist said they'd work on her hips. We might wonder how the two are connected, but there's science and experts who back it up. So even though your hips or back might be the major concern, your pain can manifest differently throughout your body.
Related: 4 Practices to be More Self-Aware with Mindfulness
Mentally, emotionally, and mentally
Aside from physical symptoms, chronic pain affects you mentally and emotionally. When you're constantly in pain, your body and mind are in survival mode. That's exhausting for you in all aspects. Breaking a bone or even spraining an ankle is enough to make some people double down and shed a few tears, but when the pain is internal, it's much harder to relate or explain how you're feeling.
Not to mention the stigma that surrounds chronic pain. The fact that it's harder to see or understand the pain means that you're often disregarded, even by the most talented experts. This can lead to the pain increasing, as well as you feeling emotionally and mentally drained as you struggle to find the support you need.
Unfortunately, it doesn't end there. Chronic pain can affect your eating, sleeping, and exercising habits—three factors crucial to your overall well-being. As you can see, chronic pain isn't just about the pain you feel anymore—it's about your overall quality of life.
However, it doesn't matter where your pain is located or how long you've dealt with it. There are simple and easy ways to manage your chronic pain without feeling worse in the long run.
Related: How to Eat a Clean Diet
Importance of managing and improving chronic pain
Since chronic pain can affect you in all areas of your life, it's vital that you find healthy ways to improve the side effects. In truth, it's tempting to just sit or lie down, let your body decompress and then never let it compress again.
However—take it from someone who spent several months in bed doing just that and watched her aunt do the same in an effort to manage her own chronic pain—not moving makes the pain worse. When you stop moving, you become more stiff. You lose the lubrication in your joints and when it's time to finally get out of the bed, you will feel worse.
It's counterintuitive, at least for me, because I thought that rest and repair was what I needed. Plus, lying down did ease the pain—in that moment. When it was time to go to work, clean the house, or just use the bathroom, the pain was more unbearable.
Related: Best Affordable DIY Scrubs for Thicker, Healthier Hair
If you don't manage your pain, it gets worse. There's no other way to say this but to be blunt about it. If you don't address it or cater to it, then it will get worse. Think about it, if you broke a leg, you wouldn't just grab a cane and hop around the house. Your leg needs proper care and tending too. Then proper equipment to give you the essential support you need during healing.
So forget about the pain not being visible or external. You need to care for yourself effectively. This might mean you have to be your own "doctor" and try natural and holistic ways to improve your chronic pain. It might also mean that you have to deal with more pain initially as you find your way back to normalcy. But, by consciously working on your improvement, you can drastically change your overall well-being.
Holistic and easy ways to improve chronic pain
Depending on your current circumstances, where you have the pain, and when the pain is most evident, different techniques may be more suitable for you than others. However, listed below are some well-rounded techniques that I have found to help me with just about any sort of pain.
Some techniques, like essential oils, are good for almost immediate relief. Others are more practices that help over a long period of time, like physical therapy.
Related: Grounding Means Living Naturally
Hydration
Pretty much everybody knows that we're composed of mostly water. And yet, so many of us struggle with keeping up with our water intake. Understandably so, since if you drink the recommended 1 oz of water for each pound you weigh, then you're going to the bathroom every hour. Plus, that also means you have to carry around an obnoxiously large water bottle (or a bunch of small ones to meet your intake while you're busy).
However, without enough water, we just simply don't function well. We're more groggy, cranky, and headaches are always ready to attack. Also, water can improve the synovial fluid in your body, which reduces inflammation. It also helps cartilage maintain shock absorbing properties. This helps your joints feel less impacted during strenuous activities. Making sure that you have enough water throughout the day is a super simple way to improve your chronic pain.
Healthy diet
Yes, food is equally important as water, but not just because we need it to live. In our bodies, we have a microbiome and it communicates within our bodies using the brain-gut-axis. This axis controls our central nervous system (CNS) and the enteric nervous system (ENS). However, thanks to this axis, researchers have been able to determine the link between our food and emotional, physical, or mental wellbeing.
Unhealthy foods can disrupt the microbiome, thus leading to inflammation, which is one of the biggest contributors to any type of chronic pain. High processed foods like chips and cookies can increase inflammation and lead to digestive issues. Additionally, pesticides or other chemicals found on fruits and vegetables can also severely disrupt our digestive system.
Related: 4 Tips to Reduce Waste in Your Home
However, protein, healthy fats, fruits and vegetables are all great foods to help you relieve inflammation, improve your chronic pain and overall health.
Yoga
Yoga is an activity that might make you more uncomfortable in the beginning, especially if you're new to the practice and are working without an instructor. If so, I recommend following Yoga with Kassandra on YouTube. She does a great job of telling you how to align your body, especially for more complicated poses, to ensure you're not pinching any nerves or injuring other parts of your body.
However, yoga is perfect for getting some extra lubrication in your joints, but it's for this reason that I will say it hurts. If you're stiff, or used to staying in bed, you might struggle for the first few sessions because your body has to lengthen. It's important to take your time and ease your way into positions. It's okay to feel uncomfortable, but being in pain means you're too far into the pose. Luckily, though, yoga is not a competition about who's better. Everyone is there for the same reason—to connect with themselves and improve who they are.
Also, there is a pose for every single body part. Want to improve chronic pain in your back, shoulders, knees, or legs? There's a pose for that! Not to mention, all you really need is a decent yoga mat and you can be on your way. Give it a few weeks of genuinely trying the practice and watch how your body improves!
Related: Essential Things to Know Before Growing Your Own Food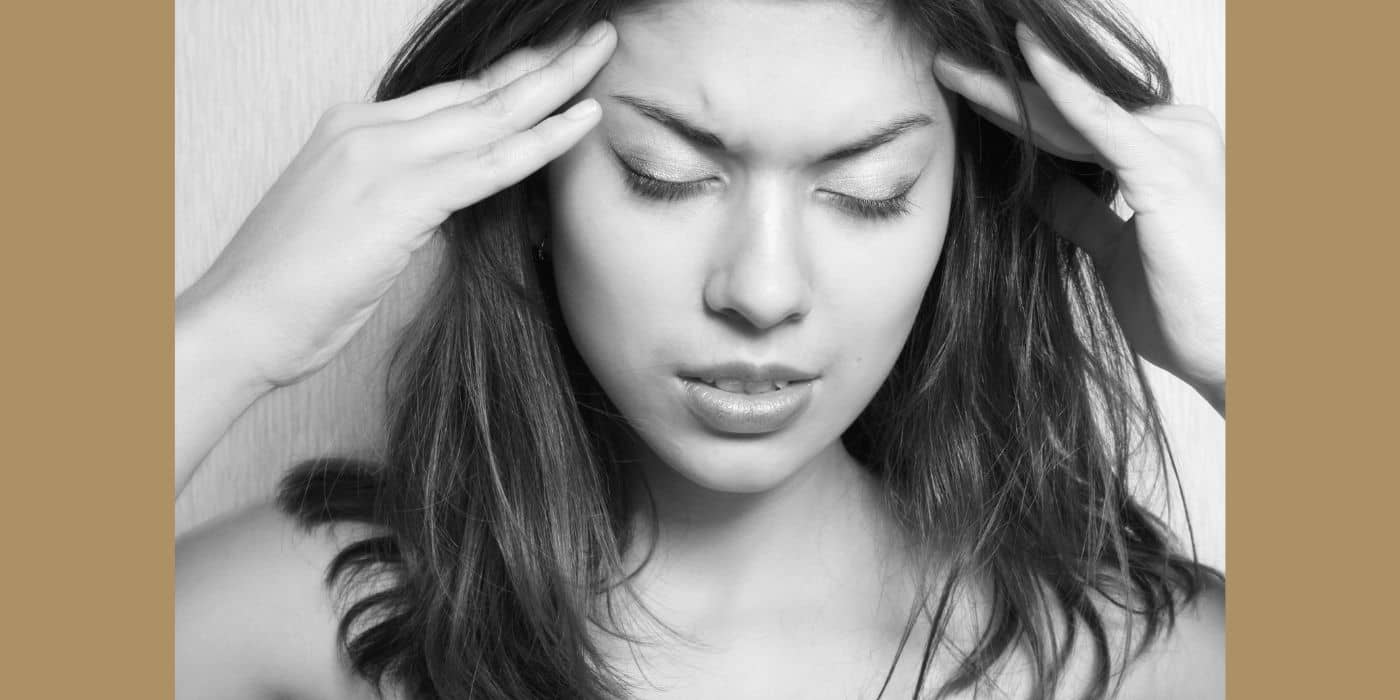 Meditate
For some people, meditating might be considered to be just plain nonsense. However, you're not meditating to try to change the world or your circumstances here. You're meditating to clear your mind.
You don't have to go under self-hypnosis and try to trick yourself into forgetting about the chronic pain, nor do you have to find a solution to your problems. That's not at all where I'm going with this, but it is technically an option if you are open to it. However, when I say meditate, I mean that this is a moment to just stop thinking about the pain. It's about being mindful and enjoying the present moment, which in a way improves your chronic pain because you're not focused on it.
If you struggle to be mindful during the day, meditating is a great alternative. Meditating allows you to go within and just enjoy some silence. This also means your inner voice won't be screaming at you to acknowledge the pain. All you really need is a cushion or a comfortable place to sit. As you become more comfortable, you can other elements into your practice. I love starting and ending a meditation session with the sounds of a Tibetan Singing Bowl.
Exercise
Exercise is another activity that might hurt at first, but is equally effective. Start small first, like with a walk around the block or a stroll in the park. You can avoid stairs, weights, or other high-impact activities at first. You just want to get the blood flowing and lubricate your joints. Over time, you will gain momentum and feel comfortable taking on more strenuous activities. As you get the blood flowing and lubricate your joints, you can improve your chronic pain.
Related: Tips for Self-Care Practices: Improve Journaling Skills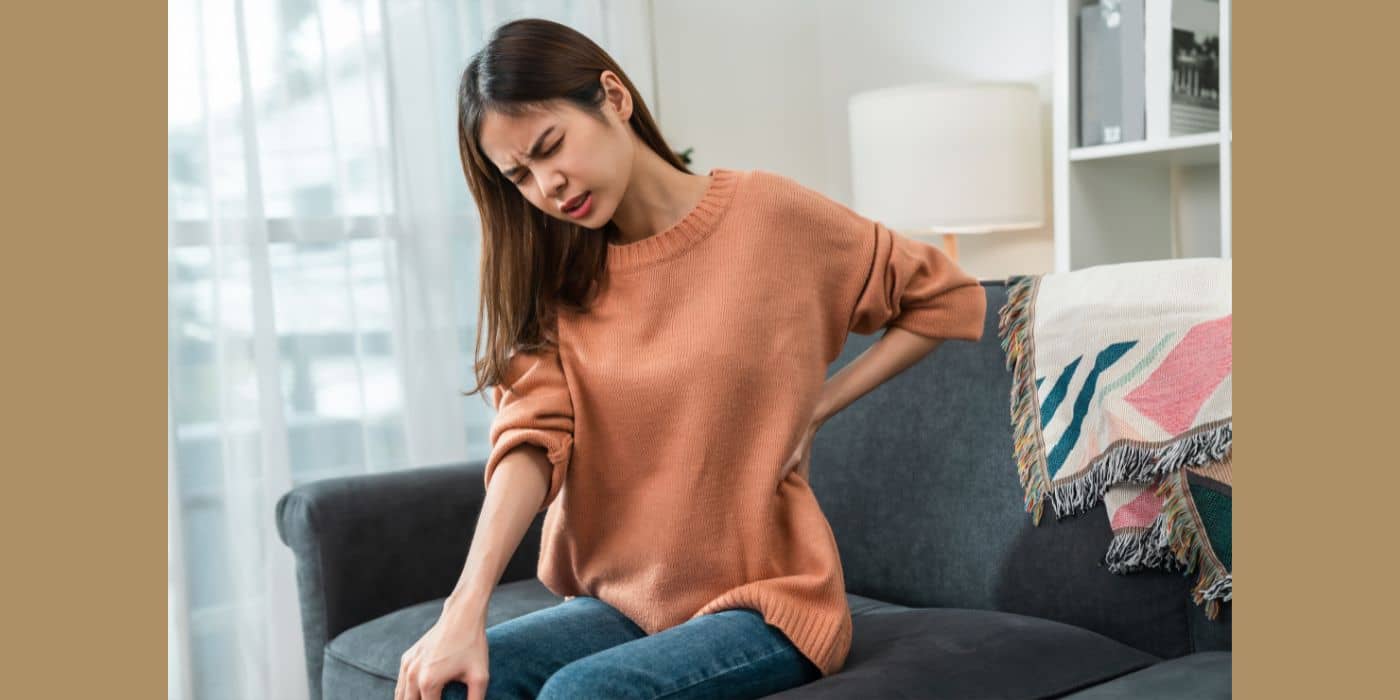 Essential oils
Put down the Ibuprofen or Excedrin and use essential oils instead. I have an enormous case full of oils that I swear by—and I'm telling you—they work. They also smell so good, which is usually a pleasant distraction from the pain as well. If you have a headache, run for the peppermint oil. You can mix it with a carrier oil, like jojoba or almond oil, and dab it onto your temples. Within 10 minutes, I feel better and after a half hour, I've completely forgotten about it. For chronic pain, you can use ginger, lemongrass, or wintergreen oils. I think mixing those oils with a carrier oil and then a soft massage in the area can alleviate a lot of pain.
Fish oil and turmeric
In most cases, Mother Nature gave us everything we needed to be happy and healthy—including being able to manage chronic pain. Over time, as our knowledge increased and science became more pronounced, we took things a step further and created vaccines or other medicines to cure illnesses. However, sometimes going back to the basics is just what we need. Fish oil and turmeric are two natural items that are great for reducing inflammation, which can also relieve any pain. If you don't like fish or the taste or turmeric, they both come in pill form, making it super easy to stay on top of your health.
Heat and cold therapy
Hot and cold therapies can be time consuming. More often than not, I prefer to opt for these Lidocaine IcyHot patches or this cellulite and sore muscle hot cream (just be sure to wash your hands thoroughly after). However, those can only do so much. If you're big into UFC or any other sports, you probably know that hot and cold therapies are usually an athlete's first choice for sore muscles. The cold causes your blood vessels to contract, which reduces circulation and the pain. The heat then helps the circulation return so the fresh nutrients can repair the tissues. Ideally, for this to work best, you would want to stay in the cold for a bit and then go directly to the hot. This can be a shock, but this tip has definitely relieved some tight knots and improved chronic pain for me along the way.
There you have it! My 8 favorite tips that have helped me improve chronic pain. The good thing about these tips is that it doesn't matter what type of pain you have, where it is, or how long it's persisted—they can help you, anyway. The goal, though, is to be gentle and honest with yourself.
Related: Top 6 Supreme Yoga Mats and Their Importance
If you're in pain, you shouldn't push yourself too much or too hard. Be aware and learn the difference between being "uncomfortable" and being "in pain." For instance, in the beginning stages of yoga, it might feel uncomfortable. You might feel some weird tingling or simply normal stiffness in some joints. However, if you feel "in pain" then you've gone too far. Nothing should hurt you or make you feel worse, but uncomfortable is when we approach that threshold—but it's still bearable.
What do you think? Have you tried any of these tips before? What works for you? We would love to hear your stories and comments below!
Next: Natural Ingredients for Hair Growth and Thickness to Use