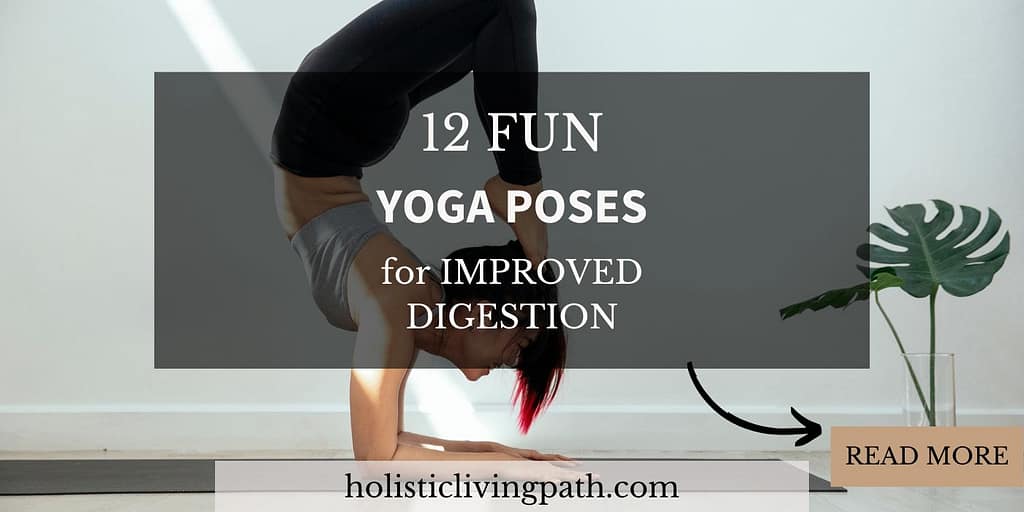 Do you ever feel bloated, sluggish, or just off after eating? For centuries, holistic practitioners have been using yoga for digestion to support the body's natural functions. From twists and reclines that work with gravity to stimulate the digestive organs and increase circulation of nutrients to poses that decrease inflammation in the gut—incorporating yoga into your wellness routine may help relieve digestive distress. Join us as we explore 12 targeted yoga poses that are designed to provide natural relief from indigestion!
Disclaimer: I only recommend products I would use myself, and all opinions expressed here are our own. This post may contain affiliate links that, at no additional cost to you, I may earn a small commission. Additionally, as an Amazon Associate, I earn from qualifying purchases. Read full the privacy policy here.
The connection between our mental health and our gut health is one that is becoming increasingly more understood. When we are anxious or stressed, our digestion can be impacted and food may not move efficiently through the body. Yoga for digestion can help to reduce stress by calming both mind and body through conscious breathing, relaxation, meditation, and gentle postures.
Related: How to Boost Your Energy Naturally
Like many other women, I thought that my indigestion issues, like bloating and cramps, were just a part of life. Some days were worse than others, but I figured that was a part of enjoying my mission here on Earth, especially during that time of the month. I was battling with myself, the uncomfortable feelings in my gut, and any type of physical activity seemed daunting. That's when I discovered yoga for digestion.
After practicing yoga for a few months, I found that when I could release the tension in my body and give it time to rest, my issues started to improve significantly. My bathroom habits became more regular, my bloating was less intense, and I had more energy throughout the day.
Yoga for digestion is not just about twisting and stretching your body into different shapes; it's also about connecting with yourself and learning to listen to how your body reacts to certain movements. Making this connection on the mat helps you to become more aware of how your body works and responds off the mat. This can be incredibly helpful when it comes to understanding the root cause of indigestion issues and making lifestyle changes that will help improve your overall digestive health.
Twists, reclines, arm balances, forward bends—there are so many yoga poses that can provide natural relief from indigestion.
Related: 4 Proactive Self-Care Tips to a Holistic Life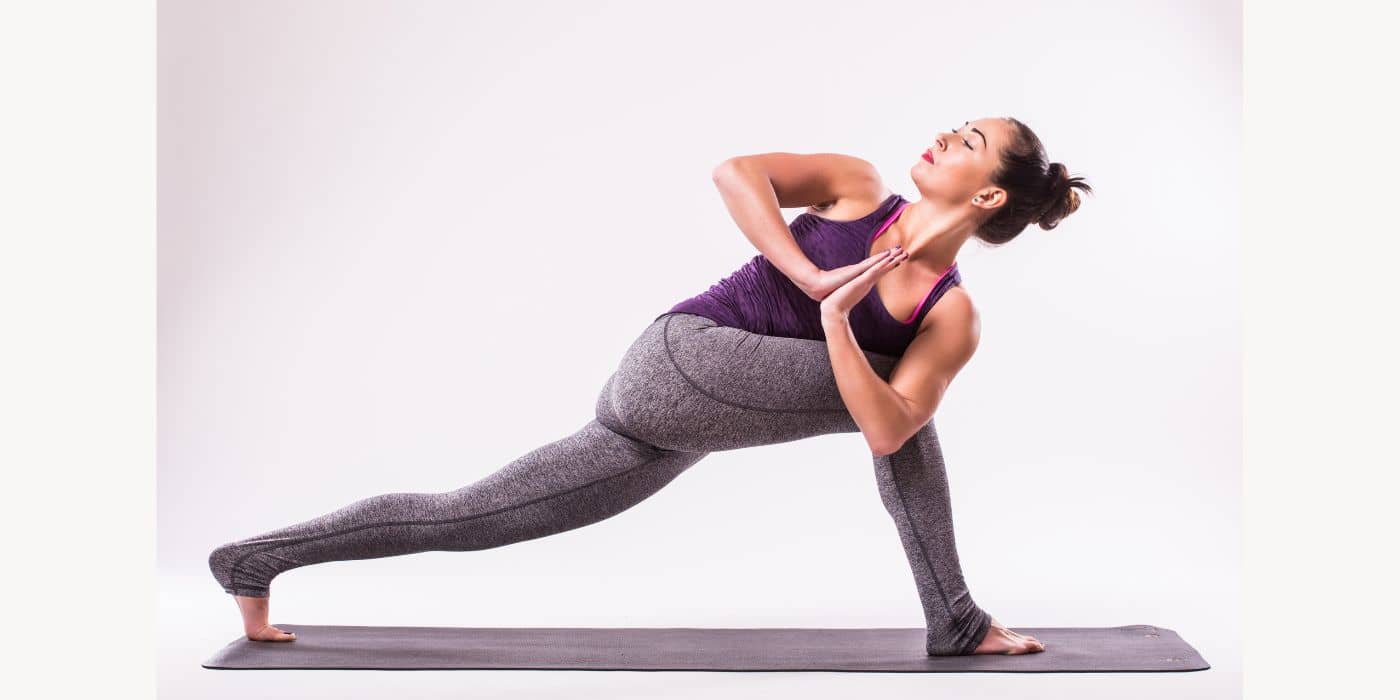 Why is gut health and digestion important?
Good gut health is incredibly important for overall wellness. Our digestive systems are responsible for breaking down food, absorbing nutrients, and eliminating waste from the body. When digestion works optimally, nutrients are absorbed efficiently and waste passes through the body without backup or stagnation. Healthy digestion also ensures that we maintain proper weight and energy levels.
Digestion is a vital part of our overall wellbeing and affects both our moods and bodies. When digestion isn't functioning properly, it can leave us feeling sluggish and unpleasant, making everyday life challenging. Poor digestion can cause chronic fatigue, headaches, and even anxiety. This can also manifest as bloating, constipation, diarrhea, acid reflux, stomach cramps, and more. Poor digestion not only causes physical discomfort but can also lead to emotional distress and fatigue.
The microbiome-gut-brain axis is one of the most studied relationships in health and wellness. In short, this axis is a physiological connection between our gut, brain, and microbiome (bacteria living on our bodies). This relationship shows that when we are stressed or anxious, it can have an immediate effect on our digestion.
Fortunately, yoga provides us with simple poses that target the digestive system. Specifically, there are several poses that focus on your body's digestive processes and help restore balance. Doing this type of yoga regularly helps increase blood flow to the stomach, allowing for better absorption of nutrients from food. Not only does this aid in digesting food correctly, but it also increases relaxation and emotional wellbeing too.
How else can I improve my digestion?
Yoga will certainly help with digestion concerns. For me, it was the most beneficial because it also helped me be more physically active while still participating in a more spiritual practice. However, there are other ways to improve digestion as well.
Related: Simple Ways to Reduce Stress Holistically
For example, it is important to eat a healthy balanced diet with plenty of fiber and water. This will help your digestive system move food through the body more efficiently. Additionally, reducing your intake of processed foods, artificial sweeteners, and refined sugar can also be beneficial for your gut. If you're unable to receive all your vitamins and micronutrients from your meals, you can also take supplements like probiotics, prebiotics, digestive enzymes, and herbs like fennel, mint, and ginger, which all aid in digestion.
Finally, it is important to take time to relax and reduce stress. When we are stressed, our bodies release hormones like cortisol, which can wreak havoc on our digestive system. Taking the time to slow down, practice mindful breathing, and engage in relaxation practices can help reestablish balance in the body while reducing symptoms of indigestion.
Yoga for digestion can be an incredibly effective way to bring balance and harmony back into our bodies. By taking the time to connect with ourselves, we can begin to understand how our body works and optimize our digestive health for improved overall wellbeing.
Yoga Poses and Improved Digestion
Yoga is an ancient form of exercise that has plenty of benefits for your health, not least in helping with digestion. It's often used to settle the digestive system, which can help reduce bloating and gas pains, improve elimination and even regulate appetite. Doing a set of these poses has been said to be especially beneficial for bringing relief to the digestive system. And if you're looking for an accessible way to experience the benefits of yoga, you don't need to look any further than this set of postures specifically created to help soothe your stomach! So why not give it a try and see how yoga can help make your digestion healthier?
Related: A Holistic Perspective: The Mind, Body, and Spirit
What do you need to practice yoga?
Luckily, one of the best perks of using specific yoga poses to improve your digestion concerns is that you don't need expensive equipment or a studio membership to reap the benefits. All you need is some comfortable clothing, a yoga mat, and an open space to practice. With just those few items, you can start connecting with your body to improve your digestion.
For beginners, your yoga mat is the most important item. It's the foundation for all your poses and movements. A yoga mat provides a supportive cushion between you and the floor, allowing you to move with more ease and comfort. Padding also helps absorb sweat, meaning less slipping and sliding during practice. If you would like more information on some of our favorite mats, along with their perks, check out our top 6 yoga mat picks.
You don't need to invest in expensive yoga props like blocks or straps to practice yoga. These props can be helpful for beginners, though, because they offer additional support and stability. So if you're just starting out, investing in a few props may be worth it.
Five easy yoga poses for digestion to begin with.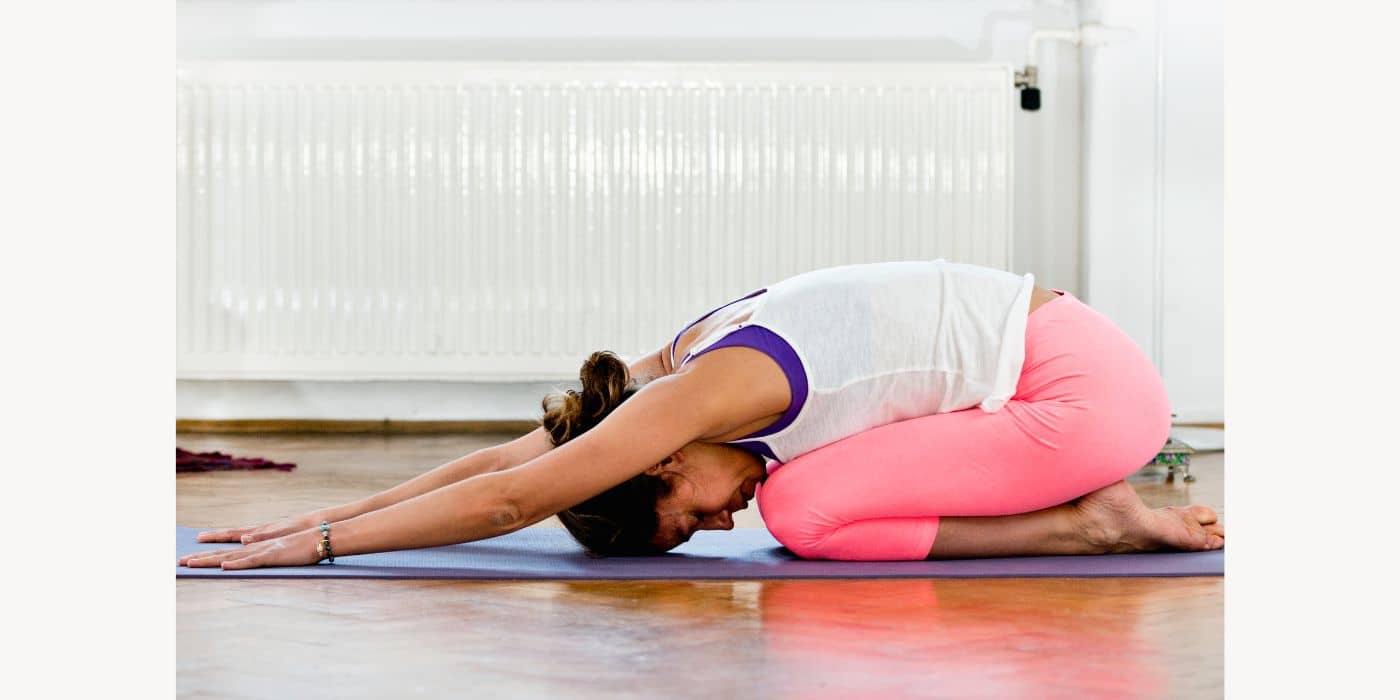 If you're just starting out on your yoga journey and want to explore poses that can help improve digestion, there are five great ones to get you started.
Related: How to Begin Living a Holistic Life
Child's Pose
This gentle pose helps to relax the whole body, especially the lower back and abdomen. To do it, begin by sitting on your heels with your knees separated and the tops of your feet flat on the ground. Lay your torso down, bringing your forehead to rest on the floor. Allow your arms to relax by your sides and take long, deep breaths. Hold the pose for up to one minute while you focus on your breathing.
Cat/Cow Pose
This pose helps to massage the abdominal organs and stimulates circulation throughout the entire body. To do it, start on your hands and knees with your spine in a neutral position. On an inhale, drop your belly and lift your head and tailbone skyward into the cow pose. On an exhale, round your spine and tuck in your chin to come into the cat pose. Continue to move between these two poses, focusing on your breath and allowing the spine to move with each inhale and exhale.
Upward-Facing Dog
This pose helps to strengthen the abdominal muscles and stimulates digestion. To do it, lie on your stomach with your legs extended behind you and place your hands shoulder-width apart. On an inhale, engage your abdominal muscles and press into your hands as you lift your chest off the ground. Keep pressing into your feet and palms as you lift your thighs away from the ground. Hold the pose for up to 30 seconds while you focus on your breath.
Boat Pose
This pose helps to strengthen the abdominal muscles and stimulate digestion. To do it, sit with your legs extended in front of you and your back straight. On an inhale, lean back slightly until you feel your abdominal muscles engage and then lift your feet off the ground. Extend your arms out in front of you and hold the pose for up to 30 seconds while focusing on your breath.
Related: Guides to Incorporate Essential Oils into Your Daily Life
Half Spinal Twist
This pose helps to improve digestion by massaging the internal organs, stimulating circulation, and releasing tension in the spine. To do it, sit on your mat with your legs extended. Bend your left knee, bringing it across to the right side of your body and then use your right hand to press down on the left knee. Place your left hand behind you and twist your upper body to the right. Hold for up to 30 seconds while focusing on your breath.
Learning how to do the poses correctly is key—the way your body is aligned helps maximize the benefits. Additionally, don't forget to incorporate breathing techniques—taking slow deep breaths synchronizes movements and sets a relaxed, mindful mood for the practice. And of course – good lifestyle habits such as drinking plenty of water, eating nutritious food and getting enough sleep are essential components of an overall wellness regimen. So start exploring these five poses today and enjoy all the benefits that come with it!
Five advanced yoga poses for digestion
Have you been looking for ways to improve your digestion? Yoga poses might just be the answer! Five uncommon yet advanced yoga poses can help relax and invigorate your digestive system.
Cobra Twist
This pose helps to massage the abdominal organs, improve digestion and detoxify your body. To do it, lie on your stomach with your legs extended behind you. On an inhale, lift your upper body and your hips a little off the ground while twisting your torso to the right. Hold this pose for up to one minute while you focus on your breath. Then repeat on the other side.
Related: 4 Tips to Take Care of Your Mental Health
One Leg Forward Fold
This pose helps to stimulate digestion by stretching the muscles in the abdomen. To do it, stand with your feet hip-width apart and then lift your right leg up in the air. On an exhale, fold forward and try to touch the ground with your right hand. Hold this pose for up to one minute while focusing on your breath.
Frog Stretch
This pose helps to improve digestion and relieve constipation by massaging the abdominal organs. To do it, start on all fours with your hands and knees on the ground. On an exhale, press your hips back towards your heels and hold for up to one minute while focusing on your breath.
seated wide-angle pose
This pose helps to massage the internal organs and stretch the muscles of the abdomen. To do it, sit on your mat with your legs extended in front of you. On an exhale, bend your knees and place the soles of your feet together, stretching your legs out to either side as far as you can. Hold this pose for up to one minute while focusing on your breath.
Spinal Rotation
This pose helps to massage the internal organs and stimulate circulation. To do it, sit on your mat with bent knees and feet flat on the ground. On an exhale, twist your torso to the right, bringing your left arm behind you and your right arm in front of you. Hold this pose for up to one minute while focusing on your breath.
Related: 4 Practices to be More Self-Aware with Mindfulness
While executing each of the poses, it's important to concentrate on your breathing rhythm and body alignment for maximum benefit. Don't forget to warm up before doing any poses and cool down post workout. Additionally, lifestyle tweaks such as eating smaller meals throughout the day instead of heavy ones can help nourish your digestive system further. All these techniques combined with a healthy diet and regular hydration will create an enriched experience that'll leave you feeling radiant!
Two yoga pose inversions to try for healthy digestion.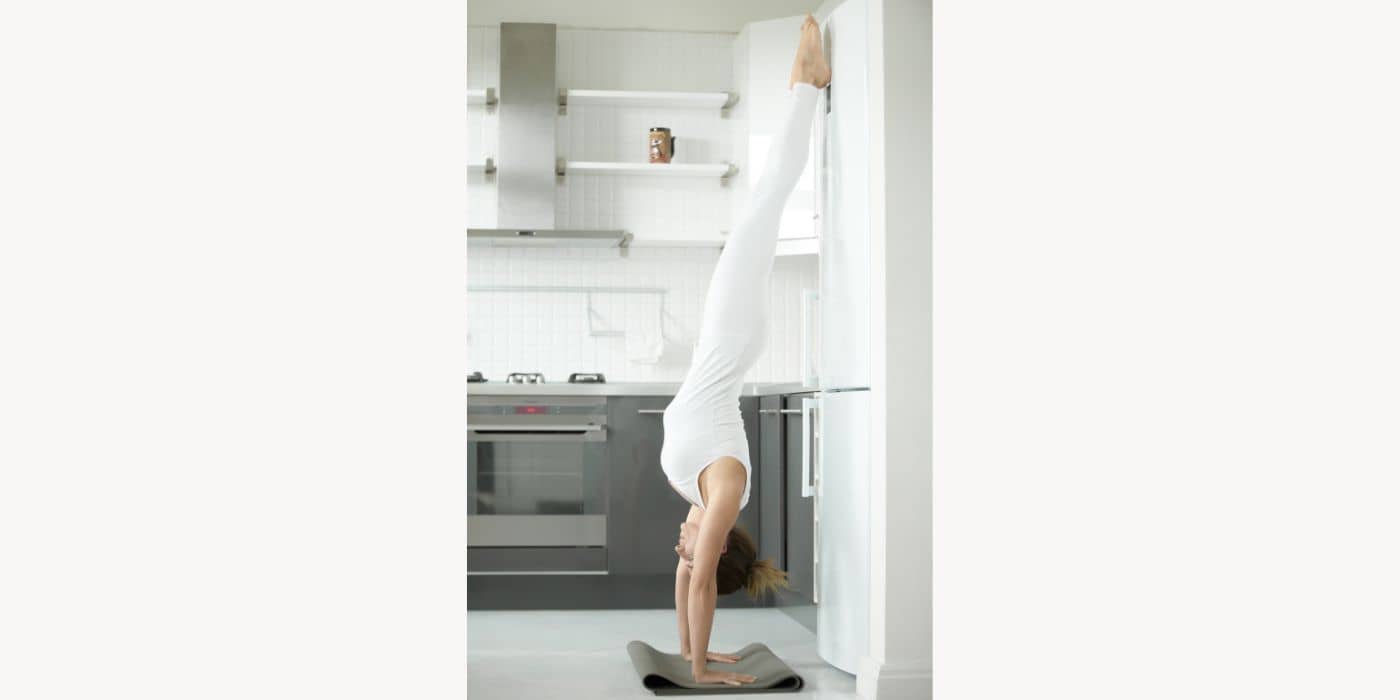 Inversion poses are an incredibly beneficial way to promote healthy digestion and can be done safely if practiced with proper alignment. Two of the best inversions to get started with are the Downward Facing Tree Pose and Shoulder Stand Pose.
Downward Facing Tree Pose
Start by lying flat on your back. Raise your legs up towards the sky, drawing your inner thighs together as you press down into your hands. When you're steady in this position, move away from your hands and come onto the crown of your head. If needed, bend your knees a little just to make sure there is no weight applied to your neck region.
Shoulder Stand Pose
This pose begins similarly with lying on the back: From here, raise both legs up to the sky so that they're vertical. Then bring one hand behind you as you roll onto your upper back, with both arms spread out for balance. Hold these two poses for about five breaths before lowering yourself back down completely onto the ground—you'll feel amazing!
Related: Best Affordable DIY Scrubs for Thicker, Healthier Hair
Final thoughts on yoga poses for digestion
Practicing specific yoga poses for digestion can be a great way to promote healthy digestion, increase appetite, and relieve digestive discomforts. Before attempting the poses, however, it is always important to listen to your body and take any necessary precautions. If you are new to yoga or have any medical conditions such as joint pain, ask your doctor before attempting any of them.
Additionally, remember to stay hydrated during each session. When practicing these twelve poses for digestion can help improve your overall health—pay attention to form and posture in order to maximize the benefits. With some practice and dedication, you can stay relaxed and enjoy the many benefits that these poses have to offer.
Focusing on your digestion through yoga is an excellent way to honor your body while also taking the time to relax and breathe deeply. As you practice these different poses daily, you can increase your sensitivity toward physical sensations. Over time, this can allow you to better notice how certain foods influence your digestion and encourage those which work best for you. Additionally, practicing yoga for digestion can support healthy elimination in the body—optimizing digestive function and creating a more balanced way of life.
And if it's too difficult for you to try inversions by yourself, then don't forget to reach out to a trusted teacher who can provide safe alignment cues and suitable modifications that cater to your individual needs. All-in-all, yoga for digestion is an invaluable tool that allows us to better understand our bodies, remain sensitive towards what we eat, and take steps towards overall wellbeing.
Do you have any favorite yoga poses that help you with your digestion? What do you do to improve your digestive health? I would love to hear your thoughts!