Are you looking for a way to reconnect with nature? A nurturing and holistic camping trip can be the perfect way to do it. Nature has a way of calming and refreshing us, and camping allows us to immerse ourselves in its beauty.
Disclaimer: I only recommend products I would use myself, and all opinions expressed here are our own. This post may contain affiliate links that, at no additional cost to you, I may earn a small commission. Additionally, as an Amazon Associate, I earn from qualifying purchases. Read full the privacy policy here.
Whether you go on a solo camping trip or with friends, you can enjoy the sights, sounds, and smells of nature. You can also take part in activities like hiking, swimming, and fishing. Not to mention, taking a break from technology and focusing on the beauty of nature can be a great way to relax and recharge.
Related: Top 6 Supreme Yoga Mats and Their Importance
The first year I ever went camping was right before the start of the pandemic. In fact, once we returned, the U.S. shut down about a week later. This also meant our trip was toward the end of winter, so it was frigid out.
It was my first camping trip, but not my partner's. Luckily, he helped me prepare for the new adventure. Without him, I wouldn't have been as prepared as I was, but I quickly realized that there was more that I wish I had. The following year (2021) led to more openings and freedom, so we booked another trip. We chose the first weekend in August and invited most of our extended family. It was during this trip that I fell in love with camping.
Our second night of camping was filled with a light rain. The air was cool enough for me to snuggle into my sheet, and the pitter-patter on my tent was one of the most relaxing sounds I ever heard. The sound and smell of the rain were equally comforting. I always found solace in the rain and thunderstorms, so it was a perfect moment for me.
While our summer camping trip was more fun and easy-going compared to our winter camping trip, we were still a little unprepared. We didn't have enough dry ice. A manhunt game led to several broken tents, and over 15 people fought for a small camp-side toilet that smelled terrible.
Related: 12 Fun Yoga Poses for Improved Digestion
Despite some of these challenges, camping was one of the most thrilling experiences I've ever partook in. Unfortunately, we weren't able to go again last year, but we changed that this year.
Back in April, I found a large campground in Jersey that accommodates up to 10 people on a tent site and booked it! Since we normally invite all our families, I crafted beautiful invitations and sent them out. Now I'm planning and preparing for our trip in August, but since I'm the one planning it, I wanted to make sure I'm on top of everything.
Planning this trip has made me realize that trying to create a perfect camping trip is tough, especially if you're camping with 20+ people. As I've been collecting the invites, I realized I needed a more organized way to handle the itinerary and reservations.
That led me to create this camping planner. This planner has everything you need to research, plan, and reflect on your camping trips. There's plenty of room for you to plan out all your activities, list different campgrounds, brainstorm ideas, as well as track or budget your trip. After using these templates, I felt more organized and prepared for our holistic group camping trip.
Related: Natural Remedies for Chronic Pain
Overall, holistic camping is a great way to take time out of your busy schedule and reconnect with the natural world around you. It's a wonderful opportunity to learn to appreciate the simple things in life, practice mindfulness, and take care of your physical and mental well-being. With just a little research and planning, you can find the perfect spot to set up camp and enjoy a nurturing camping trip.
What is a nurturing and holistic camping trip, and why should you take one?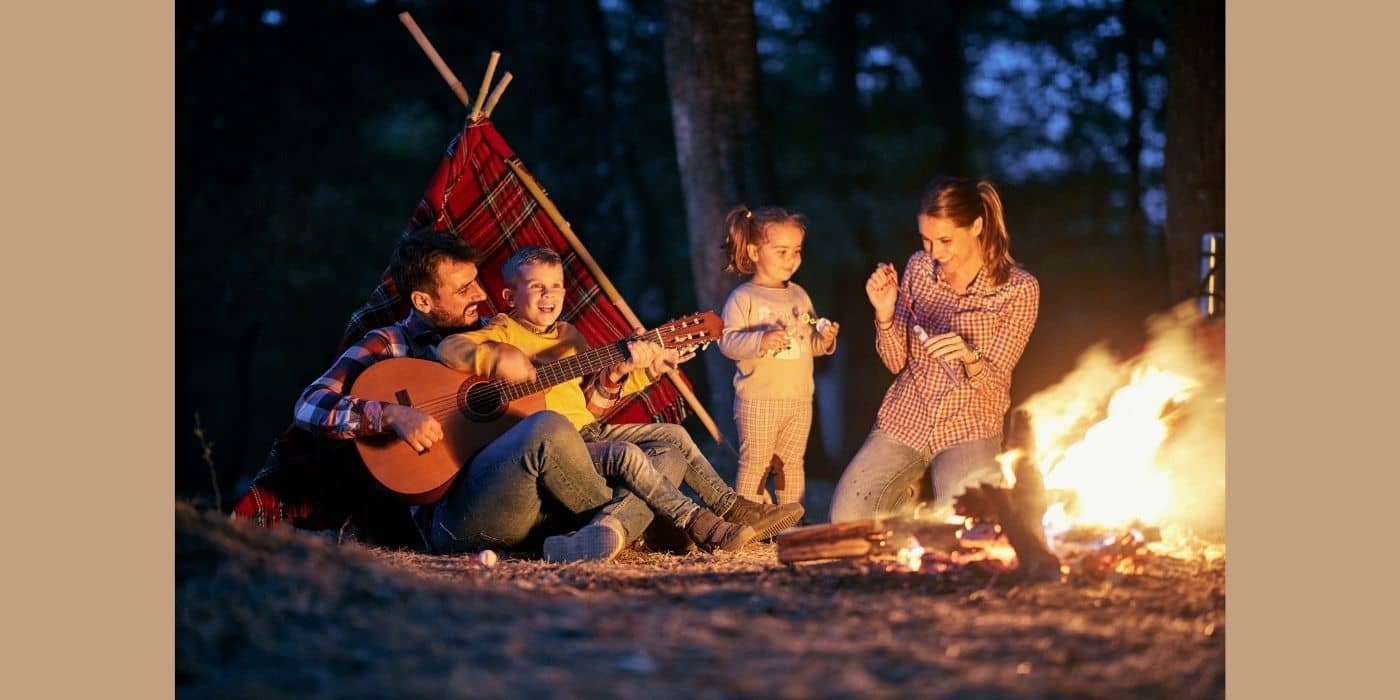 Nurturing and holistic camping trips are the perfect way to get away from the hustle and bustle of everyday life. Any type of camping can be holistic in theory. However, these trips focus on creating an intentional connection between nature and yourself, while also including activities that help you relax and reflect. 
A holistic camping trip is all about exploring the great outdoors, taking part in yoga and meditation classes, or learning about holistic living. It's a great way to escape the stress of everyday life and to explore yourself in a new and meaningful way. With a nurturing and holistic camping trip, you'll be able to take a break from the world and get in touch with your inner self.
Tips for finding the perfect spot to set up camp
A nurturing camping trip is all about connecting with nature. Whether you're looking for a peaceful spot to relax and enjoy the outdoors or an adventure-filled journey, there are plenty of options available. To help you find the perfect spot, below are some tips for planning a holistic camping trip.
Related: Tips to Keep Your Home Clean With Natural Cleaning
Look for a secluded area with plenty of trees, open space, and a nearby source of water.
Summer camping can get hot! Shade will be your best friend. Trust me, field camping might seem ideal if you're going with a large group, but most fields have no trees. This means it's much easier for us to get sunburned and your tent will be stuffy.
We usually pack pop-ups and tarps to add more shade, but you still need trees to tie up the tarps. Depending on how many people are joining you and how large their tents are, the campsite space is also important. So do yourself a favor and look at the campground spots before booking a site.
Make sure to research the area you plan to camp in and check for any safety concerns.
Different areas mean different rules. Some allow only four people per campsite and they have to be related. Others will allow 10+ with a special reservation. Some campgrounds offer 24-hour restrooms and showers, while other places offer lounges. Additionally, some places have strict rules for bringing firewood or using the grills.
Each area offers a unique experience. It all depends on what you want. This can be a lot of information to review, which is why I've created a few worksheet pages in the camping planner to help you keep track of your research.
Related: Do You Make These Common Mistakes When Living More Naturally?
Consider the type of camping you plan to do and make sure the area has the amenities you need.
Some campgrounds have electricity, water hookups, sewers, and more. Most times, the sewer and a few other amenities are for RVs, while some tent sites have electricity and water. For us, it's important that we have these hookups, especially with a large group. Be sure to list the different amenities and activities that are important to you and your family so that you can find the perfect spot.
Check the weather and plan accordingly
Now, I'm not saying if it's raining you should cancel your trip. Quite the opposite, actually. Light rain or thunderstorms can add an interesting element to your camping trip. However, you do want to be prepared.
Before you go on your nurturing camping trip, be sure to check the weather. Pack umbrellas, tarps, rain flies or water resistant sprays so you and your campsite can stay dry. If it's going to be hot, or you'll be near water, don't forget to pack a bathing suit!
Get feedback from experienced campers to help you find the perfect spot
Do you know other campers? People who camp often have a lot more knowledge of some of the perfect hidden gems. Sit down with a fellow camper and ask them about some of their favorite spots and why.
Related: Growing Your Herbs Easily With These 5 Tips
How to Prepare for a Nurturing Camping Trip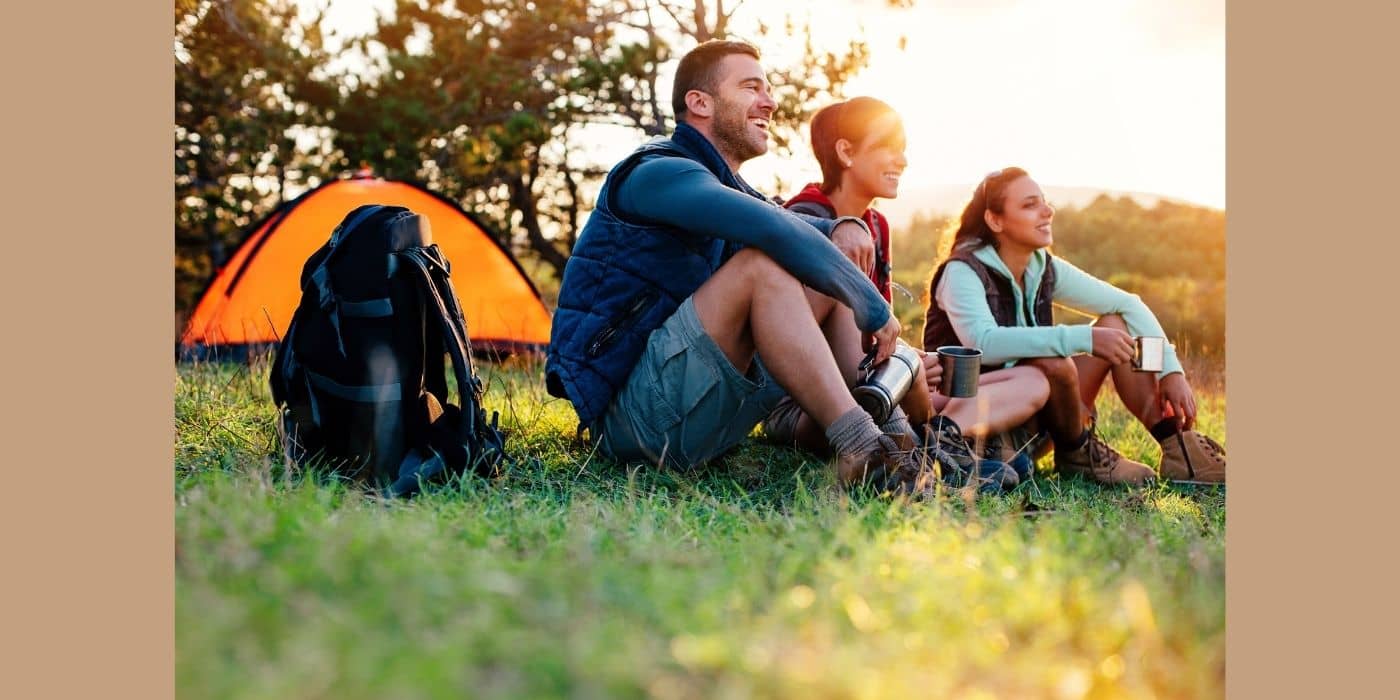 Once you have a few ideas of where you might go and what you might do, it's time to start preparing! Don't forget to check out our camping planner that will help you organize these ideas and more! Here are some of the best camping trip tips that have helped me immensely this year.
Packing and Planning Tips
Going on a camping trip can be a great way to nurture yourself and enjoy the outdoors. But in order to make sure you have a successful trip, it's important to plan ahead and be prepared. When it comes to planning a nurturing and holistic camping trip, packing is key. You'll need to make sure you have the right gear for the environment you're in, as well as items that will help you stay comfortable and safe. Start by considering the basics, such as a tent, sleeping bag, and cooking supplies. Then, think about items that will help you stay connected with nature, such as binoculars and a camera.
There is no one-size-fits-all when it comes to camping. However, there are many moving factors and several items to consider, which is why I created this list. Keep reading to find out more tips!
Determine who is coming and how many
Some people camp with only their immediate families. Some love to invite all and abide by "the more the merrier" rule. We are the latter. Camping trips start with just the immediate family, but once everybody catches wind, they're all ready to join in the festivities. This often means that our camping trip goes from 3 to 15+ in a matter of days.
Related: Tips for Self-Care Practices: Improve Journaling Skills
This can be many people to account for, especially since we do all the handling. Meaning, we book the campsite and collect money from our guests. We make the trip "all-included" so we also take money for food, drinks, firewood, and dry ice. If you're having a smaller camping trip, then you might not have to worry as much. However, having a clear list of who is coming, how many people are coming, and any restrictions they might have would be useful.
Make lists
I love making lists. I have lists everywhere. It's how I keep track of my life. So why would camping be any different? It doesn't matter if you're going for a long time, short time, by yourself or with others. Having a list ready as you pack and for when you get there takes a lot of decision factors out of the way. It also allows you to jump right into the necessities so you have more time for recreation activities.
Pack at least a month in advance
I booked in mid-April for a trip in the beginning of August and was halfway packed by the second week of May. I did this for a few reasons. The biggest reason being that our camping gear is everywhere. Some items are in the attic, while others are in the garage, and I believe my in-laws have our missing blow mattress. Packing in advance allowed me more than enough time to look thoroughly and carefully for all our gear.
This also helped me feel more relaxed about the upcoming trip. Seeing our camping pile grow bigger and bigger made me feel confident that I was remembering everything. It also made us more excited about what's coming!
Related: Natural Ingredients for Hair Growth and Thickness to Use
The other reason I pack in advance is because we like to check all of our equipment. Before we go camping, we rebuild all the tents to make sure they're in good shape and that we have everything we need for each one. For instance, our tent has two massive holes from where we played manhunt and people fell during the last trip. Those will need to be repaired before this year's holistic camping trip.
Check amenities
You have a variety of options for camping. You can camp in a state park or at a designated campground. However, each one has its benefits and drawbacks. Some states require a camping permit, which is usually free for state parks. However, many state parks may not have common amenities that some campers search for.
On the other hand, campgrounds will usually offer more in terms of amenities. Many include pools, bathrooms, showers, water hook-up, lounges, and more. For some, this may take away from the true camping nature. In the end, though, camping is camping—regardless in a tent, RV, or cabin. The goal is for you to be comfortable and to enjoy your time.
Make a list of common amenities you might want to make sure you have. This will help you narrow down the choices and help ensure that you and your family are as comfortable as possible. If this is your first trip, don't stress too much. You'll learn more about what you prefer and don't prefer as you actually camp.
Related: Wonderful Yoga Poses for Improved Back Pain
Supplies to bring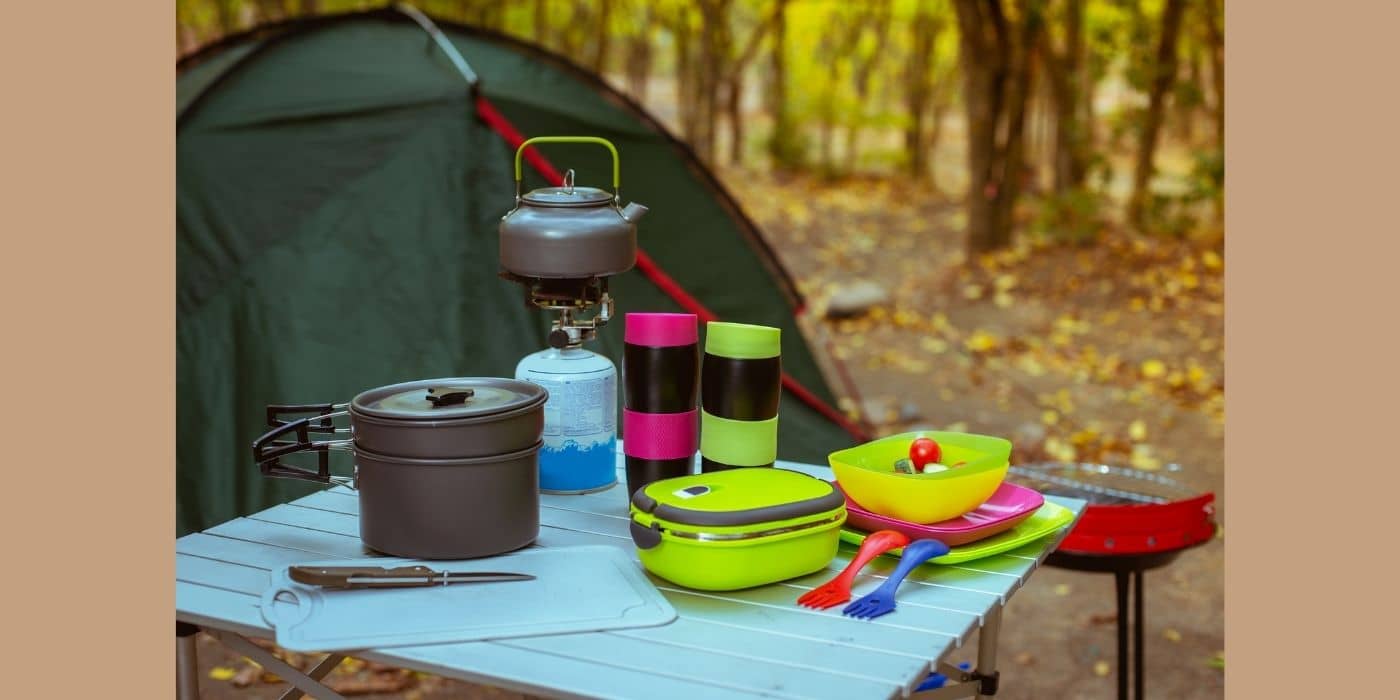 When it comes to planning a nurturing and holistic camping trip, there are certain supplies that you should bring to make sure that your experience is comfortable and enjoyable. From the right camping gear to the right foods, having the necessary supplies will ensure that your camping trip is a success. Essential items to bring include a tent, sleeping bags, a camp stove, a first aid kit, and a cooler.
You should also bring plenty of water, non-perishable snacks, and organic whole foods. Additionally, it is important to bring items that will make your camping trip more enjoyable, such as cards, board games, and books. By being prepared with the right supplies, you can ensure that your nurturing and holistic camping trip is one that you will never forget.
Common Camping items
Packing can get overwhelming. To help ensure you don't forget anything, here are some common items to bring on camping trips:
Tent and stakes
Sleeping bag
Camping chairs or hammock (This compact travel hammock is awesome! It even includes a mosquito net)
A cooler
Cooking supplies (pots, pans, utensils)
Flashlight or lanterns (+ batteries)
Firewood (check with campground first)
Matches or a lighter
Extra clothing layers and shoes
Bug spray and sunscreen
Toiletries (toothbrush, toothpaste, soap)
Campfire supplies (wood, newspaper, tinder)
Related: 8 Natural Ways to Improve Chronic Pain
The camping planner in my shop has a list of items you can consider, as well as extra space for you to create a list of your own.
Hiking Items
I love hiking, even when I'm not camping. But I've learned that packing the right items is essential for a successful and enjoyable hike. Here are some things to consider bringing if you go hiking on your camping trip.
Water
Trail snacks or energy bars
Map/GPS device
First aid kit
Sun protection (hat, sunglasses, sunscreen)
Appropriate clothing layers
Hiking boots
Flashlight or headlamp
Bug spray
Pocket knife
A small whistle in case you need help
Uncommon camping items
You might have everything you can think of already, but here are some uncommon items that could really come in handy during your camping trip.
Related: Common and Powerful Herbs for Spiritual Uses
Binoculars – To take in the bird-watching or stargazing
Portable phone charger – In case you're out of range of a cell tower.
Multi-tool – Small and compact tool with multiple functions.
Fire starter – To make fire-building easier.
Water filter – If you don't want to be lugging gallons of water around with you.
Solar-powered lights or solar generator– For lighting up the campsite without having to light a fire or charge and power up electronics.
Portable speakers – Some extra fun music never hurt anyone!
Compression sack – These are great for squeezing out every extra cubic inch of your pack and saving space.
A camera – To capture all the beautiful memories you make during your camping trip!
First Aid Items
First aid kits are essential for any camping trip. Here is a list of items you should consider packing for emergencies:
Bandages
Antiseptic wipes
Alcohol swabs
Gauze pads and dressings
Adhesive tape
Tweezers/splinter remover
Disposable gloves
Antibiotic ointment
Pain relievers
Insect Bite relief cream
CPR mask/barrier device
Burn gel or spray
Anti-diarrhea medication
This is not a comprehensive list, but it should give you an idea of what to bring in case of any minor injuries or illnesses. Be sure to talk to your doctor before you go if there are any specific medications you may need.
Related: 8 Powerful and Amazing Mindfulness Energy Techniques
Kitchen, cooking, or food prep supplies
Having the right kitchen supplies can make your camping trip experience a lot more enjoyable. Cooking over a traditional fire isn't as easy as it looks, but you can certainly still be prepared in other ways. Here are some items to consider bringing:
Plates, bowls, and utensils
A cutting board
Pots and pans
Can opener or multi-tool
Cooking oil and spices
Ziplock bags or reusable containers for food storage
Reusable water bottles and mugs
A small cooler
Coffee maker/French press
Water filter
Dish cloths, towels, and soap
Pro-tip: If you bring meat on your trip, season or marinade it before you leave.
Tent prep and repairs
It's important to make sure your tent is in good condition before you embark on your camping trip. Here are some items to consider bringing:
Tent poles and stakes
Ground cloth or tarp for underneath the tent
Repair kit and extra fabric/tent tape for patching up any rips or tears
Insect netting if needed
Extra guy lines for staking the tent down in windy conditions
A hammer, mallet, or rock for putting in stakes
Flashlight to check your tent setup at night
Tent footprint/liner to help protect your tent from abrasion or water damage
Insect repellent for keeping bugs away from your ten
Related: Harness Positive Thinking With Powerful Affirmations
Enjoy the Benefits of a Holistic Camping Trip
After you've booked and packed, all that's left is to enjoy your time! Here are a few tips that have helped us make the most of our time!
Explore the great outdoors in a new way
It's no secret that camping trips are a great way to get away from it all and enjoy nature. But what if you could take your camping experience to a whole new level? By taking a nurturing and holistic approach to camping, you can enjoy the great outdoors while also taking care of your body and mind.
While camping, be intentional about physical activity, mental relaxation, and spiritual growth. You can explore the natural world around you while also taking time to relax and reflect on your life.
Relax and recharge during your stay
Camping is a great way to relax and recharge. But it can also be a holistic experience when you take the time to nurture yourself. By taking a nurturing camping trip, you can enjoy the benefits of being in nature while also taking care of your mental and physical well-being.
Related: Tips for Self-Care Practices: Improve Meditation Skills
To get the most out of your trip, plan activities that will help you relax and recharge. Go for walks, swim in a lake, practice yoga, or meditate. Spend time with friends and family and enjoy the simple pleasures of being outdoors. Make sure to get plenty of rest and nourish yourself with healthy, whole foods. Taking the time to nurture yourself will help you feel refreshed and energized when you return home.
Plan activities for kids
The second time I went camping, my daughter came with us and she was "bored." I spent a good chunk of the time switching between entertaining her and our guests. Unfortunately, it was more time consuming than I cared for. So, for this trip I have created an itinerary for the kids.
Since we're doing a large holistic camping trip, there are going to be quite a few kids. While they can certainly keep each other occupied, I know that kids need a little more structure behind their routine. For this trip, I created a "Kidz Korner," run on parental volunteers.
For the two days everyone will be there, I created a schedule of activities based on what was available at the campground. The campsite we're going to does themed weekends and the weekend we're going is Candy Land Weekend. They are offering scavenger hunts and free hidden candy throughout the campsite. That will take up a few hours and I have the rest of the days filled with hikes, rock painting, swimming, board games, and more.
Related: Simple Ways to Reduce Stress Holistically
If you're going to have kids with you, then it will be helpful for you to have some sort of rough idea of what you can do with the kids there or pack extra activities to keep the kids occupied. Not only do I feel prepared to tackle some rambunctious young kids, but my daughter is also more excited about the trip after learning about all the fun things we'll be doing there.
Plan activities for adults
Kids aren't the only ones who need to be occupied and can get bored—adults are prone to boredom too. Nature is beautiful and you can find a lot of things to do at a campsite. However, if you're going for a long time or are not used to doing "nothing" then camping might be really boring to you.
I consider myself to be a busybody, so after a few hours of just "chilling" I felt like I was going stir-crazy. This would lead me to "doing," which then took away from the relaxation element. This is tricky, but you don't want to stress yourself out. Bring activities you can do during camping, but are still fun and relaxing for you. This may mean board or card games. It can also include reading, yoga, or other gentle hobbies.
Connect with Nature on Your Nurturing Camping Trip
When planning a nurturing camping trip, it's important to think about the holistic experience. A great way to reconnect with nature is to take part in activities that allow you to interact with the environment around you. This could include activities such as bird watching, fishing, and hiking.
Related: A Holistic Perspective: The Mind, Body, and Spirit
You could also take part in activities like yoga or meditation, which will help you be mindful of your surroundings and appreciate the beauty of nature. I love starting my mornings outside with a gentle yoga session as the sun rises. It's quiet in the sense that most people are still sleeping, but the birds are quite active, which makes the scene more serene.
Overall, taking part in these activities can help to reduce stress and provide a sense of peace and relaxation. These activities will help you reconnect with nature and create a more holistic camping experience.
Reflect on your experience with holistic camping, and how it can help you cultivate a healthier mindset
At the end of your nurturing and holistic camping trip, take a few moments to reflect on the experience. What have you learned? What did you enjoy? What did you find difficult? How can you use these lessons to cultivate a healthier mindset?
Holistic camping is a great way to get in touch with nature, to learn to appreciate the simple things in life, and to take a break from the hustle and bustle of daily life. It's a great way to step away from technology and reconnect with yourself and the environment.
Related: How to Create an Amazing and Beautiful Holistic Garden
So, take a moment to reflect on your experience with holistic camping and how it can help you cultivate a healthier mindset. Think back on the people you met, the activities you engaged in, and the long-lasting memories you have formed. This camping planner has a few templates for you to reflect more on your experiences.
That's it! Of course, you may have your own list of personal items that you need, but for the most part, everything on this list will help you prepare.
Do you enjoy camping? How do you prepare for your trip? How many people usually join you? We'd love to hear from you in the comments. And, don't forget: If you need help, don't forget to check out our camping planner located in the shop!