The weather is getting warmer and depending on where you live, it might be a good time to start planting your garden. As a child, I didn't have a green thumb—and neither did my mother. It wasn't until my lifestyle shift that I became more in-tune with plant life and created a holistic garden.
Disclaimer: I only recommend products I would use myself, and all opinions expressed here are our own. This post may contain affiliate links that, at no additional cost to you, I may earn a small commission. Additionally, as an Amazon Associate, I earn from qualifying purchases. Read full the privacy policy here.
My parents didn't keep plants in the house, so I had little experience with growing herbs or flowers. My grandmother had a garden, but I could never quite grasp the concepts at my young age. Whenever I tried my hand gardening, the area usually turned into a cemetery. That didn't change until about my mid-twenties.
Related: How to Boost Your Energy Naturally
When I got my first apartment, I asked for recommendations for beginner plants. The number one response I received was a lucky bamboo plant. So that's what I bought—only it died within three months. Throughout the years, I tried gardening with various other plants and had similar results. From "beginner friendly" plants like succulents and spider plants to more "expert" plants like Azaleas and Elephant's Ear—I struggled to keep them all alive.
Looking back now, I see the faults in my process. Growing up in a Hispanic home, I was taught to be a delightful host—to feed, support, and essentially overshadow guests in my home. Obviously, this translated to other areas of my life—including my plants—and as a result, they may have received too much love.
I can admit it: I am a little overbearing.
As a mother, I see how my occasional tyrannical ways come into play with my daughter. I watch her like a hawk and micromanage things like her homework or cleaning her room. However, it's easier to see how my actions affect a little human—but not so much my plants.
Related: 4 Proactive Self-Care Tips to a Holistic Life
Looking back, I can admit that I watered the plants every day and counted each new seedling whenever I walked past them. Countless hours went toward researching what successful planters did, and I did it all. I played music and sang for them. They were sprayed and trimmed often. A detailed schedule was kept by their shelving unit and I attended to them every day. And yet, despite this rigid routine filled with love and care, my plants still died. Now I realize that I completely suffocated them.
After I cleaned up the wilting plants, a family friend passed along the babies from her palm and Devil's Ivy plant. I dreaded the feeling of telling her about my black thumb, but was also excited about another opportunity to showcase what I've learned. My dead plants were evidence that something needed to change and I had a new tactic I was ready to try.
Normally, when I get a new plant, I go straight into "doing" and preparing mode. However, instead of initially transitioning them to bigger pots with fertilizer, I just let them be on my windowsill. I still checked on them every day, but I didn't always do. Instead, I was listening to my plants.
Before I thought soil always needed to be damp, but now I know that the plant will tell you what you need. As the leaves of the Devil's Ivy drooped or turned yellow, I knew they needed more water. It might sound funny, but I've learned that each plant can have its own "personality" or "routine." Even the same family of plants can have different needs—a lot more goes into play than just the plant type and sunlight.
Related: Simple Ways to Reduce Stress Holistically
As you become more accustomed to your plant, you will learn how it communicates. The best way I can describe it is to compare plants to a pet or roommate—after some back and forth for the first month, you learn each other's preferences and begin to work in a harmonious flow.
Once I learned to treat my plants in this way, my garden thrived. My initial black thumb turned to emerald green. Within that year, vibrant plants were in every room of my house and when I moved out of the city, I expanded outside.
Now, I have a gorgeous patch of greenery in my backyard. For the last few years, I've tweaked the garden, and I'm so proud of how it's grown. I enjoy showing it off when I have people over and it's become my safe haven. If you can't find me in the house, you can bet that I am embracing the tranquility of the garden a few feet away.
Putting together a garden isn't as difficult as it seems. It can be a lot of work, but the results are most definitely worth it. Although, I do admit that there can be a lot of information to sift through, especially if you're a beginner. That's why I've put together this "Holistic Gardening Planner," to help you keep track of everything you need. From seed logs to wishlists to monthly and weekly to-do lists—this planner have over 50 pages of content.
Related: A Holistic Perspective: The Mind, Body, and Spirit
This planner has helped me expand my garden over the years, and I'm sure it will do the same for you. I have two options for you. First, this simple, yet gorgeous Holistic Gardening Planner PDF printable. Once you purchase it, you can download, reprint, and reorganize as much as you'd like.
The second option comes is the same planner but with a template link, commercial selling license, and is fully editable. This means you can personalize it, tweak the design, fill it in, or sell the redesigned version to any of your own clients or readers. Both options are downloadable, which means you get your planner instantly!
Now, let's get into some things to consider when planning your holistic garden.
What is a holistic garden?
To be fair, any garden can be a holistic garden, but for me, a holistic garden is more personal and is more environmentally conscious than a traditional garden. A holistic garden is one that supports the ecosystem and its wellbeing. Any garden can accomplish this, but taking your garden a few steps above "traditional" can give you a significant edge.
Related: Guides to Incorporate Essential Oils into Your Daily Life
In my opinion, a holistic garden is a space for you to connect more with nature and your inner higher power. This may also mean that you spend a lot of time in the area. For this reason, I often suggest that a holistic garden contains more than your typical backyard garden.
What to include in a holistic garden?
Configuring your garden is probably the best part, but it's also the concern many people can't surpass. A garden is not limited to plants. Plants are obviously the first thought and generally the main focal point, but you can include an array of items to really give your garden the unique edge you desire. Here are a few tips that have helped me expand my garden into a beautiful oasis.
The 5 senses
If you're going to spend a lot of your time in your garden or will use it for spirituality purposes like meditating, then you want to appeal to all your senses. Of course, plants will likely cover your sight and smell, but there's definitely room to do more.
Sight
When it comes to sight, colors are important. Brighter colors will capture your attention quickly. Softer colors can add more serenity to your experience. Depending on your goals, you can create color grids with the plants or stick with pastels.
Related: 4 Practices to be More Self-Aware with Mindfulness
The layout of your garden can also affect your sight. If you have a lot of room, you can play around with tiers or different size plants. You can experiment with beds and add height or plant similar-looking plants together in sections.
Then from there, you can take a step back and view your garden as a whole. Will there be seating? A walkway? Any stones or statues? Think about it. What is the first item you would want guests to see when they walk in? Remember, sight relates not only to the plants—this can include decorations or items that would attract more wildlife, like bird feeders. Lights or lamp posts are also good ideas for sight, especially if you enjoy your garden late at night!
Touch
Now, you may not directly encourage guests to touch your plants or decorations, but you can still incorporate a variety of textures for people to visualize. People don't have to actually touch something to know that it has texture, but the composition can also bring a different vibe to the scene.
For example, a gravel walkway can add a texture element to your garden. If you are considering using beds, you can use stones to build it, adding more texture to the garden. You can also consider the different texture plants you would prefer. For instance, snake and aloe plants are thicker and have a glossy texture compared to a majesty palm. Incorporating different plants with different shapes or textures can help each other stand out.
Related: Best Affordable DIY Scrubs for Thicker, Healthier Hair
Smell
Nothing can compete with the smell of a fresh, blooming garden. The only word of caution I have here is to spread out more powerful smelling plants. As someone who can have a sensitive nose and head—and strong seasonal allergies—too many strong smelling plants can give me a nasty migraine. However, have as much fun as you can.
Lavender is an amazing smelling plant that is fairly easy for beginners. It also helps repel mosquitos and other pesky insects, so it's a great addition around the barrier of your home in the summer. If you have any water in your garden, like a birth bath, lavender would be even more helpful. Mint and Basil are other plants that are super easy to grow, repel insects, and smell delicious.
Sound
On a windy day, you may hear the leaves and flowers bustle around, but you're missing out on so much more, if that's all you have in your garden. One of my favorite items to have outside are wind chimes and my garden has a few. I have this beautiful hummingbird wind chime, a gorgeous butterfly one that sounds so pretty, and this moon one that is my all time favorite and lights up at night.
Wind chimes come in all shapes, sizes, and sounds. One or two of these in the corners can add a special touch. Windmills or spinners are another way to add some noise to your garden. You can also add elements that invite songbirds to your garden for another beautiful sound. This can include bird feeders or bird baths.
Related: 4 Tips to Reduce Waste in Your Home
Taste
I think this is the best part! I strongly recommend that you grow your own fruits and vegetables. You don't have to start with an apple tree, but strawberries, grapes, tomatoes, and grapes are all easy plants to grow that are also bountiful. Watching your plants grow and then cooking with them is a reward you don't know you need—but do!
4 elements of nature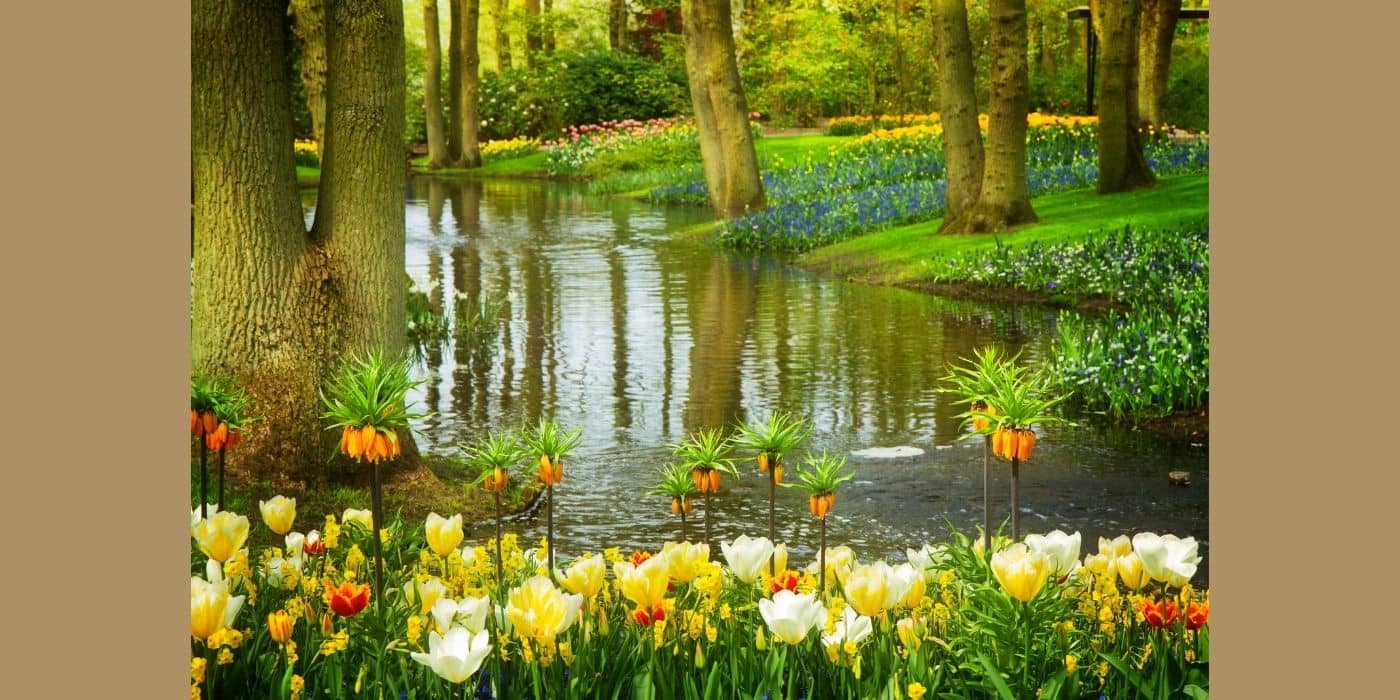 For a truly spiritual or holistic garden, I think it's important to have all the elements of nature within. Depending on how serious you are about your practice, you may also want to line it up with the directionals. In the warmer weather, I enjoy a yoga or meditating session in my garden. Having the elements in their designated spots makes these times feel a little extra intimate. Here are a few suggestions that I follow.
Water
When I say water, I don't mean the water you use for your plants. Instead, I mean a small body of water. Bird baths are a fantastic way to accomplish this and it also helps you with the sounds by inviting birds to sing near you. You could also incorporate a small koi pond in your garden or a small fountain as a body of water. Bodies of water should be placed in the West.
Air
Above I mentioned wind chimes and windmills—both great ways to incorporate an additional air element into your garden. Feathers or flying animals can also represent air, so making an additional attempt to invite more birds can help this element as well. Air elements usually go in the East.
Related: Top 6 Supreme Yoga Mats and Their Importance
Fire
This element can be tricky. However, if you spend a lot of time relaxing in your garden and have enough space, you can include a firepit. This can also help you in the chilly early morning or late evenings in between seasons. Another option would be to burn an incense stick or candle as you work. Any fire items are best placed in the North.
Earth
In principle, the entire garden is already an earth element. However, since I usually set up specific items in their directionals, I think it's important to continue being intentional. For Earth, you can include rocks, crystals, or additional plants. Earth items do well in the South, so I have this large, pretty boulder that's turned into a seat at the south end of my garden.
How to choose plants?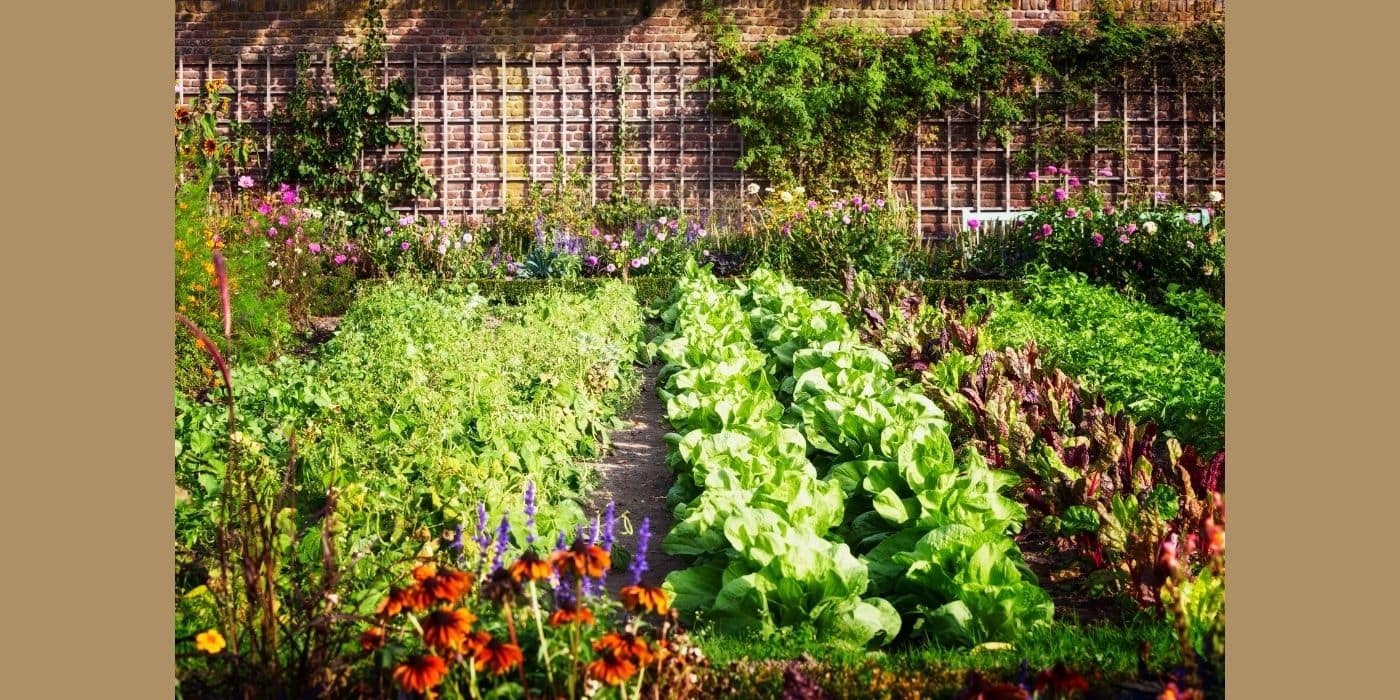 Choosing plants can be tough. There are so many to choose from and some plants get along well with others, while others don't get along with anything. Once you understand how temperamental plants can be, then you might reconsider how accurate my roommate analogy was.
I know the choices can be overwhelming, but here are a few ways that I plan which plants to grow.
Related: 12 Fun Yoga Poses for Improved Digestion
What do you or your family already like to eat?
If you're looking to grow fruits and vegetables, a good place to start is by determining what you and your family already like to eat. This will help brainstorm ideas about what to plant and help you save money since you will plant your own crops.
I'm really the only person who enjoys vegetables on their own, but my family does enjoy tomatoes, green peppers, and carrots when mixed into a meal. As for herbs, I use them for rituals, cooking, and much more, so I love to keep my garden well stocked with common spices like mint, cilantro, and sage.
Another thing you can consider is if your neighborhood has perishable food drives or a farmer's market. The library, about twenty minutes from my house, collects produce during the warmer weather to donate to the community. There's also a farmer's market about thirty minutes away where the community can sell their home-grown produce.
Granted, I live in the country now, and farming is a popular pastime here. However, even when I lived in the city, food drives and farmer's markets were easily accessible. So even if you don't eat the produce you plant, you can still give it to others in need. The Holistic Gardening Planner has several wishlists, guides, and organizing templates to help you brainstorm and pick the best plants for your garden.
Related: Tips for Self-Care Practices: Improve Journaling Skills
Look for beginner friendly plants
If you're just starting out, then consider purchasing beginner friendly plants. Beginner friendly plants rarely need considerable attention. You can forget to water them or put them in a darker place in your home, and they will probably be just fine.
However, over-attentiveness is a different issue. Over-watering and over-caring for plants can be more detrimental to their health than under-caring for them. Just remember to listen to the plants and figure out what their routine is—don't force them into your own routine.
Some easy, beginner friendly plants are:
Snake plants: Snake plants are great for beginners and can sustain a lot of neglect. They are very forgiving and can thrive in some of the most unlikely places. These plants come in lots of shapes and sizes, so you have a variety to pick from. Keep in mind though that this plant can grow a little slower than other houseplants. However, their flexibility and leniency is more than worth it.
Related: Natural Ingredients for Hair Growth and Thickness to Use
Peace Lilies: I love lilies. I used to keep a vase full of tiger lilies on my table and peace lilies on my windowsill. They were so beautiful and I loved the way they smelled. Unfortunately, I learned lilies are toxic to cats and while my two cats never seemed to have an issue (in fact, they loved them) I took them out of the house immediately when I found out. So if you have cats, these might not be the plants for you. (But check out my planner, which can help you organize which plants are safe for pets and which aren't). If you don't, then these plants are great for beginners. They prefer moist soil and can thrive with little filtered sunlight. Add some fertilizer and they can grow to pretty full.
Devil's Ivy: Also known as Pathos, these plants are perfect for beginners. Much like the snake plants, they come in a variety of shapes and sizes. The marble is my favorite. They also grow quickly and are pretty forgiving. These are also the first plants that "talked" to me—or really helped me listen, rather. Their leaves give away much more of their health once you know what to look for.
Summer Squash: If you want to create a garden outside and are looking for an easy vegetable, then consider summer squash. This plant is resistant to most diseases and pests. It grows quickly and many, and they really only need extra water from you. Even if you don't like squash, this is a great crop to sow and sell at the market.
Peppers: Peppers are another plant that many pests ignore. These plants also have a wide variety of options to choose from and they're all pretty easy to maintain. From green and red peppers to spicy habanero—they are all easy as long as you give them enough sunlight.
Related: Wonderful Yoga Poses for Improved Back Pain
Tomatoes: There are a few different tomatoes plants such as determinate, indeterminate, and semideterminate. Determinate tomatoes are the easiest to grow. These plants grow to a certain height, produce fruit and then stop. Tomatoes prefer the heat so are great to grow in the summer. However, make sure that you use a tomato cage to help support its growth.
If you're looking for a set of easy to grow, beginner friendly plants to begin your holistic garden, this 6-pack from Costa Farms is my favorite pack that I recommend often. This set contains a Dracaena, Dieffenbachia, Peace Lily, Ivy, and Peperomia, which are all great for cleaning the air and improving your mood.
Look for plants that thrive well together
Some plants work well together. By pairing them together, they may either protect each other from pests or provide nutrients to one another that in turn helps both plants thrive. However, the opposite is also true. You can take two beautiful, healthy plants and put them together only to watch them die.
If you want to plant more than one item together, it's important to know what works well with others and what doesn't. This is especially important for an outdoor garden that is more susceptible to pests and diseases. According to Gilmour, some common plants that go well together are:
Onions: Cabbage, carrots, chard, lettuce, peppers, tomatoes
Potatoes: Basil, beans, celery, corn, garlic, horseradish, lettuce, marigolds, onions, peas, radishes, spinach
Beans: Beets, carrots, chard, cabbage, corn, cucumbers, peas, radishes
Squash: Beans, corn, dill, marigolds, nasturtiums, peas, radishes, strawberries, sunflowers
Tomatoes: Asparagus, carrots, celery, onions, parsley, peppers
Related: Grounding Means Living Naturally
According to Gardenia, some plants that don't go well together are:
Beans: Broccoli, kale, chives, garlic
Carrots: dill, celery, parsnip
Peppers: Cabbage, broccoli, fennel, cauliflower
Tomatoes: broccoli, cauliflower, potatoes, turnip, cabbage
Outdoor vs indoor planting
There are a few notable differences between indoor and outdoor planting. The biggest being the type of plants you can grow.
Some herbs, vegetables, or plants can do well outside or inside. However, some plants, like root vegetables such as carrots or potatoes, are better done outside.
Related: Tips to Keep Your Home Clean With Natural Cleaning
For beginners, I don't think it matters whether you start inside or outside. An inside garden allows you to see your plants often and keep them with you year round. An outdoor garden allows you more variety. As long as you care for the plants and place them in areas that are more suitable for their needs, then they will thrive.
Personally, I enjoy my garden both inside and outside my home. I use the plants to bring a more holistic feel into my home, while I personalize my outdoor garden to give it more holistic vibes. Don't forget to check out the holistic garden planner in my shop, which has a few checklists and sheets to help you plan both your indoor and outdoor garden.
Composting
For a truly holistic garden, I think composting is a critical element. Composting is when you take your natural wastes (like food scraps) and mix it with dirt and other natural items. By doing so, the waste decomposes and replenishes the soil. You can do this right on the earth, in a bin, or you can purchase a specific composting bin to help you get started.
To create your own pile, you would first add a layer of dirt into your bin. Then you can add some sticks and twigs. Once the foundation is ready, you can alternate between wet and dry composting items. Dry items are leaves, grass clippings, straw, or wood ashes. Wet items are food scraps or tea bags.
Related: Do You Make These Common Mistakes When Living More Naturally?
Manure, buckwheat, and wheatgrass can help speed up the composting process. After you create your pile, it's crucial to maintain heat and moisture. You can let the rain water the bin or you water it occasionally with a can. Then keep it covered to keep out pests and lock in the heat. Also, make sure that you rotate the items to keep it aerated.
If you need help tracking your composting items, check out my holistic gardening planner!
How to plan a holistic garden?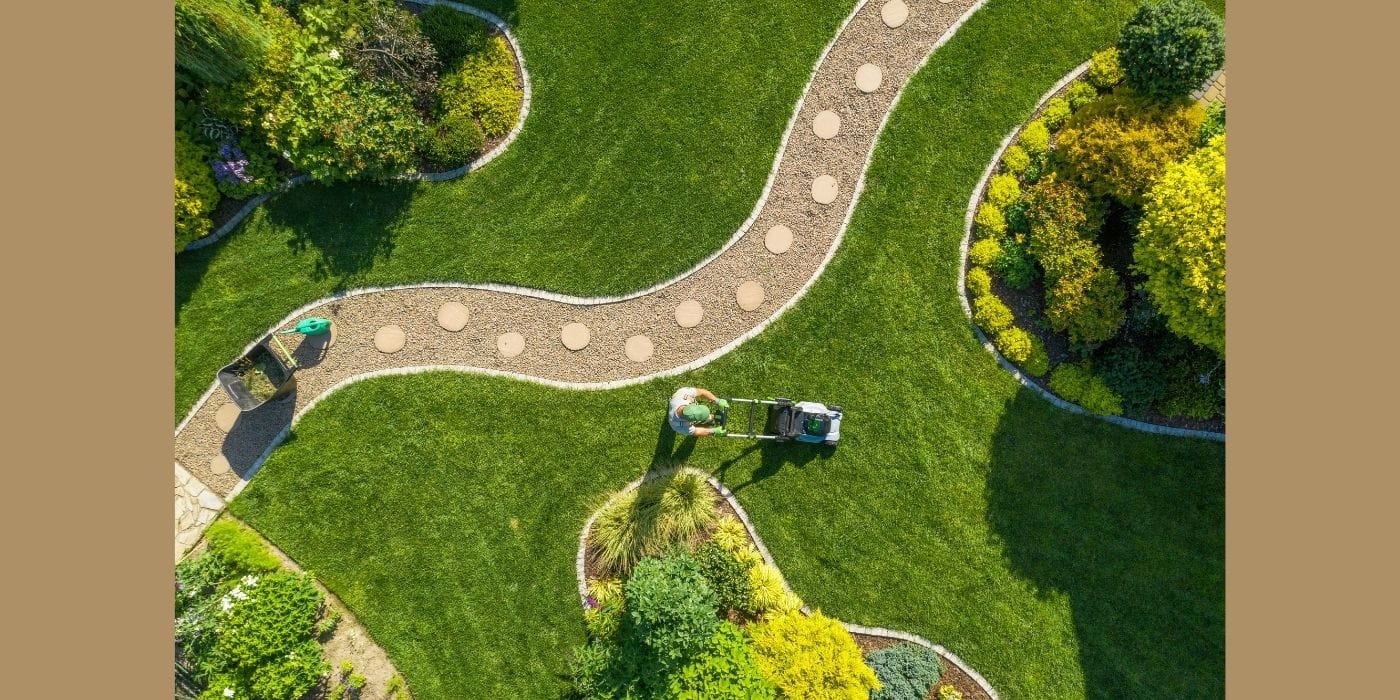 We've talked a lot about how to decorate your holistic garden or the type of plants to consider. Now it's time to talk about planning.
Location
Before you start buying seeds and pots, first determine where you are going to plant. Indoor? Outdoor? Both? If you don't have outdoor space, then some plants may not be suitable for you to try.
Related: Common and Powerful Herbs for Spiritual Uses
On the other hand, if you have a lot of space, then you need to figure out exactly where you keep your plants. If you're planting outdoors, you don't want to plant under too much shade. You also don't want to be directly in the sunlight. Not only will some plants burn, but so will you while you are attending to them.
Deciding your location also allows you to better determine how much space you will use. If you want to stare a large vegetable and fruit garden, then you might want a lot of space. Some plants may need trellises, while others need more space to breathe.
Decide your plants
Once you have a location, you will have a better idea of what plants you can grow. If you're staying indoors, you can stay away from vegetables like corn and stick to herbs like cilantro or mint. If you're planting outdoors, you have more freedom to experiment. However, be sure to grow what you enjoy or will use. DOn't let food go to waste and try to remember which plants get along with others for the next step.
Sketch your plot map
Once you know what plants you desire, it's time to sketch your garden. You don't want to start preparing the soil and then lay the seeds anywhere. Remember to keep friendly plants together, but still give them enough space to bloom. If you need to add cages or trellises, make sure you keep enough space to do so. The gardening planner has a plot page to help you get started.
Related: Tips for Self-Care Practices: Improve Meditation Skills
Prepare the soil
Healthy soil leads to healthy plants. Before you are ready to plant, dig up the earth and rotate the dirt. Before planting is also a good time to lay down any fertilizer or compost, you may have. Mulch, straw, and leaves can also improve the nutrient levels within the soil.
Use small and simple tools
You don't need a tractor or other large farming tools, especially if you're a beginner. Start small and use simple tools. Multipurpose tools like cultivators and weeders are also suitable alternatives for beginners. As the years go on and you expand, you can choose tools that do more for what you need.
And that's it everybody! Thank you so much for reading! Don't forget to check out my Holistic Gardening planner. This planner will help you organize everything we reviewed in this article and much more!
On a side note, do you have a garden? Or are you a plant parent? How do you add some special touches to your garden? We'd love to hear from you!